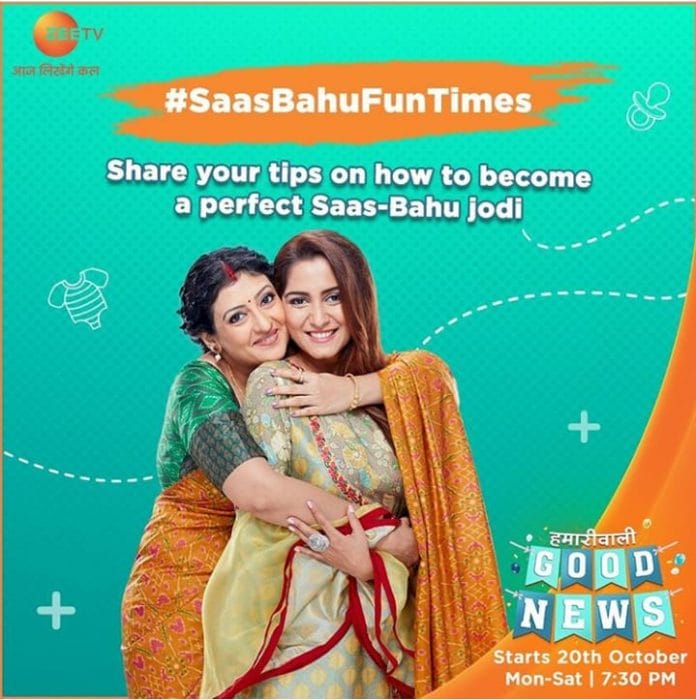 Hamariwali Good News 19th April 2021 Written Update on TellyExpress.com
Episode begins with Navya trying hard to notice who is behind all these kidnappings and who is helping Lallan? Aditya comes out and Navya is shocked to see his face. She couldn't even believe her eyes that it was actually Aditya. The same one who used to be so protective about Renuka always. She wondered and remembered all her moments with Aditya where she used to get mad at her for asking Renuka to give birth to their child while being pregnant at this age.
How Aditya never wanted to go away from his mother and how he used to love and believe in her without a second thought. She wondered is it even possible for a person to stoop that low for property and money? Aditya is really okay with making his mother suffer like this. How much a person can change, he is the perfect example of it. She thought in her mind just let me go out of this place happily and recovered then I will definitely expose you in front of all, just wait and watch. She pretends to sleep so that he doesn't get any doubt on her.
Aditya gives medicine to Lallan and says to keep this capsule in her mouth every two hours. Lallan says I had injected her already, Aditya says to him that I don't want to take any risk regarding this matter. She is my mother and if she gets to know about my involvement in this case then she would be extremely hurt which I don't want.
On the other hand, Mukund finds no clue in the room of Sumitra even after police officers searched there. In the Tiwari house, all are amused not to find Alok and Aditya in the house. Mukund gets a slight doubt and he asks Akki to call Aditya and asks where he is. She says to him I will go inside the room and will call him and let you know. Mukund denies and says You will call him in front of me only and put the call on speakers so that we all can hear.
Aditya somehow understands the entire thing and he pretends like he's looking for Renuka everywhere and is very much worried about her and he even creates fake traffic sounds just to prove that he is stuck in a crowded place and is trying to find her out. He cuts the call after asking Akki to take care of Mukund and Mukund who listened to the entire conversation over the phone speaker feels guilty for doubting his son even for a second. Navya tries to rescue Renuka but unfortunately he can notice that she is missing from her place and Aditya understands that she must be knowing about him.
Aditya starts looking for Navya in the godown while she tries to send a message using Renuka's mobile phone. Aditya says to Navya to come out without any drama but she is hoping for a miracle so that she can go out of this place with Bharat and Renuka both.
Also Check: