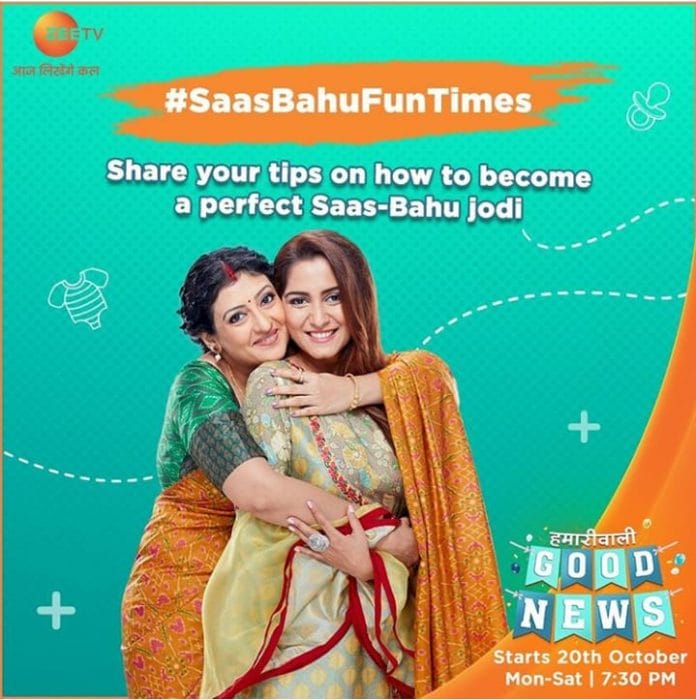 Hamariwali Good News 20th April 2021 Written Update on TellyExpress.com
Episode begins with Aditya getting a call from Akki and he understands by her question that there is some issue. He twisted the entire thing and he pretends like he's looking for Renuka everywhere and is very much worried about her and he even creates fake traffic sounds just to prove that he is stuck in a crowded place and is trying to find her out. He cuts the call after asking Akki to take care of Mukund and Mukund who listened to the entire conversation over the phone speaker feels guilty for doubting his son even for a second. Navya tries to rescue Renuka but unfortunately he can notice that she is missing from her place and Aditya understands that she must be knowing about him. Aditya starts looking for Navya in the godown while she tries to send a message using Renuka's mobile phone. Aditya says to Navya to come out without any drama but she is hoping for a miracle so that she can go out of this place with Bharat and Renuka both.
Navya is praying hard from God that the message she sent using the phone of Renuka should get delivered on time to the concerned person and till then she will be able to hide herself from Aditya and Lallan. They are trying hard to find out now we're in the godown but even after looking for a long time they are unable to find her. Mukund is also praying from God that he should get a clue about his wife and his kid and at the same time the message got delivered in his phone. He opens and gets shocked to see that there was a location tracker sent to him from the phone of Renuka and he finally gets a smile on his face and informs the police officers that he knows where Renuka is and he wants to go there as soon as possible.
Sumitra just notices that Mukund suddenly got so much confidence about the location of Renuka and she couldn't understand how it was possible. Mukund without saying any further went out of the house with the police officers and said to them that they need to reach the place soon. On the other hand Aditya and Lallan are looking for Navya like a maniac since they are unable to find her. Sumitra is trying to contact both Aditya and Lalan but their phone is not reachable as of now. Mukund finally reaches the spot with the police woman and two constables but they didn't allow him to go inside and says we have to call extra force since we don't know how many people are inside and what if they have arms too? Aditya finally caught Navya and is trying to stop her from going out while Navya is doing her best so that she can escape from the place with Bharat. One of the cylinders falls and starts to leak when Lallan lights up a match stick as there is so much of darkness in the go down and he is unable to see anything. Due to the fire thing and gas leak, a huge blast took place in the godown. Navya goes out of the godown while Aditya goes to save his mother and rescue her and Renuka is asking him to go away from there but he denies to go away from there without her. Navya says to Mukund all these happened due to Aditya.
Precap – Mukund is in trauma due to death of Renuka, Preeti is crying when they heard sound of someone entering the house.
Also Check: