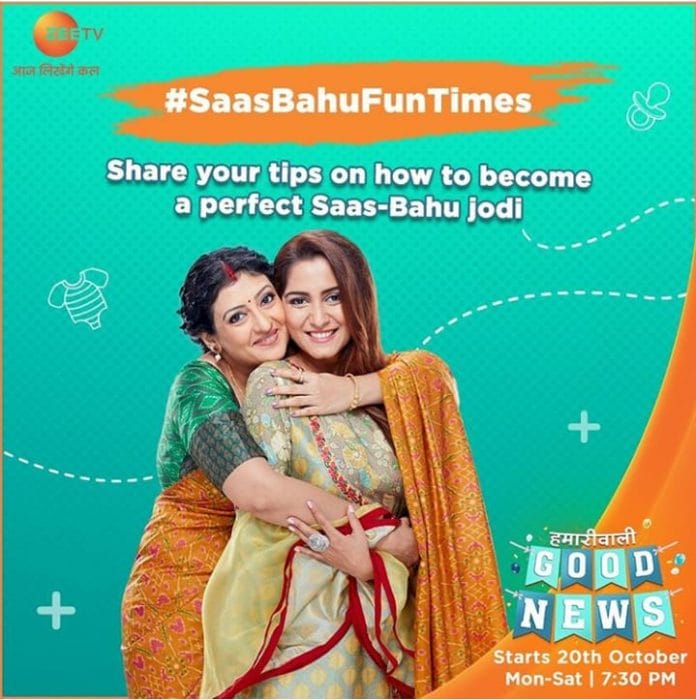 Hamariwali Good News 21st April 2021 Written Update on TellyExpress.com
Episode begins with Aditya trying to help Renuka to stand up when he notices that a huge chunk is about to fall and Renuka pushes him aside to save him. He still stands up and looks on the other side to check if Renuka is alright or not since the junk just fell besides them and it had a huge sound as well. Mukund just can't believe that Aditya is involved in this kidnapping and he is remembering all his words to him regarding Renuka and the way he supported Mukund to search for her all these while. He gets angry and is trying to enter the godown to confront Aditya but the police officers stop him and say that you cannot enter like this at this point of time. Since we don't know what the situation is inside I will ask you to please keep patience, we are trying our best.
Aditya notices that her mother is trying to sign something to him by her hand gestures but he refuses to go away from that place without taking her with him. Lallan finally stands up and he dragged Aditya outside of the godown. On the other hand, the police officers moved Mukund and Navya from the place since the area is going to be sealed and under investigation and now no normal civilian can stand in that area. Mukund is heartbroken with all that happened in a fraction of time and she is just not able to understand what he should do at least now?
Aditya comes out of the go down and he notices that number is taken into a police jeep along with Mukund and he understands what happened exactly. The police arranged for an ambulance and doctors and they are taking care of Navya properly while on the other hand is sitting there like a stone as he is unable to feel anything inside him. The police officers informed Mukund that they should leave now as they are going for the inspection of the area. On the other hand, Mukund refuses to go home and he says to the police officers that I want to go with you inside the go down to check myself about Renuka.
Mukund finds a piece of bangle from the heap of ashes inside the godown and he said to the inspector that I am hopeful Renuka is alive. The inspector says how can use just hope for so much even after seeing the situation. Mukund starts to hallucinate about Renuka and police officers say to him that he needs to have a grip on himself in this tough time. Mukund finally comes home as Navya brings him from that place but as soon as he enters a locality the people are gossiping about Renuka as they think that she is dead already and Mukund is getting angry to hear this but Navya tries to make him calm and composed. All are crying inside the Tiwari house while Mukund is sitting there unmoved.
Precap – Navya takes the name of Alok and Sumitra in the kidnapping case.
Also Check: