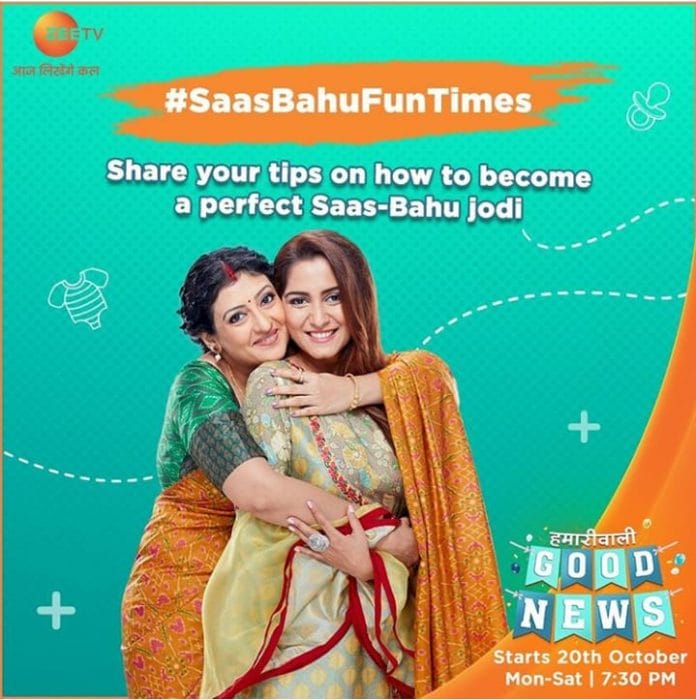 Hamariwali Good News 22nd April 2021 Written Update on TellyExpress.com
Episode begins with Priti is upset with the news doing rounds and she is trying to learn from her father about Renuka and says that why people are taking my mother's name like this. What was she doing that went down and why will she go there? Mukund as usual is saying nothing because he is not in a state of reacting at all. He is just watching the entire thing being a mute spectator. Priti is crying when Sumitra says we don't need to be so upset as I really believe Renuka is alive and she will come back to us.
Navya enters the house with Bharat in her arms and Preeti welcomes her. She tries to know from Navya about everything that happened in the go down and especially about Renuka's presence over there. Navya cries and expresses through her grease that whatever she is wearing at this moment of time is not completely untrue. She finally starts to explain exactly what happened to its heart and how things took place one after another. She says in front of all that Sumitra Alok and Aditya are behind everything that happened. She says that I saw Aditya in the go down with my own eyes. I can never imagine him stooping so low just for money and property. She says I can't believe being a son can hurt his mother to such an extent.
She also explains what happened during the blast in the godown and how she came out and Raunak and Aditya got caught inside. Navya says that I only regret one thing that I couldn't bring out my mother alive and full and fine but I am happy with the way Aditya got his end. He was just beyond anything and a person like him deserves an end like this whatever happened to him, happened for good. He deserves to get an end like this. Priti is heartbroken to hear this is her own brother and she sits on the sofa with shock. Sumitra comes forward to defend herself and says I was not even going out of the house for some days so how will I do this kind of thing and Alok ? Alok himself is missing from 2- 3 days as he didn't return home. If you have doubt then you can ask Priti about it too. Navya confronts Sumitra. That's why are you saying this line in front of all because when Alok was trying to misbehave with me I was in my full senses and I heard your conversation with him.
Aditya comes in front of Navya and charges her instead about the Renuka matter. He asked her where my mother was and what did you do with her? Navya felt disgusted with his words and says that even you know what is the truth but Aditya is continuing with his antics. Aditya recalled when he came back from that go down and he was completely broken about what had just happened. Akki somehow manages him and manipulates him to put all the blame on Navya because she is the one who is responsible for it. She was terribly upset about Renuka and said that because of me my mother died today but Akki took advantage of the situation and plotted against Navya.
Precap – Police is taking away Navya in jeep when Mukund asks them to stop
Also Check: