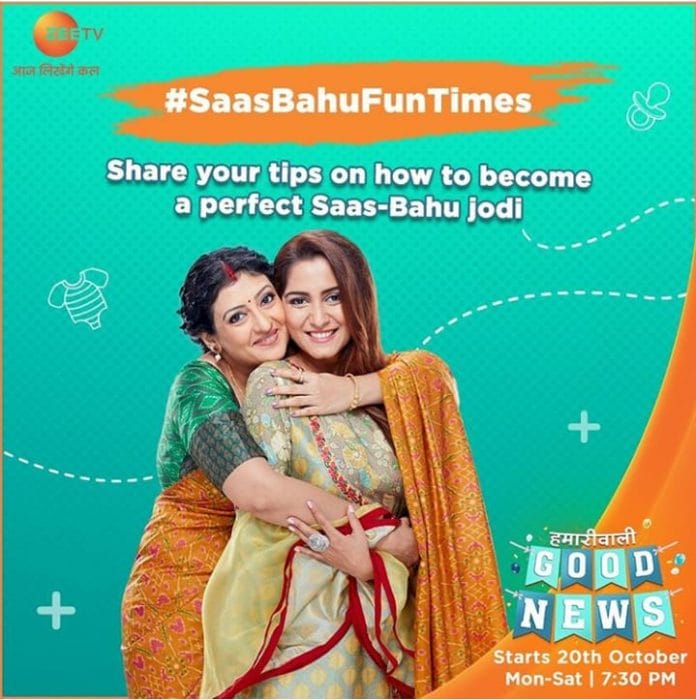 Hamariwali Good News 26th April 2021 Written Update on TellyExpress.com
Episode begins with the story taking a leap of one month and now all of them are finally in Delhi. Navya stays in Delhi with Mukund and her son Bharat. She is missing Renuka and promised that she will always take care of Mukund and Bharat both. She recalled the past events standing in front of the picture of Renuka. She remembered that she was recording a video of Sumitra and Akki as a token of evidence against them so that she can prove her innocence in front of Mukund and also can punish them for their deeds. When she actually went to show the evidence to Mukund, she finds out that Mukund is sitting on the floor off balcony with blank eyes as if someone just took his life from his body. She couldn't understand the reason behind his death and noticed that the mobile phone was on and someone was speaking. She took the call and got to know that the DNA reports of that dead body matched with Aditya and Preeti's DNA samples. Hence it is officially proved that the dead body is none other than Renuka Tiwari and she is no more. Navya decided to move out of Agra overnight after this incident.
She says to Renuka that I promise you that I will always take care of Mukund and our son Bharat. I have these precious people of yours with me. I will try my best to protect them from all the evil eyes. She looks at Mukund who is sleeping on the bed. On the other hand, Aditya is fuming in anger at Navya. One month earlier she locked from Agra without letting anybody know about her and also submitted the evidence to the police. Akki says to him that due to your ex wife we have to go through a lot. Aditya says I didn't forget anything and if Sumitra doesn't have any connection with the police officials we will be in jail by now. She says that we have been looking for Navya from one last month but had no clue about her till now. Thankfully, Sumitra got to know from her sources that she is in Delhi with Mukund and Bharat. Back in the Delhi house of Navya She went to the kitchen and was cooking while remembering the words of Renuka and her tips about making food. She prepared food for Mukund, Bharat and also prepared a lot of juices, fresh vegetables and fruits in a bag to take away with her.
Navya goes out for work after assigning the responsibility of Bharat to Mukund. Mukund is still hopeful about Renuka coming back in their lives. He was waiting for Renuka to meet them again. Navya is facing a competition from a fellow shopkeeper about the sale of their food products and the competition that they are getting from Navya and her stall. She says to him that you can go and inform your boss and I even want to see who is getting insecure from a small stall owner like me in spite of having a big company. Navya is happy that all her products are sold for the day. While coming back to home she notices a newspaper advertisement about Mukund being missing for one month and she gets scared. She understands that this advertisement must be given by either Sumitra aur Aditya. She hopes that Mukund shouldn't go out of the house while she thinks that she has to protect Mukund and Bharat from Aditya and Sumitra at any cost.
Click to read: