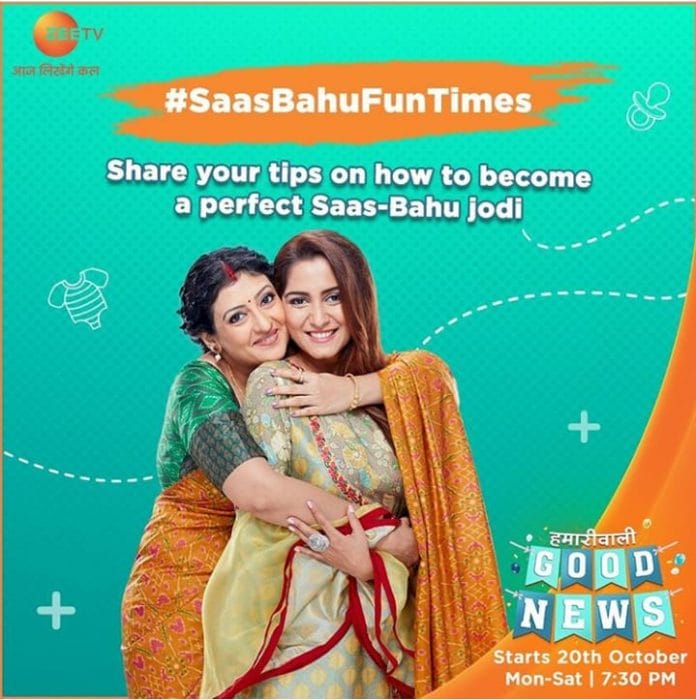 Hamariwali Good News 26th October 2020 Written Update on TellyExpress.com
Episode begins with Preeti telling Adi what happened. Yash says sorry to Adi. Adi says it's not your fault don't worry. Adi asks Preeti to take Yash home. Adi goes to see Navya. Navya gets to senses. Adi then asks doctor if everything is fine. Doctor says yes everything is fine. Preeti calls Renuka and says Navya met with small accident and to ask to Adi further. Renuka panics. Sumitra comes and Renuka says Adi and Navya are with doctor and they are really pregnant, wait I will call them.
Renuka calls Adi and says I want to talk to Navya. Adi says Navya can't talk. In background, doctor gives some antibiotics, Navya says I can't take them as I am pregnant. Sumitra and Renuka hear and become happy. Renuka ends the call. Sumitra says you should have made me talk to the kids sooner. Sumitra says after 3 years finally my pressure worked. They worshipped god. Sumitra calls Mukund and gives him the good news. Sumitra says I will come to Agra and break my fast in the evening. Mukund becomes happy.
Here, doctor tests Navya and says sorry but Navya is not pregnant. Navya says but what about all the symptoms? Doctor says it might be gas. Adi says don't worry next time. Doctor says I was coming to that, it will be difficult for Navya to become pregnant as her fallopian tube is blocked and she can never conceive.
The lights go out and Navya cries. Adi consoles her. They are in car, Navya says lets go to that bakery nearby to take pinnapple pastries for my mom and she has got new oven too. Adi says are you okay? Navya says yes. But Adi knows Navya is acting weird.
Here, Renuka is walking to home and Kusum comes and congratulates her says I am so happy Navya is pregnant. Renuka says who told you? Kusum says Sumitra. Renuka thinks I should first talk to Navya and Adi. She asks Kusum not to spread the news yet. Kusum says why? But later she agrees. Renuka is surprised to see the whole house with so many grocery. Mukund says Sumitra is going to come I have kept 5kgs sugar, make Malpua.
Renuka says I went to her and already gave her that. Mukund says then make gulab jamun. Mukund says she will break her fast here, make good things as she has not even had a drop of water. Renuka thinks he can see Sumitra has not eaten or drank water but can't see me doing the same. There, Adi and Navya reach Navya's home. Navya's mom is surprised to see them. Navya says today we have brought you pastry and we will make pizzas. She goes to kitchen.
Navya's mom feels weird and asks Adi about this weird behaviour of Navya. He says it's nothing, it's just because of lockdown and she needed some change. Navya takes Adi for help. Navya's mom offers help but she is asked to sit outside the kitchen. Navya is grating the cheese but absent mindedly. Navya's mom says for how many people are you making pizza? Navya says 2 and then looks at extra cheese. She says more the cheese better. Navya prepares the pizza for oven.
Here, Preeti and Renuka are in Kitchen. Preeti says I am so happy but I am upset that you guys didn't tell me, Sumitra told me. Renuka says Adi didn't tell you. Preeti says he didn't pick up my call. Renuka says I feel weird as till now I have not talked to both, call them. Preeti says okay. Renuka also says prepare the thaal for aarti of Navya as she is giving us such a big good news. Preeti nods. Renuka then says how after Adi and Navya gone to office, she will play with the kid and run around the house and have fun.
Renuka tells Preeti I hope everything is okay with Adi and Navya. Just then they get a knock and all the neighbors come and congratulate Renuka. Kusum msged all of them, now they all sit together and have sharbat. Here, Renuka calls Adi and he says they are at Navya's mom's house and she wanted to eat pizza.
Renuka gets happy seeing Navya crave. Renuka says take care of her come till evening. Adi is confused why Renuka talked like this. Navya and Adi have pizza with her mom and then Navya goes to get her things before they leave. Navya's mom asks Adi about the issue. Adi is about to tell but Navya comes and says cab is here. They leave.
Here, Sumitra is in Agra. Mukund says good that you made the Aarti thaal, jiji is here. Renuka says it's for Navya but Mukund has already gone. Kusum says Ram ji has come to Ayodhya, if anything wrong will happen then Hanuman ji will set this house on fire. Sumitra is welcomes by everyone. Mukund brings the chair for Sumitra.
All the ladies ask Sumitra to dance on the occasion of becoming a bua dadi. She says yes I will. Mukund is happy. Sumitra dances and Renuka also joins her. All the ladies say Navya has given good news and now it will be celebration time. Adi and Navya reach and are surprised to see the crowd and the things the ladies are singing. Preeti says Adi and Navya are here. Everyone looks on.
Click to read: