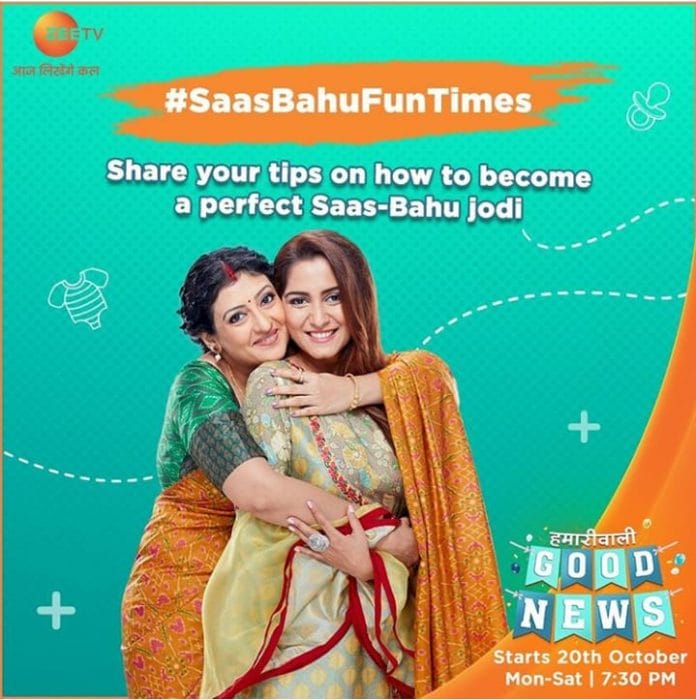 Hamariwali Good News 29th October 2020 Written Update on TellyExpress.com
Episode starts with Adi telling Renuka how they can't get pregnant. Renuka says Sumitra shouldn't get to know or else she will break our family and yout dad will not say a word. Renuka gets worried what will Navya has to face. Adi sees this and says there is no problem with Navya, I can't make her pregnant, I have problem. Renuka cries and cries. She goes to pray to god.
Here, Mukund comes to meet Alok and his friend who is in talks for rishta with Aanchal. Alok says for Sumitra's grand daughter how can I select anyone, it had to be my special friend. Alok says today I had decided that I will do khaatir daari of my sasural wale. Mukund says so great of you, thanks for this great rishta. Alok says I know Sumitra gave you the responsibility how could I have not kept your reputation intact.
Mukund says I wont forget this favour of yours. He then takes the leave. While going he sees the same car he had accident with yesterday. He is unable to find the driver so he calls the police station and tells them the car that did the accident is now infront of Dubey bathroom gallery. He then gets to know that the driver has been arrested, the police asks Mukund to come and verify. He thinks police is very efficient and goes. Later it is shown, that car is actually Alok's friends.
At home, Renuka is praying to god, Kusum calls her outside. Ambulance is there, everyone is gossiping. Renuka gets to know that a neighbor'e daughter in law did suicide becaus she got lot of pressure and taunts about havinga baby.
Renuka says she shouldn't have tried this. Kusum says it's good your Navya gave the news early. Renuka says who knows the husband might have some issue. Kusum says no one points fingers at guys. Renuka remembers what Adi said that in their case Adi will be blamed. Renuka gets upset and goes.
Next morning, Mukund is doing exercise. He sees steam and thinks fire has been put on. He goes to find Renuka burning Ayurvedic medicine for wellness of all. Mukund says good news has come now no need to do this. Renuka says I am doing this so nothing bad happens further. Mukund says if you burn anything I will not leave you. Navya and Adi come to go to work.
Renuka says Navya everything will be good I will do anything in my power to make things right and in your favour. Navya looks at Adi. Adi smiles. Renuka hugs Navya. Renuka says look what I made for breakfast, your favourite kind Navya, what do you call it healthy breakfast. Navya says why did you do so much effort. Renuka says no effort is in this, see the love and care and like you said I will also start eating healthy only from today.
Navya eats, then Renuka says if possible try to take second doctor's opinion, today medical field has done so many discoveries. Adi says we are going for that today. Renuka says wow. Navya then says do you know IVF. Renuka says what is that? Navya says male sperm and female egg is fertilised in lab and then after some growth inserted into the womb of the mom.
Renuka says it will be your baby na. Navya says yes. Renuka says then it's okay, whether it be IVF or anything. Adi and Navya look at each other. Navya says but we will not be able to do that. Renuka says why. Adi says wr can't afford it as we don't have enough money, we gave our savings to Alok then I have a new job noe and Navya's school doesn't give any advance.
Renuka says you dont worry about money, I am here, I will do anything possible. Adi says no mom you don't need to take tension. Adi and Navya take a leave. Renuka thinks everyone is just focused on earning money and no one needs my help, why can't they understand that I can help too. I worry about the kid and I will help them.
In evening, Alok calls up Mukund saying you need to ask something about my friend or his family?Mukund says no not at all. Mukund asks when will they be coming to see Aanchal? Alok says in three to four days. The call ends.
Adi and Navya return home to see Renuka's jwellery on her room's table. Adi and Navya refuse to take the jwellery and sell it for money. Renuka says but I want to help, It's of no use if I die with them but I want a grandchild. Navya says we can't take it mom. Renuka says I know why, because you dont take me as your real mom.
Renuka says it's just for saying that you are my daughter and I am your mom but you don't give me any right of mom, the only wish for a mother is to see their grandchildren before dying, same is mine, what's wrong in that? Renuka says everywhere grandchildren are more dearer than own children. Renuka says won't there be any right of me on your children? Navya says it's not like that sorry. They both hug Renuka and get emotional.
Episode ends.
Click to read: