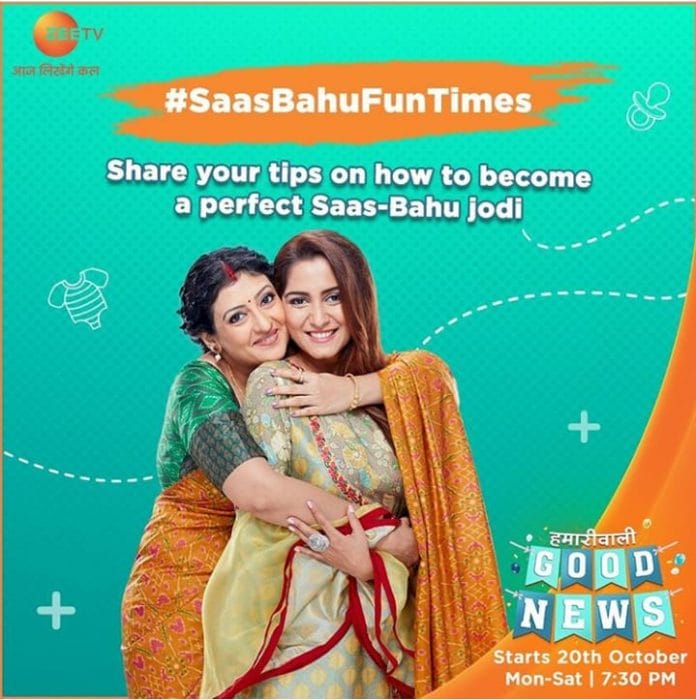 Hamariwali Good News 2nd November 2020 Written Update on TellyExpress.com
Episode begins with Adi and Navya coming to their room, Navya is crying. Navya says why did you take the blame Adi. Adi says Navya try to understand. Navya says you are ashamed of your wife having infertility issue? Adi says you know your Adi this much only?, I did this to protect you, if this thing is out then Sumitra will do our divorce and make me marry someone else and no one could say anything because they think women is a baby machine.
Adi cries, Navya hugs him. Adi says I support mom and her all kinds of efforts because she has not revealed this to anyone not even Preeti di or her own sister Kusum, she knows how much you mean to me and I can't live without you. Navya cries. They hug each other. Renuka is watching this from window and cried. Adi says I love you and I can do anything to save our family. Navya says I love you too.
Renuka is making breakfast but sheis frustrated that she is unable to help Adi and Navya. Her mind is not into cooking, Preeti comes and Renuka comes into senses to see the laucky ka halwwa is burnt. She throws it. Preeti asks Papa is so boring that only he can like laucky ka halwa.
Renuka says a girl who never ate laucky before marriage, learnt to eat and make laucky just for your father then too never gained importance. Preeti says why are you feeling off? Renuka says it's nothing. Preeti says today the sun came in opposite direction, you are so off beat from morning. Renuka says take your breakfast kept there and go, I am coming. Preeti goes. Mukund comes with Giriraj ji's prasad, his whole feet is bruised because of taking the parikrama without any slippers or shoes. He is unable to walk. He gives the prasad to Preeti and goes.
Renuka comes and sees the bruises and is shocked. Renuka says how did this happen, you go and rest I will bring a paste to make the bruises right. Mukund says I am not doing the parikrama for first time and I am not weak that for this also you will be putting medicine. He taunts and goes. Renuka thinks Adi loves Navya so nicely, I am so proud of my son.
Renuka is in thoughts that she is unlucky to not get that love. Preeti says don't think so much, now be happy for you becoming a dadi. Renuka gets a call from Alok. Alok says you want to destroy your daughter's home? Renuka says I didn't get you. Alok says if your daughter is not in my house in few hours then don't bother to send her. Alok cuts the call. Renuka says Preeti why are you coming home after fighting on small issues, please go as after marriage a women's family is her husband and kids. Preeti goes after long discussion. Renuka thinks even their relation is not like Adi's and Navya's.
Here, Adi and Navya are in Navya's mayake. Navya is convincing Adi to adopt a kid. Adi says no one will accept it, as everyone in his family wants their own blood. Navya says what if seeing the cute baby they all melt. Adi says that happens in movie, their generation is not like our, they will have difficulty in understanding adoption.
Navya's mom says I have seen Renuka go out of her way to become a dadi and to make you guys parents, I am sure once you explain her she will do it. Adi says okay I will talk to him. Adi says but for adoption it's a long procedure. Navya's mom says I am in child and mother department, I will fasten the process and it will be smooth, you just talk to your family. They agree.
Here, Preeti does video call from her house to Renuka, saying how she is irritated of her jeethani Sandhya who came fay before yesterday and now they can't have personal time. Preeti says how Alok and she planned to go and eat ice cream but Sandhya made kheer and Alok changed the plans. Renuka says you are mother of two but still acting like a kid, think about Sandhya two years ago her husband died after that she is sustaining her family and kids on her own. Preeti says don't take my side ever. Preeti ends the call.
Sumitra comes with her grand daughter and daughter in law. Navya greets them with water. Sumitra says why are you doing it and now on wear little loose clothes and stop jumping and doing exercise in school. Navya says okay. Mukund comes and says you came. Mukund asks Navya where is Renuka. Navya says don't know. Renuka comes and Mukund taunts that where were you? Renuka says Sumitra jiji.
Renuka hides her head with pallu and touches jiji's feet. Renuka says what should I be making for you today. Sumitra says not for me but for Sanjay's mother as she is coming to see Aanchal before going on her chaar dhaam yatra. Sumitra sees Adi and says you also skip office today. Adi says it's important for us to go. Sumitra says okay you both go but take care of Navya. Sumitra says Navya your child is inside you take care. Navya thinks it's so difficult to lie. Renuka prays that Navya just keeps up with the lie.
Episode ends.
Click to read: