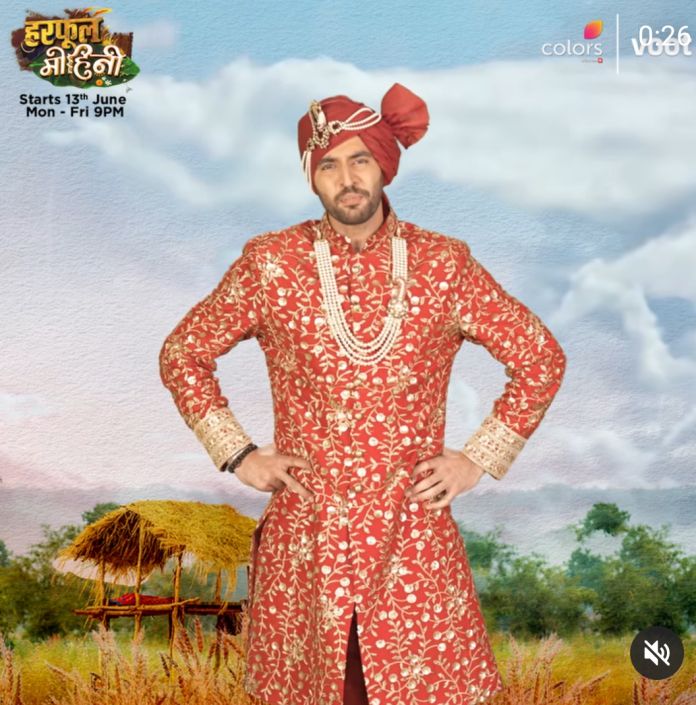 Harphoul Mohini 24th June 2022 Written Update on TellyExpress.com
Episode begins with Vijayan asks Harphoul's family to have snacks saying that he prepared it. Harphoul's family gets shocked hearing him. Maai eats it and praises the taste. She tells everyone to eat. Mohini's sisters comes there. Harphoul sees them and remembers that they only stole his clothes in the temple. Maai gives the clothes to Mohini's sisters which she stitched for them. Mohini's sisters apologizes to Harphoul and he smiles seeing them.
Maai asks them about Mohini. Shyamala goes inside. Rajan and Rahul runs from there. So Harphoul follows them. Shyamala brings Mohini. Maai places a kiss on Mohini's forehead and blesses her. She gives 'chunri' to her. She introduces Santho and Shalini to her. Harphoul's friends introduces themselves to Mohini. Maai asks that where is Harphoul.
Harphoul comes there and sees Mohini. Both of them recalls temple incident and glares each other. Maai asks them that why they are getting angry. She feeds sweet to them. She makes them stand together and smiles seeing them. Shyamala says that Mohini also prepared sweet dish. Mohini says that she will bring it and goes inside. Harphoul tells himself that God playing with his life. Mohini says that Harphoul is shameless and oversmart. Mohini's sister tells her that Harphoul is good person.
Shalini asks Harphoul to say no to this marriage before Mohini refuses to marry him. Tauji tells Harphoul that Mohini is dark. Harphoul takes Maai aside and asks her that why the latter found a dark girl for him. She scolds him. She says that heart should be pure and beautiful and Mohini's heart is beautiful. She adds that she is happy that she is getting an educated daughter in law. He tells her that Mohini won't help her in work. She tells him that he can do that. Mohini sees them and thinks that Harphoul complaining about her to Maai.
After some time, Mohini serves sweet dish to everyone. Maai makes Mohini sit beside her. She asks her that their culture is different so if the latter can adjust in their village. Mohini tells her that she will try. She glares Harphoul. She tells Maai that she is ready for this marriage but she has one condition which shocks everyone. Harphoul recalls that how everyone told him to not marry an educated girl. He asks that how can a girl do this. Maai asks Mohini that what is the latter's condition. Mohini tells her that she learnt that there is no toilet in their village. So she wants a bathroom inside the house. Maai asks her to show the bathroom. Mohini takes her to bathroom. Maai gets surprised seeing the facilities.
Harphoul's family tries to leave. Saroj stops them and asks them to wait for Maai. Maai comes there and says that she is fine with Mohini's condition. Harphoul tells her that he won't marry Mohini and takes her from there. Saroj asks Harphoul to build a bathroom. Santho tells Maai that they should return to Haryana. Harphoul says that he won't marry Mohini. Mohini tells Shyamala that she can't adjust in bathroom matter.
Episode ends.
Click to read