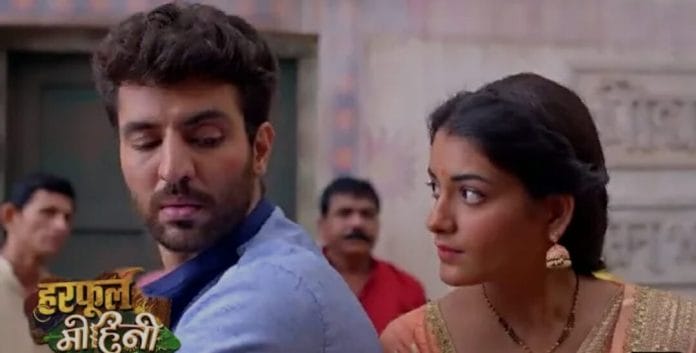 Harphoul Mohini Spoilers, Upcoming Story, Latest Gossip , Future Story, Latest News and Upcoming Twist on tellyexpress.com

Shagun Sharma and Zebby Singh starrer Colors show Harphoul Mohini never failed to engage audience with its gripping storyline. This is the story of Malayali girl Mohini and Haryanvi boy Harphoul. Now, Mohini saved Balwant's life so it will be interesting to watch that what going to happen in the future episodes.
Earlier it's seen that, Mohini told village people that they did not allow her to enter Susheela's house because they don't know the caste of Mohini. She said that they still don't know Mohini's caste so how can she enter Balwant's house.
Meanwhile, Balwant fell from the bed. Mohini told village people that everyone's life is important. She entered the house. Others followed her. Everyone got shocked seeing Balwant's condition. Harphoul and Balwant's servant put Balwant on the bed.
Balwant murmured that Mohini did not come to save him. Mohini asked Harphoul and Santok to hold Balwant. She injected insulin to Balwant. Maai felt tired and she sit on the chair. Mohini convinced her and others to return to house.
Sharda told Maai that the latter is lucky to get Mohini as daughter in law. Meenu told village people that they should be ashamed of themselves. Ragini told village people that they still don't know Mohini's caste. They agreed with her. Balwant regained his consciousness.
Mohini told him that he will be completely fine soon. She asked him to take care of his diet. Banwari offered gift to Mohini on Balwant's behest. But Harphoul and Mohini refused to accept it. Meenu sent wheat and vegetables vendor to Maai.
Maai bought wheat and vegetables. Shalini told Maai to take rest. She started cooking. Maai called Harphoul and learnt that Balwant is fine. She informed him that she had buy wheat and vegetables. Mohini asked Sharda to not give sweets to Balwant. Sharda blessed her. Balwant saw that.
In the upcoming episode, Mohini will fall asleep by sitting back side of Harphoul on the bike. Harphoul will look at Mohini and he will adore her beauty.
What will Balwant's next move? Will Mohini wake up now?
All these questions will be answered in the upcoming episodes.
To know what will happen next in your favourite show Harphoul Mohini, stay tuned to this space.