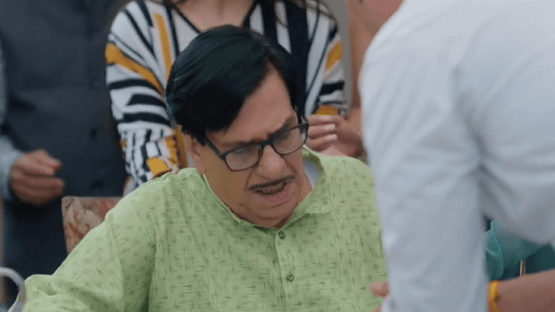 Anupama Upcoming Story, Spoilers, Latest Gossip , Future Story, Latest News and Upcoming Twist on TellyExpress.com
Anuj and Anupama is happily celebrating their pre-wedding ritual. The twist will hit the show as soon Hasmuk's health will be worsen. He will suffer a heart attack. Shah family will get shocked. Will Hasmuk survive or there is more to the story. What Anupama will do to save Hasmuk, to know more keep watching the show mon-sat on Star Plus and Hotstar.
In today's episode, Anupama worries for Anuj post learning the Vanraj took him. She prays Vanraj shares his pain with Anuj. He says he isn't affected with Anupama's relationship with him but he can't bear losing his children to him. Vanraj says to Anuj that he was jealous seeing his children preparing for his welcome. He adds he can be a father figure to them but can't replace him in his children life. Vanraj says to Anuj that he can't afford to lose his children. He asks Anuj if he will not try to take his place in his children life.
Anuj assures Vanraj that he can be a friend or guide to Samar, Partiosh and Pakhi but he can't be their father. He adds he won't be his children father but Anupama will always be their mother. Anuj alerts Vanraj never ever thought to separate Anupama from her children. Vanraj asks Anuj if he does the same. Anuj says than he will forget his promise to him and will end up becoming Samar, Pakhi and Paritosh's father. Vanraj stands mum.
Later, Shah's celebrate Anuj and Anupama's sangeet. They dance along with Shah's in 90s romantic song. Vanraj and Leela sit irked seeing Anuj, Anupama and others celebrating.
Stay tuned for more TV serial update