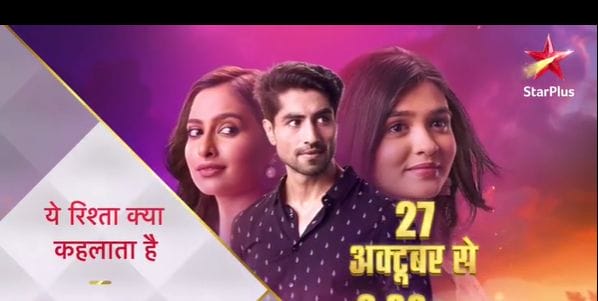 Harshad Chopda and Pranali Rathod starrer is seeing a wedding track currently. Show current TRP is 1.9
Rajan Shahi's Yeh Rishta Kya Kehlata Hai is well known longest running show on the Television. It started back in 2009 with Hina Khan and Karan Mehra. In 2012 it was taken over by Shivangi Joshi and Mohsin Khan. And most recently Harshad Chopda and Pranali Rathod are carrying the show legacy.
The third generation hit today in 2021. From day 1, triology was accepted by the z gen. The narrative on today's couple and their thought on love and marriage are entertaining. It is also breathing fresh in terms of no regular saas-bahu conspiracy.
The maximum TRP of the show was 3 plus. It now has a stable ( 1.9 ) ratings.
Show has several highlights but today we will see the best of triology so far;
Love at first sight:
Show couple Abhimanyu and Akshara falling in love for the first time was delight. Love at first sight was different because Abhimanyu fallen for the voice of Akshara first.
Love confession was iconic:
No couple on Television has proposed the way Abhimanyu did by turning spider-manyu for the lady love.
Sacrifice in love:
Akshara's sacrifice received mixed reaction from the audience. The episodes were interesting but failed to impress the audience.
Abhimanyu turning into adrenaline junkie:
This was appreciated by the masses. Instead of turning Abhimanu alcoholic post Akshara left him, he was show adrenaline junkie.
Family is priority:
No matter whatever the generation, family has always given priority in the show above everything
Let's see what more you add.
Fans celebrating ONE BLISSFUL YEAR OF ABHIRA. Last day they also trended RELIVING 1YR OF PRANALI AS AKSHARA.
Harshad Chopda fans are all set to relive the hunk as Abhimanyu Birla.
Meanwhile, show is high on drama. Abhimanyu and Akshara longs for each other. Arohi hatches a plan to marry Neil and take over Birla Hospital. Will Arohi be able to succeed in her mission or Akshara will flop her plan? Time will tell.
Keep watching the show mon-sun, 9:30 PM on Star Plus.
Stay tuned for TV serial news and updates