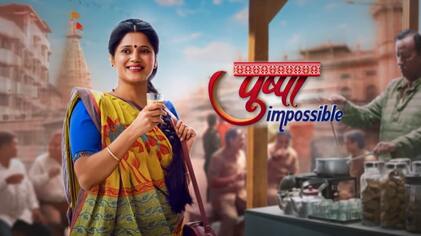 Show Pushpa Impossible is entertaining and a must watch family show. The women empowerment is not always carried subtly but Sony Sab's Pushpa Impossible is breaking the record. The show has a realistic touch and high voltage twist and turn keeps audience on their seat edges.
The struggle of a single mother is beautifully showed in the show. Drama will galore when Pusha's husband will make a re-entry in her life. Pusha will alert her husband and will ask him to stay away from her children. Will Pusha's husband be able to separate her from her kids? Keep watching the show for interesting drama. Here we bring the viewer's review on Pusha Impossible serial. Binge watch if you haven't yet seen it:
I want #pushpaimpossible should be on top5. This serial have different stories. No family melodrama. No dragging episode. Always truth win. Women empowerment. Gud msg to society. Everything very powerful and positive. Even all actors are doing well in their characters. #Sonysab
In #PushpaImpossible, the story always flows naturally & logically. We have to wait for how they bring Mansi/Dharm connection. I am sure it would be convincing .
Really a good serial and definitely a good representation of female lead I can say. This is not realistic and relatable portrayal of woman but this show also shows that a woman even in middle age as het wish, choice, passion and assertive attitude all these attribute many show makers fail to put. Overall this serial is heart touching and undoubtedly love it. Also her kids are not unrealistic smart and intelligent but how typically kids be towards their parents. Keep it up 💖
Pushpa Impossible is an inspiration fir every woman who think life ends when husband n parents leave u or when they die. She is dejected when her children be sad but is all set with her makeshifter ideas. And who she teach a lesson for there children to there life. This is the Best show my family like it and when on the clock 9:30pm will be there they all will come and see this inspiring show they most like it. My family want this show forever they don't want to be to close this show by SAB TV. Hats off to pushpa impossible. For us it's impossible but for Pushpa it is possible.
Share your views on Pusha Impossible!
Stay tuned for TV serial news and updates