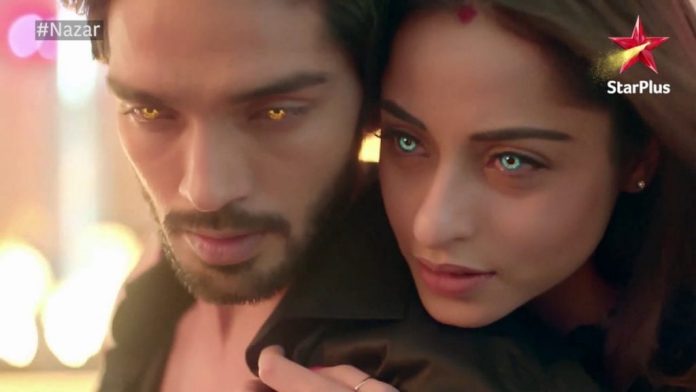 In Star Plus show Nazar, Shalaka will join hand with Mohana to find the person who has murdered Rahul
So far in the story it is seen, Ansh tells Piya that Shakala goes inside someone's body via eyes. Piya gets worried thinking how they will kill Shalaka. Ansh says smoke can only kill smoke. Ansh says to Nishant that they have to be alert because Shalaka enters the body through eyes. Ansh tells some plan to Nishant. Later, at the party everyone wears black glasses. Sangeet function starts dancing. Ansh and Piya dances too. Otherside, Piya goes to meet veil woman and Ansh kept Shalaka busy. Piya comes to Ansh and says their plan is working.
Shalaka sees woman in veil and tries to go to her but Chitalii dances around her. Shalaka catches the woman and tries to enter her body. When Shalaka can't enter the body she unveiled the woman in front of all. The woman was Piya's grandmother who is blind. Shalaka gets irked and screams in anger. Meanwhile, Ansh hides Rahul in his body but Shalaka throws water on Ansh and his body gets separated from Rahul. Shalaka gets emotional seeing Rahul's body. In the upcoming episode will see Shalaka joins the hand with Mohana in finding the person who murdered Rahul. When Chitali will say to Shalaka that she can take Mohana with her, Mohana will clap and say, people standing there doesn't deserve her loyalty. Thus she will join hands with Shalaka to find Piya with a condition that after getting Piya she will leave her. Shalaka agress
Elsewhere, Tara and Sanam will discover some unexpected facts about Panna.
Keep watching this space for more updates.