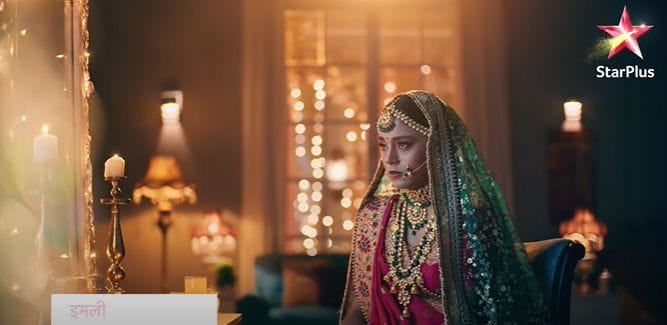 Imlie 12th May 2022 Written Update on TellyExpress.com
The episode starts with Imlie crying and asks the nurse whether blood is available or not. Nurse says she is trying to search for it but she couldn't find. Imlie prays to Sita Maiya and tells her to show her a way out. She breaks down to tears. She tells Madhav to telecast in Bhaskar Times that Aryan needs B negative blood. She scolds him saying she doesn't want to hear any excuse. She needs results. She asks the nurse angrily that how come noone in Delhi has B negative blood group. Nurse says she is trying her best but it's unavailable.
Narmada panics and Nila tells Gudiya to go with Arpita to get some food for Narmada. Arpita denies but Gudiya says she has no idea about Narmada's choice thus Arpita accompanies her. Nila provokes Narmada saying Imlie is the real culprit in Aryan's life because of whom he is in danger. Imlie left her first husband and broke her first marriage then how will she run her second marriage longer.
Narmada says but Imlie saved Aryan many times and Nila doesn't know the full story. Nila still provokes Narmada that Imlie doesn't care for Aryan and she is the reason why Aryan is fighting for life. Narmada looks at Aryan helplessly and Nila says Aryan's life can't be better if there's Imlie. She ruined her first marriage then she will repeat it again too.
Imlie reaches blood bank and asks for blood or donor. But the staff reply rudely that there's no blood. Imlie forcibly enters the room by twisting the staff's hand and looks for blood. She gets Madhav's call and learns a donor agreed to give blood. She comes out and apologises to the staff for her behaviour and leaves in hurry. A peon enters the room and takes out the hidden B negative blood pouch saying thankfully Imlie didn't see that. Imlie reaches hospital and enters ICU to see Aryan.
Nila says why Imlie entered when they didn't. She never listens to others but does everything on her own. Narmada gets influenced and says Imlie shouldnt have met Aryan, he needs rest now. Arpita makes her understand that Nila has problem with Imlie all the time. Imlie is already stressed so they should not doubt her. Narmada says still she made a mistake by going to meet Aryan.
Madhav comes and Jyoti asks him why he is here. She sends him to Imlie and thinks everyone will misunderstand Imlie when she will go out with Madhav leaving Aryan alone. Imlie holds Aryan's hand and pleads him to get up before she comes back with blood. She says if anything happens to him, she will die. She cries and Aryan holds her hand. She gets courage and leaves in hurry with Madhav. Imlie adds she will be back in two hours.
Later she gets stuck in traffic and asks everyone to let her pass. They don't pay heed so she tells Madhav that she will surely reach hospital on time and nothing can happen to Aryan as he is strong enough to deal with all problems.
Precap- Imlie reaches late and Jyoti gives blood to the nurse. Narmada slaps Imlie.
Click to read