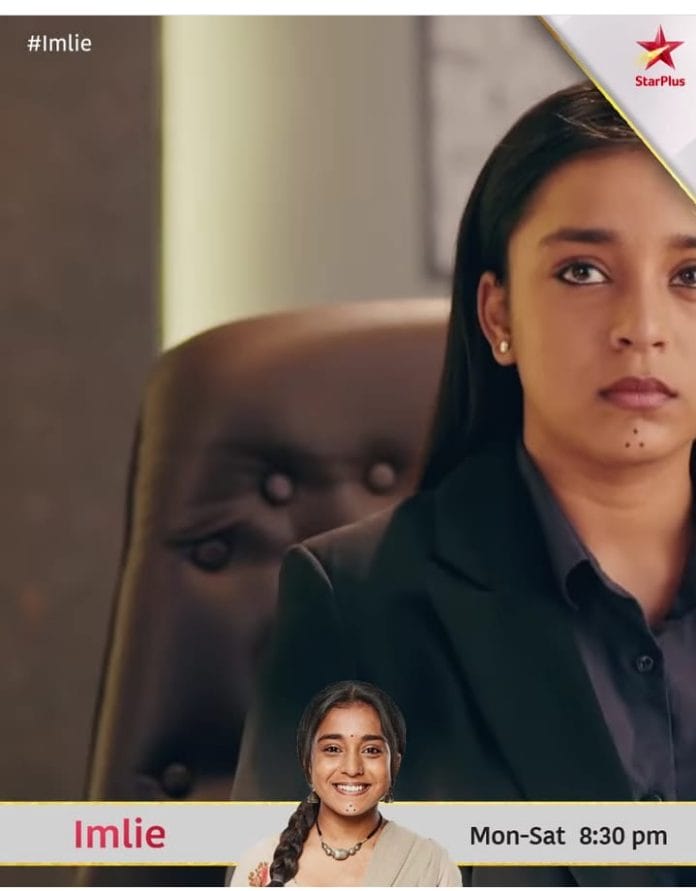 Imlie 14th May 2022 Written Update on TellyExpress.com
The episode starts with Aryan saying sorry to Narmada for not obeying her. She says Imlie will leave him one day like she left Aditya. Aryan gets shocked to hear that and he tells Arpita to make her understand how harshly she is talking about Imlie. Aryan leaves upset and Arpita tells Narmada that it's all her fault. Narmada cries. Aryan looks for Imlie and Arpita Sundar try to stop him as his surgery has been finished sometimes ago. Aryan says he has to go and he asks Sundar that the latter didn't Arpita with him to his house to save her from getting insulted then why he doesn't want Aryan to go behind Imlie? Sundar then tell Arpita to let Aryan go.
Imlie walks alone and loses balance while recalling her moments with Aryan. Aryan saves her from falling by holding her hand. Imlie gets delighted seeing Aryan. He pulls her and they hug each other. Imlie says thank God Sita Maiya saved him and he is okay. He also feels relieved to see her fine. She asks him that why he came after her, he got hurt. He says her pain is more intense as Narmada insulted her.
She asks how does he know? He replies he couldn't find her after gaining consciousness so he understood. She says they should not be here for long so they should go back home. He asks her what his mother told her. Imlie doesn't reveal and after Aryan insists her, she says Narmada is not wrong in her place and she fears losing her family members.
Narmada watches news about Imlie that she took risk and cleared the traffic for her husband's life while coming with the donor. She has done a great job, Narmada feels guilty thinking she didn't know Imlie was searching for donor. Gudiya and Nila start manipulating her against Imlie. They present Imlie's act in a bad light. Nila says it's just a show off nothing else.
To impress Narmada Imlie used her husband's channel for her own publicity and good image. Nila adds Aryan argued with Narmada and went against her decision today just because of Imlie, Imlie will separate her from her son one day. Narmada gets worried and Nila says Imlie knows how to control her husband and trouble her mother in law. She did that in her first marriage.
Imlie tells Aryan that she is not right for him, she broke a family completely and he asks her not to doubt herself again just because the world thinks bad about her and judges her. He told her before too. Imlie says but others are not wrong about her, Aryan says he trusts her and she should be concerned about what she feels about herself not what others think about her. She says he is wrong about her.
She picks a white cloth and says she has got the stain on her character and a woman is like a white cloth. Once it gets dirty, the stain won't get removed. Aryan takes the cloth from her and paints it red after dipping it inside the red color. He says white is boring and even rainbow looks fade in front of her, if she thinks like that then he will make her life colorful and her past won't haunt her again.
He covers her with the red cloth. Nila tells Narmada to control Imlie so that she can't go out or do things as per her wish. She suggests Narmada to stop Imlie from working or going to office. Imlie asks Aryan why he is doing so much for her, he says he doesn't know but he wants to protect her. He asks her he has questions too. Why she does so much for him, why she took risk to clear the traffic, why she was silent when Narmada accused her. They look at each other and Arpita calls Aryan to ask about Imlie is found or not. Aryan says yes and she tells him to come back with Imlie fast.
Precap- Narmada asks Imlie to leave job, Aryan objects saying he won't let her do so as she won't lose her identity just because she is his wife.
Click to read