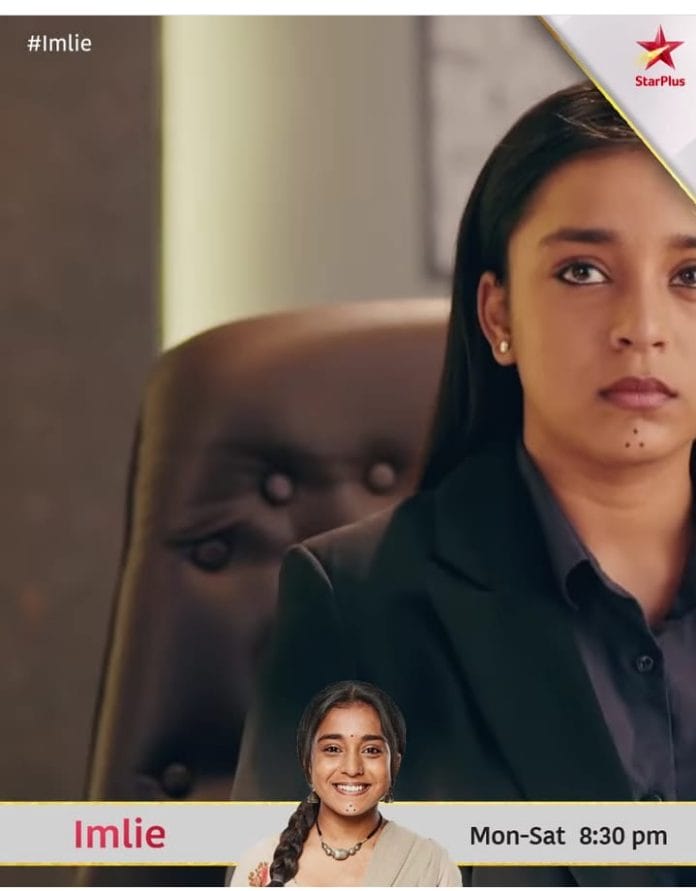 Imlie 4th June 2022 Written Update on TellyExpress.com
The episode starts with Imlie calling Mirchi and asking it to call her Amma. Aryan says instead of Mirchi and Imlie asks him not to do that. He is killing the fun mood. Mirchi sits on Imlie's shoulder and Imlie tells Aryan to hold it. He gets nervous and she laughs at him.
Aryan gets Jyoti's text and meets her. She says she went to the same chemist store where Madhav brought the medicine for Imlie. She learned from the CCTV footage that Madhav brought sleeping pills for Imlie. Aryan sees that and gets shocked. Jyoti tells him that it means Madhav might have taken advantage of Imlie during the sting operation, otherwise how she got pregnant when Aryan is infertile.
Aryan says only onle doubt can kill his relationship with Imlie and he won't take any step until he gets solid proofs against Madhav. Aryan leaves and Jyoti says he is different than all husbands, he still can't doubt Imlie else anyone in his place would have suspected Madhav. But she believes she will succeed in her plan.
Imlie eats the food Mirchi ate, Aryan tells her not to do that, she can get infected. Imlie says nothing will happen as Mirchi is her family. Aryan says sometimes whom we consider as our family they don't deserve our love or trust. Imlie asks him if he is upset for some reason. Aryan covers it up saying its workload. She says she wants to go to office with him for the employee appreciation day.
Madhav's workload will be lesser too. Aryan says she doesn't need to come to office but she insists. Aryan goes on stage and appreciates all the reporters and employees for their contribution and hard work. Imlie interrupts saying she wants to thank someone special. Jyoti assumes that she is going to thank Madhav in front of Aryan and will make things easier for her.
Imlie thanks the coffee machine saying without it they wouldn't have got the energy to work harder in office so she wants it to provide better service in future. Aryan smiles hearing that. Jyoti gets irked. Aryan gives awards to some employees including Imlie for their great performances.
Later Aryan gives thank you note to everyone one by one but he doesn't call Madhav on stage. Imlie feels bad for him. Imlie looks at him and Jyoti asks her to talk to him once then he will feel better as he didn't even get a thank you note. Imlie agrees and then she goes behind him.
Jyoti snatches an award from an employee saying she can do it as she is Aryan's friend and noone can stop her. Nila tells Gudiya to search on the internet how to throw out daughter in law from the house as she is running out of ideas. Gudiya does it in Aryan's laptop and finds some ideas but Nila says she already applied those on Imlie.
Arpita and Sundar come and Arpita tells Nila to have some shame as on this appreciation day she is planning against Imlie who is so much younger than her. Arpita suggests Gudiya to find ideas to become a good daughter in law. Nila thinks now she will do something. Imlie looks for Madhav and Nila Gudiya enter the office. Gudiya takes out a wheel of a chair so that Imlie bumps into that and falls down. Nila says after that Aryan won't allow Imlie to come to office.
Madhav meets Imlie and she gives her own award to him as an appreciation. She says though Aryan didnt see his hardwork but she witnessed it so this award is from her side. Madhav denies to take it from her but she insists him. She drops it by mistake and Madhav picks it up. Due to the broken wheel of the chair Madhav slips and gets hurt.
Aryan looks for Imlie and Jyoti says Imlie was talking to Madhav. Aryan goes to see her and Jyoti smirks. Imlie shouts Madhav as he fell down. Aryan gets furious at him and holds him by his collar. He asks him what did he do to Imlie? Imlie gets shocked to see that.
Precap- Aryan asks Imlie why she easily makes friends and spends time with them without knowing about their real intentions. Imlie says he has problem with Madhav that a hard working guy is giving his best. Aryan holds her hands tightly saying he is just selfish for her and worrying for her.
Click to read