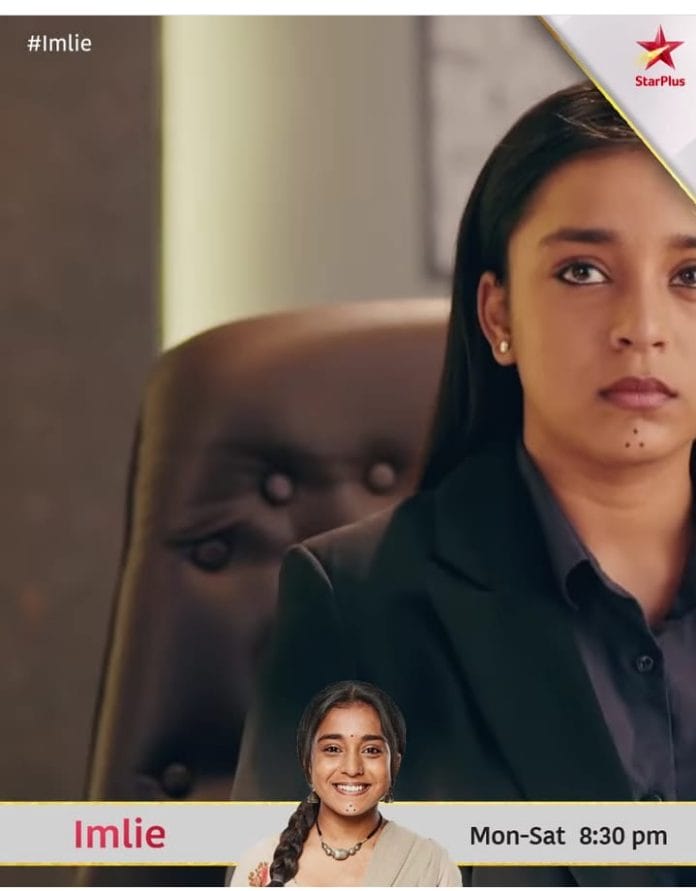 Imlie 6th June 2022 Written Update on TellyExpress.com
The episode starts with Imlie asking Madhav if he is fine. Aryan attacks him out of misunderstanding. Imlie stops him and asks why he attacked Madhav? He replies he thought Madhav will hurt Imlie. Imlie says she took his name as he fell down. Madhav says Imlie is his first friend in Delhi and she belongs to his own village, he can never think of hurting her. Imlie apologises to Madhav on behalf of Aryan and asks him to leave. Imlie questions Aryan that he never accuses someone without any proof then why he raise his hand on Madhav.
Aryan tells her why makes friends easily and spends time with them without knowing about their background? She should be careful. Imlie says he just has problem with Madhav, that's why he didn't appreciate him today for his work. Aryan says he didn't include him with others as he joined recently.
Imlie says Madhav completed three assignments with her, Aryan replies maybe he was helping himself not Imlie. Imlie replies he wants to reach heights with his hard work then he can't be selfish. He says I am selfish for you. Imlie asks him to trust Madhav but he avoids the topic. Imlie says he should equally give importance to all his employees and leaves.
Aryan calls Jyoti and says he wants to see the footage where Madhav is buying sleeping pills. Jyoti gets worried thinking how will she manage bring fake footage. She then calls someone and asks for help. Aryan waits for the footage and Imlie doesn't talk to him in anger. They talk to each other in mind. Imlie thinks Aryan should ask her anything except about the sting operation night.
Aryan thinks he cant be father and Imlie doesn't remember anything about the sting operation night and Madhav is also not telling anything, how will he forget all these and how will he find answers. Later Imlie and Aryan both tell each other that they don't want to argue. Aryan says she can go on a date with him. She says she is not in a mood to fall in a muddy pool again. He kisses on her cheek and leaves for work.
Imlie says she wants to go to office with him and Madhav will get some help too. Aryan says Madhav will write his own report today. She says why is he angry with Madhav? He says he is getting late to which Imlie says she wants to see her baby's father's photo so that the baby becomes like him. She tries to click a photo of Aryan but the latter leaves without posing.
Arpita and others ask Imlie about her baby, how he/she should look like. Imlie says her child will get the best qualities from her family members. Gudiya says she has the prettiest face in the house, so Imlie should look at her. Imlie taunts her and Jyoti asks everyone to have lunch. Jyoti tries to provoke Imlie saying how will she take care of her child by not going to work. Imlie says Aryan told her to take rest. Jyoti says Aryan should not stop her from fulfilling her dreams.
Imlie says she won't hear any word against her husband as he encouraged her always to fulfil her dreams. Jyoti thinks why Aryan and Imlie's bond is so strong. She acts like after her husband ditched her, work was her strength so Imlie should not miss even one day of work. She suggests Imlie to call Madhav at home. Imlie likes the idea and goes to call him.
Aryan learns in the office that Madhav went to his house. Imlie tries to feed Mirchi and it files here and there. Imlie notices someone's shadow outside the room and she gets scared. She asks who is there and screams. Aryan comes in and asks her if she is fine. He then goes out to check who tried to scare her. He asks his family if they saw anyone in the house. Aryan finds a guy in the hall and grabs his collar. Jyoti stops him saying he is her ex husband. Aryan asks if he went to Imlie's room. Jyoti says not at all. But she saw Madhav going to Imlie's room. Aryan gets furious hearing that.
Precap- Aryan tries to punch Madhav saying how dare he is trying to scare Imlie. Imlie stops Aryan.
Click to read