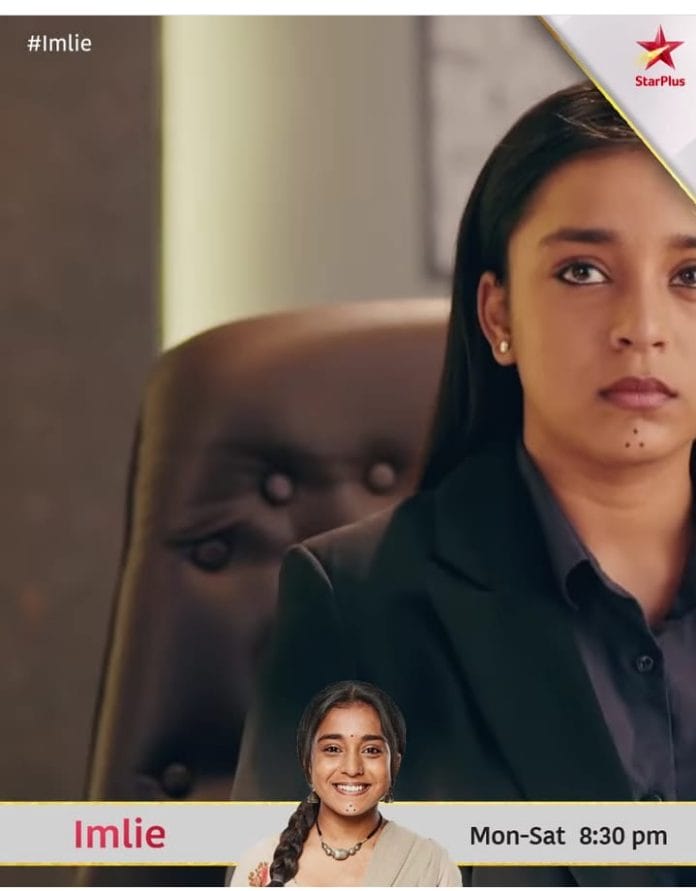 Imlie 7th June 2022 Written Update on TellyExpress.com
The episode starts with Aryan finding Harry and tries to attack him thinking he went to Imlie's room. Jyoti stops Aryan saying Harry is her ex husband and she called him here to talk to him. He didn't go near Imlie's room. But it was Madhav whom saw near Imlie's room. Aryan gets furious hearing that. He says are you sure it was him? He leaves.
Jyoti slaps Harry saying she just told him to come here but he messed up things. Harry says he shouldn't have picked up her phone, in flashback Jyoti told Harry to help her else she will kill Nargis. Harry says he can go to any extent to get rid of Jyoti and his biggest mistake was he married her. Jyoti says he can get rid of her if he kills Imlie.
Madhav comes inside the house and Imlie calls him in her room. She says she got scared for real but Aryan came on time. Aryan attacks Madhav aggressively for trying to scare Imlie. Imlie stops him and says how can he attack her friend without any reason? Aryan replies, friend my foot! He adds she wont give any excuse for Madhav today. He can see his true colors which she is unable to see. She says why he is behaving like that. She tells Madhav to leave and the latter asks Aryan not to misunderstand him. Aryan says how dare you try to talk? Imlie holds Aryan's hand tightly to prevent him from hitting Madhav. Madhav leaves.
Aryan tries to punch on the desk but she holds his fist, she says if he tries to hurt himself she will cry. She asks him what's wrong with him, why he is suddenly doubting Madhav and calling him a bad person. He knows him from the start. She insists him to reveal the matter. Aryan is about to talk about his fertility reports about Jyoti but Imlie hears Mirchi's scream. Jyoti smirks holding two wings of the parrot and blood drips from it.
Imlie calls out Mirchi but it doesn't come to her. She gets emotional saying she wont shout at it ever again, she tells Aryan that Mirchi made her alert by making noise else she had no idea someone is near her room. She says she can't afford to lose her dear ones again. She is fed up. Aryan hugs her and comforts her saying she won't lose anybody.
Harry tells Jyoti that killing someone is not right. Jyoti says she tried to separate Imlie and Aryan by provoking them against each other but they are not getting separated so only one option she has that is to kill Imlie. Harry agrees seeing her adamance. Aryan gets call from the office but he doesn't pick up, Imlie tells him to receive and then he switches into his boss mode and orders Imlie to prepare a report on a social media event for kids tomorrow. She gets surprised and then she gets close to him to thank him but he is her boss now and after 6 pm she can romance with him not now.
Imlie sees Aryan is working on laptop and she says she finished her report and he tells her to sleep. He gives her a kiss on cheek before she falls asleep. He says now Imlie has become everything to him and right now she doesn't have idea what Madhav has done to her. He decides to find out his truth secretly. He hears a noise and goes out to check.
Jyoti picks up some broken glass pieces and he helps her in doing so. She takes out a glass piece from his hand and ties bandage on it. She says he should end the problem before it makes him suffer more. Aryan thinks Jyoti is right and he will not hurt himself but will investigate about Madhav. She says she didn't leave from his house thinking he is alone right now. He thanks her as she is helping him to clear out his and Imlie's issues. Aryan adds he would like to unite her and Harry too. He says she can stay in his house as long as she wants. He goes to sleep and she says tomorrow Imlie is going to die.
Precap- Harry shoots Imlie when she is busy spending time with kids. Jyoti hears the gun firing sound.
Click to read