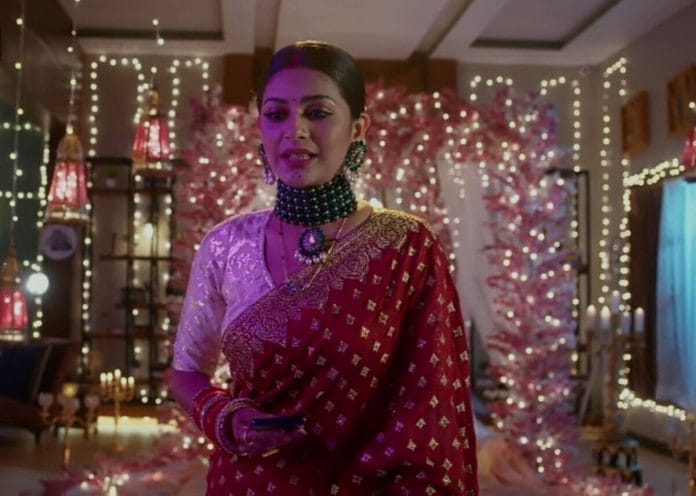 Imlie Spoilers, Upcoming Story, Latest Gossip , Future Story, Latest News and Upcoming Twist on tellyexpress.com
Star Plus popular show Imlie will witness some interesting drama in upcoming episodes. Chini is all set to cancel Atharv and Imlie's wedding as he loves her not Imlie. In the recent promo Imlie will be seen as Atharv's wife and she will learn about Chini and Atharv's secret affair. She will confront Chini and will decide to leave Atharv. It will be exciting to watch what's in store for us.
Previously it was shown that Imlie found out theres a dark color on Atharv's palm thus the milk turned dark. Atharv showed no interest to perform the ritual but Rudra stopped him from leaving. He told him to show some respect. Atharv and Imlie won equal rounds and later Chini acted emotional in front of Rathores when Rupy tried to slap her for being happy in Imlie's absence.
Chini said that she is trying to cheer them up by not crying. Later Anu and Chini searched for the cash but Rupy revealed she gave it back to Imlie's in laws. Chini got hyper and she went to ruin Imlie's first night.
Atharv went to meet Chini but Rudra blocked his way and told him to spend time with Imlie as he won't be able to hear Chini's truth. Chini waiter for him outside. Later Imlie and Atharv fell down when he entered his room.
In the upcoming episodes it will be seen Imlie will imagine that she is romancing with Atharv. Rudra will tell Chini's truth to him but he won't believe in that saying Rudra is cooking up a story. Rudra will warn him not to leave Imlie alone but Atharv will be ready to lose his house but not Chini.
Rupy will scold Chini for trying to ruin Imlie's married life to which Chini will pay no heed. She will give surprise to Arto and will get close to him. There Rupy will advise Imlie to work on her marriage. Imlie will go to search for Atharv and will call him to know his location.
He will get irked and he will also tell Chini it she took money from his father. Chini will convince him with her drama again. Afterwards, Atharv will meet with an accident and Imlie will be shocked to hear that.
Will Atharv cheat Imlie ?
Will Chini brainwash Atharv?
All these questions will be answered in the upcoming episodes.
To know what will happen next in your favourite show Imlie, stay tuned to this space.