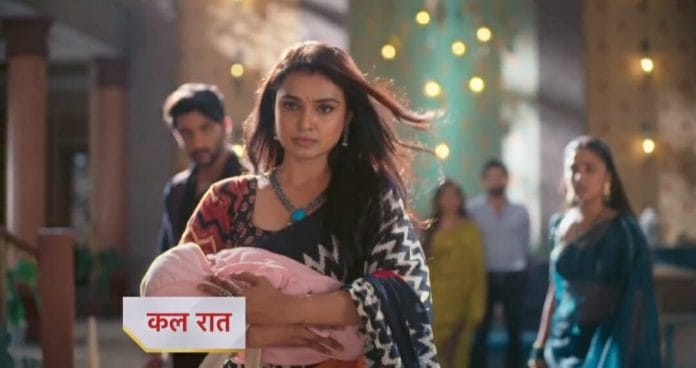 Imlie Spoilers, Upcoming Story, Latest Gossip , Future Story, Latest News and Upcoming Twist on tellyexpress.com
Star Plus popular show Imlie will witness an interesting track soon. Jyoti's game is finally over and she got arrested. Malini entered the show again to bring some huge twists and turns. It will be exciting to watch what's in store for us.
Previously it was shown that the baby girl was forcibly taken away from Narmada by the fake NGO workers. Nila told Narmada to let the child go. Imlie gained consciousness and rushed to stop them after learning that the baby is in wrong hands.
She took Aryan's help to reach the location where the baby is kept. They got to know they are involved into child trafficking. Aryan and Imlie disguised themselves as members from inspection team. Aryan looked like a nerd and Imlie looked like an old lady.
There Nila talked to Malini over phone. Malini gave fake introduction saying she is from Police department, she asked about her child and Nila got scared and replied Imlie went out with the baby. Malini understood that her baby is missing.
She hoped that Imlie will land in trouble due to her baby. Arpita got mad at Nila for giving the child to fake NGO people and she asked her to leave their house.
In the upcoming episodes it will be seen that Imlie will hold Gudiya in her arms and will get emotional. Gudiya will not stop crying and Imlie will sing for her. Aryan will dance for the babies so that they stop crying. Later the guards will arrive and Imlie will divert their mind.
Aryan will rescue the babies and Imlie will tie Gudiya up with her body and will face the men. She will call the parents of the babies and they will beat up the goons. Later Imlie will feel sad that Gudiya's parents didnt come to take her back.
She will try to convince Narmada so that they can adopt Gudiya and can give her a family. Nila will object but Narmada will accept Gudiya. Later Malini will come to Rathod Mansion and will take her baby back from Imlie. Imlie will stand shocked seeing Malini there. Malini will reveal it's her own baby.
How will Imlie react?
How will Malini enter Imlie's life again?
All these questions will be answered in the upcoming episodes.
To know what will happen next in your favourite show Imlie, stay tuned to this space.