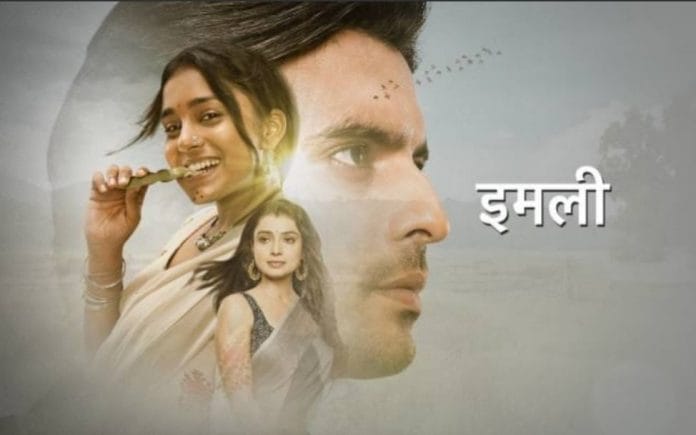 Imlie Spoilers, Upcoming Story, Latest Gossip , Future Story, Latest News and Upcoming Twist on tellyexpress.com
This week began with Jyoti decorating Aryan's room with candles. She says the aroma of the candles and the oil will create a relaxing atmosphere and this will help Aryan and Imlie to come close to each other. Aryan thanks her for making the arrangements. He doubts if Imlie will like it. Jyoti says he doesn't know about Imlie's choices that's strange. She is different from him. He must be adjusting. He says not at all, he is managing well. Jyoti asks him to smell the candles and stands close to him. Aryan says it smells good. Nila enters the room and keeps one candle near curtains and hides behind it. Later Jyoti suspects something and goes to check but finds noone behind the curtain. She leaves thinking soon Aryan will realise Imlie and he have nothing common between them so he will choose Jyoti.
Imlie enters the room in shock and recalls the accident. Doctor said Nargis slipped into coma and she will be fine or not he is not sure. Aryan asks her why she came late , he then asks her what happened to her and he notices blood on her saree. Imlie hugs him and shares the incident. He calms her down and she cries. She says she tried a lot to save Nargis but she is in a bad state. Aryan comforts her and they share a moment. Imlie notices the candles and asks him if he has done all this. Aryan says he thought she will like it, he says he will remove all of that. Imlie says he put so much efforts but she didn't even notice that. He makes her sit and goes to make coffee. Imlie teases him saying she can't believe he can make coffee.
He tries to figure out how coffee maker works. Imlie understands his situation but he still refuses to accept he is confused. Aryan gets close to her and asks why she doubts him everytime. Why she thinks he can't do what he tells. Imlie says his words are always pending so she feels so. Later Imlie catches him and he says he was bit confused the machine didn't work at first but now he got it. Imlie laughs at him. Aryan asks her if she is working on the article with Madhav. Imlie says yes and adds Madhav visited four places already, Aryan tells her to be cautious as the person is dangerous on whom they are preparing news article. They drink coffee and Jyoti gets jealous seeing them.
Sundar hangs his wedding photo and tells Arpita that for the first time he is feeling like he has more important photo in his life rather than Adhar card photo. His first identity is he is her husband first. Arpita gets happy. Narmada brings a night lamp for them and Sundar thanks her for doing so much for them. Jyoti gets Harry's call and she tells him to check on Nargis as she taught her a lesson. Harry says he has no relation with Nargis to which Jyoti replies Nargis threatened her so she took the revenge and now Nargis is in a bad state. Jyoti says next time Universe will listen to her and she won't fail to kill her. Madhav arrives and asks Jyoti about Imlie. Jyoti asks him about his identity and talks to him rudely and he leaves out of nervousness. Imlie goes to her room and finds out the curtains have caught fire and she gets shocked.
Aryan asks Jyoti who came. Jyoti reveals a guy came and didn't reveal his identity but she got negative vibe from him. She drops her phone and Aryan is about to pick it up but he hears Imlie's scream. Nila says her plan worked. He rushes to save her and sees Imlie is unconscious. He closes the door and extinguishes the fire with water. Everyone knocks on the door and gets afraid. Aryan lifts Imlie up.
Aryan calls the doctor for Imlie and the doctor says that Imlie inhaled too much smoke so she fainted. Aryan panicks seeing Imlie's condition. Nila puts the blame on Jyoti saying she set Aryan's room on fire. Jyoti thinks who wants to separate Imlie and Aryan just like her as she didn't set the room on fire. Later Aryan takes care of Imlie and she requests him to let her go to office as taking the evidence from Madhav is important. Aryan decides to accompany her. Jyoti later gets to know from Gudiya that Nila is the real culprit. Jyoti brings camphors and Imlie coughs due to that.
Aryan goes to the location and tells Imlie not to come out of car. He gets the evidence from Madhav but then he gets shot by an assassin. Imlie rushes to save him and the assassin runs away with the evidence. Aryan gets admitted to the hospital and his family gets worried for him. Jyoti decides to team up with Nila and Gudiya against Imlie saying they have same motive that is to separate Imlie and Aryan. Later Imlie tries to arrange B negative blood for Aryan.
Imlie gets restless while looking for blood donor. She breaks down to tears and forcibly enters blood bank's room. She doesnt find same group blood as Jyoti told peon to hide it from her. Nila provokes Narmada against Imlie saying she is responsible for Aryan's condition. Aryan will never live a peaceful life if Imlie stays with him. Narmada gets influenced. Imlie enters the ICU and asks Aryan to get up. He holds her hand. Narmada does not like that Imlie is not letting Aryan take rest. Later Imlie leaves with Madhav to pick the blood donor up from his location. They get stuck in traffic. She requests the public to let her pass.
Imlie clears the traffic by threatening to damage the cars. Jyoti cunningly brings the blood for Aryan and gives the doctor before Imlie could reach. Imlie thanks her but Narmada slaps Imlie in anger. Narmada lashes out at Imlie for putting Aryan's life in danger. She blames her for breaking her first marriage and accuses her of separating Aparna from her son. Imlie is shocked to hear all of that. Narmada tells Imlie to not get close to Aryan as she doesn't want to lose her son because of Imlie. She regrets for choosing Imlie as Aryan's life partner. Later Imlie leaves the hospital devastated. Aryan gets stunned seeing Narmada's sudden change of attitude towards Imlie. He says that Imlie was just doing her job and they didnt know an assassin will shoot him. But Narmada tells him that Imlie can leave him like Aditya one day.
Aryan leaves to find Imlie ignoring Narmada's words. Aryan meets Imlie and they hug each other. Imlie says that she is not right for him. She got upset and tells that Narmada is right in her place and she has got the stain on her character forever which can't be removed. Aryan tells her not to question herself just because world thinks bad about her. Later he tells about making her life colorful so that her past never haunts her. She asks him why he is doing so much for her. He asks her why she is silent hearing all the accusations. There Nila manipulates Narmada saying Imlie is cunning and she can even separate Narmada and Aryan. She suggests Narmada to stop Imlie from doing her job.
In future episodes Narmada will do the same what Nila told her. She will ask Imlie to quit her job but Aryan will object saying she won't lose her identity just because she is his wife.
To know what will happen next in your favourite show Imlie, stay tuned to this space.