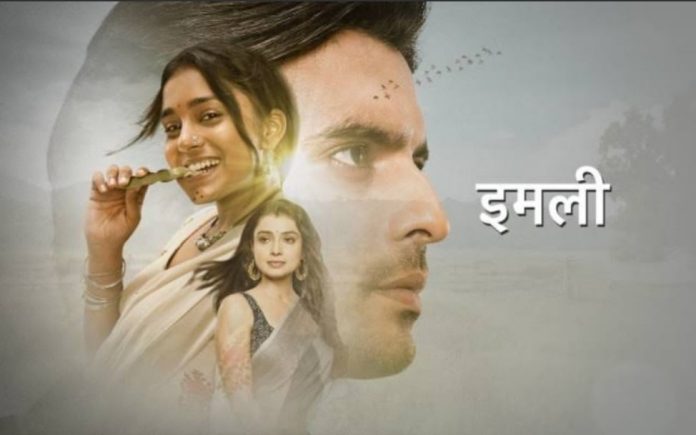 Imlie Spoilers, Upcoming Story, Latest Gossip , Future Story, Latest News and Upcoming Twist on tellyexpress.com
This week began with Aryan worrying for Imlie and tries to break the door to see why she is not coming out of room. Imlie feels nervous and she gets inside the room and opens the door after changing the get up of Kairi. Aryan hugs her and later he asks her why she is not talking to him. She tries to make him feel his baby but he distrusts her. He says that he will accept her child but won't spare Madhav. Imlie gets pissed and focuses on finding proofs. Later she makes pasta for the family and notices glue under Gudiya's shoes. She checks everyone's feet by going under the table and wonders why Jyoti is not wearing shoes. Kairi later serves pasta to Aryan. He looks for Imlie and she distracts him.
Kairi finds Jyoti's sandals and the footprint gets matched with it. She tries to find out whose sandals are those. Aryan tries to meet Imlie but Kairi stops him by dancing around him as it's impossible for her to turn into Imlie within seconds. Aryan ties her up but talks to Imlie in the room that shocks Kairi. Later Imlie finds Sundar in her saree who confronts her about her double role. She tells the whole matter to him. Sundar understands Aryan's situation but he supports Imlie. Later Imlie notices that the sandals are missing which she saw earlier.
Aryan takes Imlie to room and tells her to eat something for her child's sake, she does not eat saying he should not worry for her as it's not his child according to him. Aryan shows the sleeping pills to Imlie saying Madhav brought it to make her fall asleep. Aryan also tells that Kairi is weird and Imlie teases him saying noone in the family has problem with her. Imlie then notices Jyoti's feet who is wearing the same sandals. Before Imlie could see her face she disappears. Rathores do puja as Jyoti kept fast for Imlie and Aryan. Imlie sees that the sandals belong to Jyoti which she identified. She is not be able to believe that Jyoti can do something like this to her and Madhav. There Aryan again talks about taking revenge from Madhav after he gets discharged. But Imlie requests him not to call his own child as illicit. Aryan does not get convinced and he also learns that the particular cctv footage of the store has been deleted.
Sundar calls on the landline number and fakes his voice to tell Gudiya that Madhav gained consciousness. Kairi makes sure Gudiya informs this to the whole family. Jyoti gets shocked to know that and Harry laughs at her as her plan flopped. Aryan decides to file a complaint against Madhav and then he also thinks of killing him. Kairi distracts him so that he fails to contact the ACP. She also saves him from falling and that makes him feel as if Imlie saved him. There Jyoti decides to poison Madhav in the hospital as he might expose her but Imlie brings Madhav to Rathore mansion and Aryan stops her.
Imlie tells Aryan that she wants to look after Madhav as he is not safe. Aryan tells Imlie to make sure Madhav gets better and then he will make him suffer. She replies that his misunderstanding will be cleared soon. He asks her why she is adamant and doesn't want to see the truth. She tells him to support her but he refuses. There Imlie thanks Sundar for helping her by becoming Madhav. Jyoti tries to give poisonous food to Sundar thinking him to be Madhav but later she realises that it's a trap. Imlie catches her and she eats the food in order to win Imlie's trust. Imlie doubts if her suspicion is wrong about Jyoti. She learns that Madhav got back his senses in real and she becomes hopeful that she will get to know the truth now.
Nila asks Kairi to give her leg massage for one hour. Kairi thinks if Nila wants to stop her knowingly to prevent her from going out. She tells Nila that she will finish a work then will come back to her again. Nila gets irritated and Kairi bumps into Gudiya and gets an idea. Gudiya says her followers are not increasing to which Kairi tells her to post an emotional content. She suggests Gudiya to give leg massage to Nila and record it to post it on social media. Gudiya agrees. Kairi leaves and thinks of taking Aryan's car to go to the hospital. She gets into the car and Aryan also sits in car. He tells her to get out as its his car. Kairi tries to convince him saying she has to buy vegetables from the market.
Aryan asks her to reach market using other way. While arguing Kairi says he only taught her how to drive. Aryan says he only taught driving to Imlie, noone else. Kairi says Imlie taught her only. Aryan refuses to give her keys but Kairi says but he gives it to Imlie easily. Aryan says because he trusts his wife and he can give her everything of himself. Kairi says she only needs this trust in Imlie's voice, this surprises Aryan. Kairi comes out of the car and distracts Aryan by calling Imlie. Aryan goes to check and she starts driving and leaves with his car. Aryan gets irked and thinks he will talk to Imlie about her weird friend. She is getting on his nerves now.
Aryan looks for Imlie in the house and says clowns are filled in this house. Sundar hears his voice and acts like Madhav again in fear. Aryan calls Imlie and Arpita comes to Sundar. Aryan assumes that Imlie is giving food to Madhav. He leaves saying he wants to talk to her. Sundar asks Arpita how come she knows about their plan. Arpita says she saw his wig and got it. She knows Aryan must be wrong this time. She knows Imlie and Sundar can't do anything wrong against her family so she will support them and team up with them instead of supporting her brother. Sundar thanks Arpita.
Harry takes Jyoti to the hospital seeing her sick. There Kairi asks the receptionist about Madhav but she doesnt get the permission to meet him as it's a police case and Imlie didn't allow anyone to meet him too. Kairi tries to convince her that she is Imlie only but in vain. They consider her mad seeing her get up and lock her in a room. Harry brings Jyoti there and leaves her there saying he just wants to get rid of her. He doesn't care if she dies. Doctor notices Jyoti and understands the emergency. Jyoti gets her senses back after getting the treatment.
Kairi asks for a coin from the hospital staffs but they don't believe in her. She thinks now who will take care of the safety of Madhav as the attacker might attack him anytime. She prays to God for his safety. Jyoti thinks she has to kill Madhav in the hospital but right now she is not stable so she looks for Harry. She gets angry knowing Harry left without her. She thinks she won't spare him. Jyoti thinks noone can save Madhav from her not even Imlie.
In future episodes it will be shown Jyoti will try to kill Madhav. Imlie will sleep showing her back to Jyoti in Madhav's place. Jyoti will try to push the injection and Imlie will become alert.
To know what will happen next in your favourite show Imlie stay tuned to this space.