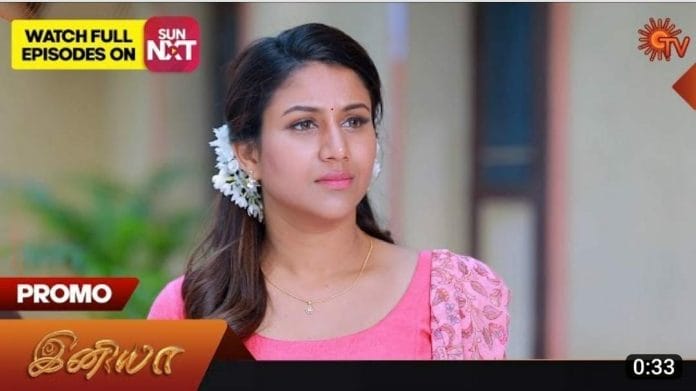 Iniya Upcoming Story, Spoilers, Latest Gossip, Future Story, Latest News and Upcoming Twist, on TellyExpress.com
Sun TV newly launched show " Iniya" is about An Arrogant cop Vickram married an open-minded. Iniya to teach her a hard lesson, while Iniya's forced to tie the knot out of love for her sister and their mother's dying wish. Shanmugam stands firm against Vickram-Iniya marriage
In the previous episode we saw; Gauri helped Iniya to look around the house. She served food to them. Iniya missed her mom and shared her moments with her. Gauri fed food to both Iniya and Yazhini. She asked them to don't miss her mom again. Just call her as mom here after. Vickram asked Subash to caught Sonali before she meet Iniya.
Later, Iniya came to market along with Gauri and Yazhini. Sonali didn't notice her there. She was searching for Iniya in thar market. Babu noticed her and didn't alert Vickram out of pity. He noticed Sonali talking with Iniya and fear to get caught.
In the upcoming episode viewers will see; Vickram will keep a close watch on Sonali. He will stop Iniya before she meet Sonali.
Later, Gauri will take her daughters in law to Dhanam house along with Vickram. Dhanam will welcome Gauri. Gauri will ask her to welcome Iniya and Yazhini. She will insult them in front of Vickram.
What will happen next? Will Iniya fall in love with Vickram?
When Vickram change his attitude?
Upcoming episode will answer to our all questions stay tune with our space for more updates