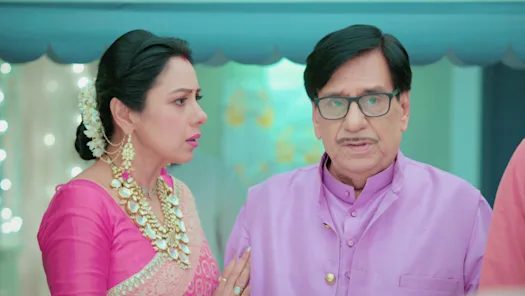 Rajan Shahi Anupama's strong plot and focused story on character 'Anupama' made the daily soap one of the best show of today's time. The way character Anupama took a stand for her self-respect and made her identity, impressed the millions ladies/housewives out there.
Anupama became an inspiration to many. Rupali Ganguly is bestest choice for the role. None other than the talented actress could have brought 'Anupama' to the life. The show recently witnessed wedding of Anuj and Anupama. Fans were excited for their journey in the show. But now they feel show is turning more melo-dramatic and less focused.
In the recent past, fans raised their voice against the adoption track. Leaving the adoption track, makers focused the story on Kapadia's by introducing Barkha, Ankush. Barkha's over dramatic and unnecessary vengeful attitude is irking fans. A social media user quoted "And show needs drama n all but atleast be little practical and logical but there is nothing like this in the show. If you can't show 100% logical it's ok but atleast show 1% na. Wo bhi nhi ho rha h makers se. Seriously! Jldi hi paani srr ke upr jaane wala hai. #Anupamaa #MaAn"
Louder! The actors are giving their best & at the end of day it is the creative team who is at fault for ruining their own masterpiece with a poor storyline. #Anupamaa #MaAn #AnujKapadia– wrote the second
Show Anupama online TRP is struggling. Check out more under the hastags #Anupamaa #MaAn #AnujKapadia
A fewer section of fans are against for showing Vanraj sane in the show despite character ill-treated Anupama in the past. In a recent interview with TellyExpress/ Justshowbiz we asked Vanraj aka Sudhanshu Pandey if he his character is grey or white. To which Sudhanshu quoted " Vanraj is a mix of grey and dash of white'
Coming back to the show, do you think Anupama is drifting from its plot? Comment your views in the comment box below.
On story front, Kinjal gets hurt while partying at Anupama's place. Vanraj accuses Anupama for Kinjal's mishap. Anupama feels guilty. In the upcoming episode, Anuj will restrict Anupama from visiting Shahs. MaAn will have a big argument post Barkha will put oil in the fire. How Anuj and Anupama will reconcile, time will tell. Keep watching the show Anupama mon-sat on Star Plus and Hotstar
Stay tuned with us for more TV news, spoilers and latest updates