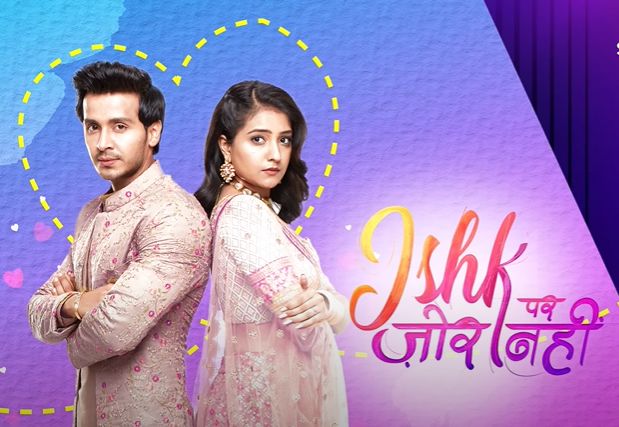 Ishk Par Zor Nahin 10th June 2021 Written Update on TellyExpress.com
Episode begins with Ishqi trying to get back into senses. Dadi sees Ishqi has got sense and plans to do something to get rid of her. Here, Rhea's mom comes to Rhea to give her juice. Rhea's mom taunts Rhea that she is sitting here idly and not doing anything, Ishqi will take Ahaan with you. She says that if Ahaan leaves her then no one will accept her. Here, Chachi gives tea to Dadi to calm her. Ahaan wakes up and asks Ishqi if she is alright? Ishqi says yes. Ahaan says not everything is okay, If I would have known. Ishqi says then you wouldn't have hated me, let the past be in past. Ishqi says I am thankful I didn't marry him and Sonu is safe from him. Ahaan sees Ishqi worrying about Sonu. Ishqi sees Ahaan crying and asks what happened? Ahaan says I am upset with myself, you did so much for my family, my sister and I did all the wrong things. Ishqi looks on. Rhea comes and Ahaan gets up. Everyone comes in and is glad to listen from doctor that Ishqi is fine. Rhea asks how it all happened? Ahaan says I will tell you later. Chachi gets worried for Ishqi but Kartik says she is a fighter. Sonu says thank god you are safe. Ishqi takes a promise from Raj that he won't be upset from Sonu for not telling as we both were very worried. Ahaan thinks evwn now Ishqi is thinking about Sonu. Doctor asks everyone to leave as they need to do tests.
Ahaan is sitting in the garden, Kartik comes to him. Kartik says I am glad all misunderstanding got sorted and that too on positive way. Ahaan says we both have nothing. Kartik says don't let this chance go from your hand. Here, doctor gives the prescription to Dadi. Dadi says to Ishqi why you did all this? You wouldn't have got in between all this. Here, Kartik tells Ahaan how Ishqi could have told everything but then she didn't, you have to see your feelings. Here Ishqi says Sonu's marriage would have got cancelled. Dadi says you know for whom you did this, for Ahaan! Dadi says I will come to the point that you should forget Ahaan as you don't have future so go away from his life. Here, Kartik says why you think there is no future? Love is difficult to get, and you are getting it, don't let that go away. Here, Ishqi says you are understanding it wrong, I have nothing for Ahaan. Dadi says good if it's not there, as I won't permit it and I want Rhea to be Ahaan's bride. Dadi says guy's do slip but I won't let Ahaan go out of my hand, so go away and far from us, I will provide you a good job, so don't you dare stay here. Dadi goes.
Kartik tells Ahaan that if Ishqi goes you don't know if she will return. Ahaan thinks. Here, Rhea comes to Ishqi. She says I hope you are feeling better, I got to know what happened with you. Ishqi says it's okay. Rhea says have you decided what to do? Ishqi says what do you mean? Rhea says you should get a better job now, as everything got clear. Ishqi says new job will take time. Rhea says sorry. Ishqi says why are you sorry? Rhea says I am going to marry Ahaan so I share his mistakes too right, so I am sorry but I will mend it, my dad has a company in Singapore, he can give you the job, thus will take you away from Ahaan, this family and the wounds. Rhea is about to go when Ishqi says I am sorry if you feel troubled because of me? Rhea says no it's not like that we just think this job will be better for you as mistake happened from Ahaan's end. Rhea leaves.
Ishqi thinks, even Ahaan thinks this? Here, Sarla convinces Rhea's mom to put pressure on Ahaan to do marriage soon. Ginni also brainwashes Rhea's mom. Rhea's mom tells Rhea's dad about it. He says this is not correct. Sarla offers to put forward this request of their. Rhea's mom gets convinced. Here Sonu apologies to Raj. Raj stops her. He says I will make Mayank pay for it, I am angry but not thinking it was your mistake but because you hid it from me. Raj says you started our marriage with a lie, I understand why you hid it from Ahaan but why hide it from me? Raj says atleast after marriage you could have. Raj says do you think our relation is so weak, that Ishqi got troubled so much because of your fear. Raj says I will file a complaint against Mayank.
Dadi comes and stops him and says in our society everyone blames the girl. Dadi says Sonu did right. Raj says what are you saying? Dadi says think about your mother only. Dadi requests him. Raj says please don't fold hands infronr of me, I will do what you say. Here, Ishqi thinks about Rhea's words and she stumbles when Ahaan handles her. Maasi comea and thanks Ahaan to make necessary arrangements for them. Ishqi also thanks them. Ahaan says it is nothing infront of what Ishqi did for me.
Episode ends.
Precap: Ishqi tells Maasi that she got job in Singapore. Ahaan gets to know about it from Rhea and goes to Ishqi.