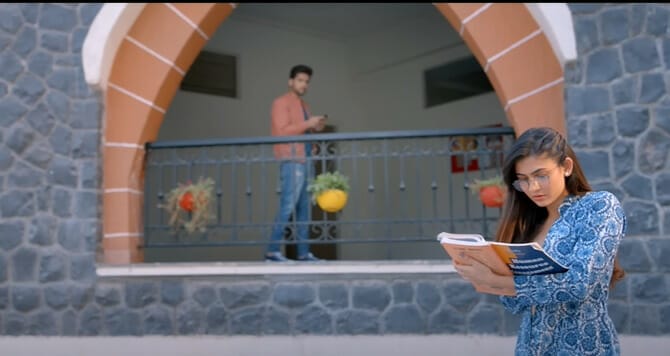 The most awaited song Ishq Ho Jayega teaser was out 1 day ago. Sai Ketan Rao and Shivangi Khedkar fans always wanted their favourite to enact college romance. Their wait is over as finally their fiction story is coming live.
Sai and Shivangi's college romance in Ishq Ho Jayega is not less than a cherry on a cake. The teaser impressed the millions out there already.
Actor Sai Ketan Rao who also made his debut as a producer with this song took his twitter and asked his fans to tell how they found the teaser. Quoting the best replies; Sai fans bombarded their best appreciation on the post. Check few out here. For full don't forget to visit Sai Ketan Roa's official twitter handle and YouTube link below!
"The teaser is like a beautiful suprise….This song is going to be a superhit for sure ……congratulations to you #saishi and whole cast and crew and to each and everyone part of #ishqhojayega….🥳🥳🎉🎉"
"They have an amazing chemistry that even just with this teaser they are creating fire 🔥😍❤️ can't wait for the whole mv"
"It was sooo beautiful n aesthetically pleasing….you have done a great job….realised about your so much hard work….it will definitely reach High….Best of luck"
"Loved it..beautifully shot with great aesthetics and has a cinematic,retro touch to it..the chemistry as usual is unbeatable and unmatched between you two as alwys..waiting for d full video @saiketanrao @Kedkarshivangi"
"Thiss is so beautiful beyond the words just obsessed with them more & more ❤️❤️ Can't wait for the mv excitement level is high ❤️‍🔥 This going to be hit ✨ As a producer, SKR did very well 🙌 Always wanted to see saishi in this kind of character finally getting it ♥️💫 Loads of love to saishi & whole team of #IshqHoJayega 🧿💜 #RiHan #SaiShi"
Sai and Shivangi became fans favourite post they met each other on the sets of Star Plus show Mehndi Hai Rachnewali. This on-screen couple made noise with their first MV named "Mashoor Banegi". Loyal fans manifesting that upcoming will be another blast.
Share with us if you all can't wait more for ISHQ HO JAYEGA.
Stay tuned with us for more entertainment news and gossips