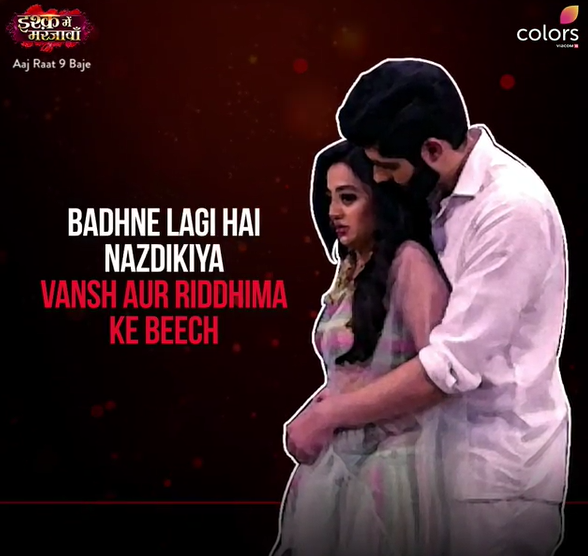 Ishq Mein Marjawan 18th October 2020 Written Update on TellyExpress.com
The episode starts with Ridhima telling Kabir that she completely believes that Vansh cannot take anyone's life and she doesn't need any proof to trust him. She says that the whole family is filled with people with their own motives, be it Ishani, Aryan, Chanchal or Anupriya herself: Vansh cares for them like a family but they do horrible things with his name. She says that other than Siya and Dadi, only Vansh has a pure heart.
Kabir asks whether she trusts Vansh more than him now. Ridhima replies that she isn't making any comparison but explaining him that he cannot be always right. She says that she put her life at sake for him, to know Vansh's truth, and now that she got to know anything then he should believe her.
She declares that, if this time she doesn't get anything against Vansh, then she will end the mission here, after which she will start a new beginning. She also asks Kabir to stop calling her continuously since she doesn't want anyone to come to know her truth. She doesn't want to play this game anymore. She cuts the call.
Later, Anupriya is on call with Kabir and tells him that they brought Ridhima in the house to help them but she is increasing their problems. She has overheard Kabir and Ridhima's conversation. She is sure that Ridhima has fallen in love with Vansh and says that, if they don't prove Vansh criminal then their mission's main point will be destroyed.
In the evening, Dadi does aarti and wonders where Anupriya, Siya and Ridhima are. The latter is in her room, arranging the plate for aarti. The chunari flies away and Ridhima chases it.
On the other hand, Vansh tells Siya that Ridhima doesn't trust him and this lack of trust has become a rift between them. He says that he has to take a decision about their relationship. Siya asks what he wants to do. Dadi prays for Vansh and Ridhima's relationship to stay intact.
Ridhima chases the chunari which flies to the backyard, near Ragini's statue. She says that she has to bring a new chunari since it fell down. She looks at Ragini's statue and says that Vansh loved her truly, just the way she loved his mother who betrayed him.
She promises Ragini to bring out her truth and reveal the real criminal as she believes that Vansh is innocent. She recalls all the moments in which Vansh showed concern for her. She knows it won't be easy but she is keen on reaching her goal since she cannot start a new beginning until she doesn't get justice done for Ragini. She is sure that Mata Rani will help her.
Dadi is still doing aarti. She sees that Siya and Anupriya has come but Ridhima is missing. Ridhima removes the chunari which was under the statue and feels like there was something there. She checks and finds a memory card beneath the statue. She wonders what can be there in the chip and if there is something related to Ragini's truth.
Dadi wonders why Ridhima, who had to bring symbols of marriage as donation to Mata Rani, hasn't come yet. Ridhima comes. Dadi asks her to give everyone aarti. Ridhima does that and then, everyone leaves one by one.
When Ridhima and Anupriya are left alone, the latter says that they all thought she was spying around again. She smirks and leaves. Ridhima says that the misunderstanding between her and Vansh will be soon cleared. She says that she needs a laptop to check what's inside the chip and wonders if she should use Vansh's laptop.
However, she decides not to tell anything about the chip to Vansh who will think she is suspecting him again. She thinks about something else.
Meanwhile, Ishani tells Angre that she arranged a different bed in hotel when they were on honeymoon but here there is whole family so he should sleep on carpet. She warns him not to touch her.
On the other hand, Ridhima is using Vansh's laptop which has password. She attempts guessing the password but she mistakes twice. If she puts invalid password another time, the laptop will get blocked and Vansh will get to know that someone used his laptop.
She tries again and password is correct this time: Uma Raisinghania, Vansh's mother's name. She inserts the chip in laptop and wears earphones. There is a video in the chip: Ragini is seen begging someone to let her go and someone is pointing a gun at her. Ridhima wonders who is the one holding the gun.
Vansh wakes up and sees that Ridhima is not next to him. He sits up but doesn't see Ridhima in the room. Ridhima is hiding behind armchair since she had seen Vansh opening his eyes. Vansh gets up and wonders if Ridhima is in the bathroom. When he turns around, Ridhima comes out and opens the door.
Vansh turns around and asks if she was hiding there. Ridhima lies that she just went out for a walk since she wasn't getting sleep. She was closing the door without making noise not to wake him up but he is already awoke. Vansh goes back to sleep.
Ridhima lies on bed and thinks about the video and says that the person holding gun had it in his left hand so it means they are leftist. Since Vansh is right handed, Ridhima understands he is innocents. She decides to watch the whole footage before telling anything to Kabir.
The next day, Ridhima gets out of washroom wearing a long white shirt since she had forgotten to take inside her clothes. She decides to get her clothes quickly now that Vansh is not in the room. However, just then he comes inside reading some documents and bumps into Ridhima who is about to fall. He holds her by her waist. They share eye lock while the papers that Vansh was holding fall upon them in air.
The ringing of phone brings the two back into reality. Vansh looks at Ridhima from top to toe after they recompose. She hides behind the pillar of bed telling him that she forgot to take clothes with her. She asks Vansh if she can use his laptop. Vansh asks what she has to do with it. Ridhima lies that she wants to check rangoli design on internet.
Vansh thinks he will trust her once again and gives her permission to use his laptop telling her that the password is his mother's name. He leaves. Ridhima swears not to break his trust and get Ragini's murderer arrested.
Episode ends
Click to read: