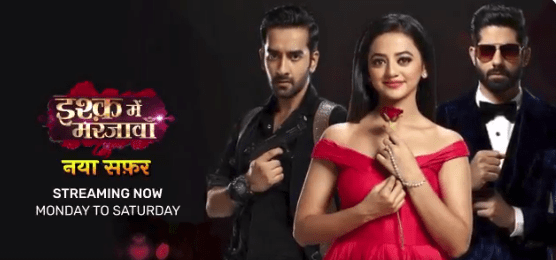 Ishq Mein Marjawan 2 22nd June 2021 Written Update on TellyExpress.com
The episode starts with Riddhima telling Angre that she can't do anything that will hurt Vansh. Angre asks her to tell the truth. Riddhima says that she tried, but no one believed her. The other day she didn't want to swear on him since she didn't want to lie and today also she doesn't want to lie to him. Angre says that he can only save her and her secret for seven hours, after that he can't do anything as Dadi gave him order. Riddhima asks if Dadi told him to kill her. Angre says that he's sorry and she has only seven hours to clear this mess. Riddhima leaves from there. On her way she leaves the parcel's cover on a table.
Ishani gets that cover and contacts Uday, who delivered the parcel to Riddhima, using the latter's name and asks him to meet her. Uday meets Ishani. She enquires him and learns that his company gives fake pregnancy provision. Ishani gets happy and thinks that this proof is enough for Vansh to kill Riddhima and laughs.
Riddhima comes back to her room. She recalls Angre's words. She takes Vansh's photo frame and looks at it recalling Vansh's words, his love confession and their moments together. Riddhima cries and says that she wanted a simple's life, but God gave her a complicated life, but she never complained about it since it made her strong, taught her to face difficult situations. She can face anything when Vansh is with her. She used to get scared of everything, but now she's only scared of losing Vansh. She had hidden certain things from Vansh, but she will confess everything to him when he will be back and will make everything fine. The person in trenchcoat enters Riddhima's room. Riddhima notices his reflection in Vansh's photo frame and runs after him. Riddhima notices a hand and drags that person out. It's turn out to be Sia. Riddhima confronts her and asks if she has done that doll drama. Sia denies it.
Riddhima threatens to call Vansh. Sia admits that she did that doll drama as she read her letter and wanted expose her in front of the family. Sia says that she killed her baby and she is fooling all of them. Riddhima says that she doesn't want to give her any explanation and asks why she's following her wearing trenchcoat. Sia denies it, but Riddhima doesn't believe her. Riddhima says that she remembers the person who made her unconscious was wearing the same bracelet that she's wearing. Sia says that bracelets doesn't belong to her, Chanchan gave her. Sia assures her that she's not lying. She only did doll drama as Riddhima hurt all of their feelings by lying to them about her pregnancy. Riddhima tells Sia to go back to her room and leaves.
Dadi, Riddhima and all others receive a message from Black Mamba, who asks them to come to the Banquet hall at 7pm to meet him. Dadi comes to the banquet hall first and sees the tables with a candle over it and wonders what it's. Then Sara, Ishani, Angre, Sia, Vyom and Chanchal come there one by one. They all confess to each other that Black Mamba called them. They all wonder where Black Mamba is. Chanchal and Dadi decide to leave. Just then a person wearing trenchcoat comes there.
The episode ends.
Precap: Riddhima reveals her face. Dadi asks what drama she's doing. Ishani asks if she was sending those videos. Vansh comes there and asks what's happening. The family tells to Vansh that Riddhima is faking her pregnancy. Vansh asks Riddhima what's all this.
Click to read: