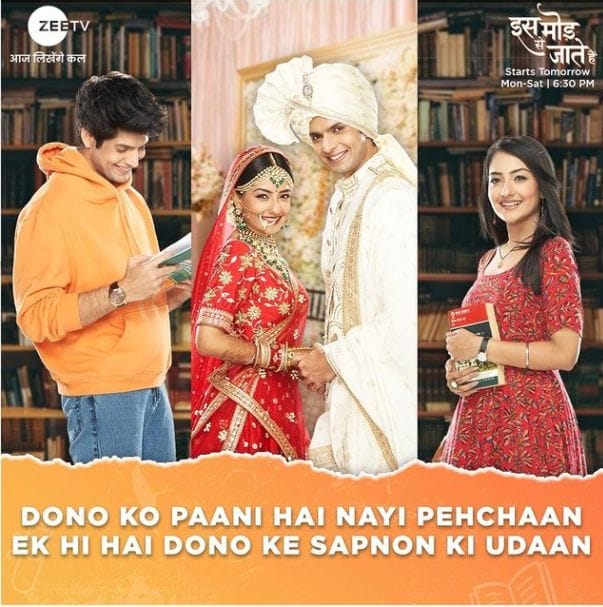 Iss Mod Se Jaate Hain 3rd February 2022 Written Update on TellyExpress.com
Episode begins with Sanjay stops Pramod from performing 'puja'. Sushma asks him that why he stopped Pramod. Sanjay reveals about Pramod's plan. He asks Pramod that how can the latter try to break someone's dream. He asks him that why the latter did that. Sushma tells him that she told Pramod to do that which shocks everyone. She says that he is not able see anything but she can see what's happening with him because of Paragi.
He tells her that Paragi's family did wrong with her and he is still angry at Paragi for that but Sushma also did wrong today. He says that she should punish Chanda not Paragi and he is not saying this because Paragi is his wife but Sushma is his mother and he don't want his mother to do wrongdoing. He says that no one can justify that what she did today. Sushma feels bad and goes inside.
Paragi informs her uncle about Sanjay's fight with Sushma. He tells her that he is proud of Sanjay and Sushma did wrong. She tells him that Sushma is disturbed and Pramod should not have supported her. She asks him to not tell anyone about this issue. Vinod overhears her conversation with her uncle. He tells her that he trust her and blesses her.
Pramod breaks things in anger. Baby asks him to let Sushma handle Sanjay. She says that their priority is their new project so let's concentrate on that only. He agrees with her. Meanwhile, Sanjay hurts his hand in frustration and Paragi stops him. She tells herself that he is hurt and she has to heal him.
Vinod tells Sushma that Paragi is not her culprit but Chanda. He says that she did wrong by punishing Paragi. He goes to prepare for 'maha aarti'. Later, Pramod gives his dream project to Sanjay as gift. Sanjay says that he is not ready to handle this project and moreover he is confused with UPSC too. Pramod tells him that UPSC is nothing in front of this project. He says that only Sanjay can handle this project and asks him to accept it.
Paragi stops Sanjay from accepting the project. She says that this project could be big but it's not Sanjay's dream. She says that she brought UPSC books. Pramod tells Sanjay that while handling the project he can prepare for UPSC too. She tells him UPSC should be Sanjay's priority. Vinod agrees with Paragi and says that Sanjay can do business later too. Sushma asks Paragi to not force her decision on Sanjay. Paragi says that they should not stop Sanjay from achieving his dream. Sanjay says that he can't sacrifice his responsibility for his dream and takes the project file. She tells him that she won't let him quit his dream. And she will help him to achieve his dream like how he helped her.
Episode ends.
Also check: