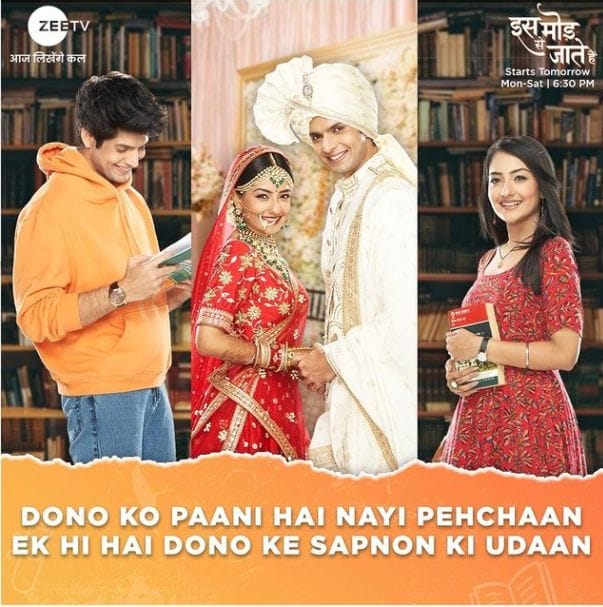 Iss Mod Se Jaate Hain 4th February 2022 Written Update on TellyExpress.com
Episode begins with Vinod welcomes MLA who came to his house to attend saraswati puja. MLA tells him that he just came to get saraswati's blessings. Pramod tells him that now Sanjay handling their university project. MLA asks them that then what about UPSC. Sanjay tells him that now he decided to focus on university project. MLA says that he was doubtful about this project but now he is confident because Sanjay going to handle it. Sushma and Nutan smiles hearing him. Vinod takes MLA for puja.
Pramod tells MLA's PA that he made Sanjay face of the project as per the latter's advice. PA tells him that the latter's proposal will be passed for sure. He gets competitive exam's question paper from Pramod. He drops the envelope by mistake. Paragi takes it from the floor and Pramod snatches it from her. She wonders that why he has competitive exam's question paper when exam has not happened yet.
Later, Sanjay informs Pramod that he met investor for the project and disconnects the call. He notices one guy preparing for UPSC sitting on his bike. That guy apologizes to Sanjay for sitting on his bike and tells him that becoming an IAS officer is his dream.
Meanwhile, Paragi decides to talk to Sanjay about question paper leak. He comes there. She asks him that if he is fine. He recalls that guy's words and also Pramod's words about project. He informs her about that guy. He says that he will think about UPSC before taking final decision. She tells him that she is so happy. He goes inside. She sees Pramod and thinks that she can't involve Sanjay in paper leak matter but she is involved already and she needs solid evidence against Pramod.
Sushma tells Nutan that she won't pressurize Sanjay for anything. Pramod asks her that what if tomorrow Sanjay choose his UPSC dream because of Paragi. He tells her that if Sanjay finished the project then all IAS and IPS officers will salute him. He says that they should increase Sanjay's status.
Paragi finds the printer and confirms that Pramod took print out of question paper from that printer only. She thinks that she has to gather evidence against Pramod and finds the question paper in his laptop. Pramod comes there and scolds her for touching his laptop. She shows the question paper to him and asks him that why he gave the question paper to MLA's PA. She says that she will expose him in front of family. He deletes the file which shocks her. He asks her that now what will she do. He tells her to go and complain about him if she can then.
Next day, Pramod and Sanjay gets ready to meet Bank manager to talk about university project. Sanjay tells Pramod that he will prepare for UPSC too. And they didn't get permission from ministry yet. Pramod tells him that they will get permission for sure. Paragi thinks that what if this project and paper leak has connection with each other.
She receives Baby's food delivery. And delivery guy turns out to be her friend. She asks him that why he is doing this job when he was good in studies. He tells her that he suffered a lot because of paper leak. He says that he is happy for her and leaves from there. She calls Rumi and tells her that she want to meet her brother who works in newspaper.
Episode ends.
Also check: