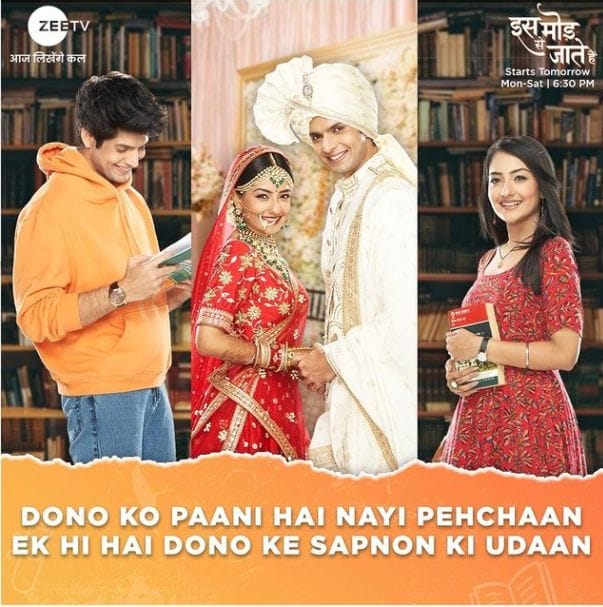 Iss Mod Se Jaate Hain 5th February 2022 Written Update on TellyExpress.com
Episode begins with Paragi's uncle meets bank manager and discuss about his crisis and loan. Manager tells him that he can't approve loan without grantor. Paragi's uncle says that he can't arrange any grantor and leaves the cabin. Sanjay overhears their conversation and hides from Paragi's uncle. He enters the cabin and learns that he will get loan for his project. He asks Manager to approve Paragi uncle's loan by taking him as grantor. He requests him to not tell anyone about it. Manager agrees to approve Paragi uncle's loan. Pramod overhears their conversation and decides to use that information at right time.
Later, Paragi informs Sanjay that she became an IAS officer. He gets happy hearing her and he congratulates her and it turns out to be his dream. He tells himself that his dream will become true for sure. She wakes up and he apologizes to her for disturbing her sleep. She tells him that she would have become an IAS officer in his dream. He asks her that how she knows about it. She tells him that she is really lucky that's why he thinks so much about her. He says that he feels like this situation going to change.
Next day, Pramod tells Sanjay that today the latter will get good news related university project. Sanjay gets shocked reading newspaper. He informs his family that competitive exam's question paper has been leaked so they set new question paper. Pramod notices MLA P.A's call and recalls that how he leaked the question paper. Vinod asks Sanjay that who revealed this news. Sanjay tells him that source has not revealed. Vinod and Sushma says that it's good that students will get fair chance now. Paragi smiles hearing them.
Paragi enters her room and smiles seeing Sanjay's gift. She notices him hiding from her. She asks him to come out and say all the best to her directly. She tells him that she liked the gift and thanks him. He thanks her for understanding that it's his gift. He wishes all the best to her for tomorrow's result. She tells him that her dream will be fulfilled when he will clear UPSC exam. He says that he is excited for tomorrow and leaves from there to attend bank manager's call.
Sanjay asks Vinod to sign on the papers as grantor for loan. Pramod stops Vinod from signing on the papers. He reveals that it's for Paragi's uncle loan. He tells Sanjay that Paragi's uncle can't pay EMI and then bank will ask them to pay. Sanjay tells him that these are assumptions. Pramod tells Vinod that Paragi's family brainwashed Sanjay very well. Paragi's uncle overhears their conversation. Everyone notices him. Paragi's uncle tells them that he brought prasad. He tells Sanjay that he don't know that the latter was doing this for him and asks him to not help. He gives the prasad and leaves the house.
Sanjay tells Vinod that now the latter knows his intention so he can decide. Vinod signs on the papers and gives it to Sanjay. Paragi thanks him and Sanjay. She says that she will pay the loan for sure. He asks her to relax and tell her uncle to not stress.
Episode ends.
Also check: