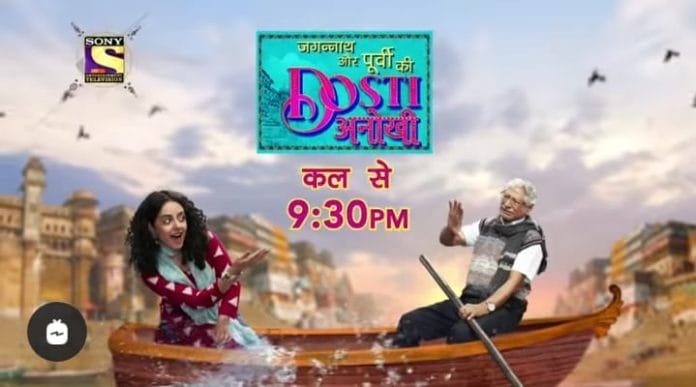 Jagannath Aur Purvi Ki Dosti Anokhi 10th May 2022 Written Update on TellyExpress.com
Episode begins with Kusum asking Deepa she supported Purvi so why not now? Deepa says Purvi did wrong with Isha, I won't handle that. Deepa comes to Jagannath and says you always do justice so do it today for me. Kusum cries and says think about this girl, she has no home, please don't do it, how can you turn your back on her. Deepa says just like you all did it to me, I will never forget it, dad never talked to me, he always scolded me. Deepa cries and shares how much pain she went through. Deepa says was my mistake more than what Purvi did? Purvi also starts crying. Deepa says you never forgave me for any of my mistake, but how can you forgive Purvi for such a big mistake. Jagannath sits down. Kusum worries and asks him to calm down.
Deepa taunts Purvi for being adamant. Deepa says I am going, I am grateful to you both when I had no one I had you both, you love me, but I don't want you to go through trouble because of me, so it's for the best that I leave. Kusum and Jagannath look on. Purvi asks Kashi if she can stay in his officer today, she will leave tomorrow morning. Kashi agrees. Purvi apologies to Deepa for hurting Isha. Purvi apologies to Isha crying. Everyone becomes speechless. Purvi asks Kashi to come. They go, Kashi takes her luggage with him. Jagannath and Kusum look on.
Jagannath stops Purvi and says if you go out today then remember, I will also leave this house. Kusum and Deepa get shocked. Deepa says you are saying this even after so many things happened. Jagannath says yes, because of today only I am saying, Purvi's life is in danger, Subodh us after her, we can't leave her alone. Deepa says what about us? Isha got hurt today, if something measure happens to us tomorrow then? Where will I go? Jagannath says you are just seeing your selfish motives, if you have issues with me then you can go wherever you want, this house is ours and I will decide who will stay here and who will not. Deepa says this house is not just yours, this is ours and Kusum's too, so you tell Kusum do you agree with Jagannath. Jagannath says to Kusum we promised Purvi safety so we can't let her go, you know we have always kept our promises. Kusum looks on.
Kusum says I understand you. Kusum holds Jagannath's hand. Kusum says Deepa, the time demands this and we can't let Purvi go right now, it will be a crime. Deepa is shocked. Kusum says I am with Jagannath in this decision. Jagannath says it's now decided, Purvi will stay here, the topic is over. Deepa looks up at Alok and says will you not say anything?
Later, Jagannath is sitting in thoughts when Kusum comes to him and asks what is the matter and asks him to sleep. Jagannath says I won't be able to sleep today, did I do right today? Did I do injustice to anyone? I felt bad when Deepa was crying, I felt I am doing wrong with my kids, but how can I let Purvi go? Thanks for supporting me today, but did you just do it because of a duty of wife? Did I force you? Kusum says I supported you because you were right. Jagannath says I am feeling very anxious, I don't know why? Kusum says our soul is bigger than family, so all decisions should justify our soul. Jagannath shows gratefulness for Kusum's presence and thanks her. Kusum makes fun of him and makes situation light. Kusum gets emotional while Jagannath gets thoughtful. Kusum says I feel worried for Deepa, don't know what she must be going through.
Episode ends.
Precap – Purvi says to Deepa that she will leave. Next day, Jagannath looks for Purvi. Kashi advises Purvi not to go like this without informing family.
Click to read