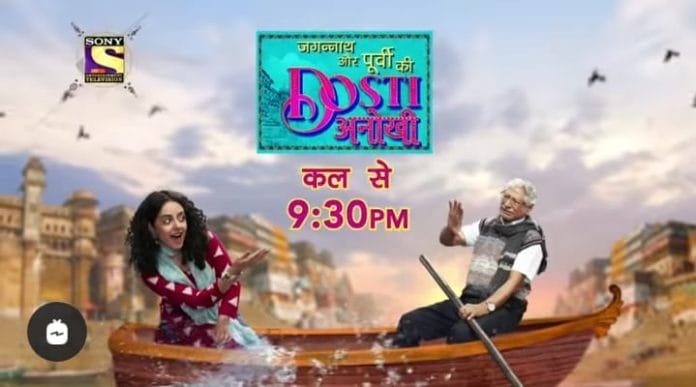 Jagannath Aur Purvi Ki Dosti Anokhi 11th May 2022 Written Update on TellyExpress.com
Episode begins with Deepa being sad remembering all the moments earlier. Purvi comes to Jagannath so Deepa gets upset. Purvi says I want to say something to you. Deepa says I don't want to talk to you. Deepa calls Purvi stubborn. Purvi says I am stubborn like you, I did mistake like you and your points today wete justified, I know you will never be able to accept me, I don't know if you will understand this or not, Jagannath has always remembered you in me.
Here, Alok is sending voice message stating the loss in business and how he wants to sell out the garment factory. Gunjan gets shocked and questions Alok about his this decision. Alok tells Gunjan about the house on mortgage. Gunjan gets shocked. Alok says everything was going fine but we got defaulted by one day, now he is not picking up, I think he is doing this because of Purvi. Gunjan says so this is the reason you wanted Purvi to leave. Alok says yes, but now Jagannath won't listen. Gunjan says this decision was wrong.
Here, Purvi is still talking to Deepa and tries to make her remember how Deepa wanted to bless her and supported her, I will go but please bless me before I leave, please. Deepa looks on. Purvi gets emotional. Deepa gets up and stands. Deepa says because of you Isha could have lost her life. Purvi says I am sorry, from tomorrow you won't have to fear anymore, I will leave. Purvi leaves.
Next day, Kusum does puja while Jagannath looks at her. Jagannath says I am trying to be patient and calm. Kusum jokes how she has hot habitual of his anger. Jagannath says no one came here, they might leave. Kusum says this thing will go on family have conflicts too, but at the end we have each other atleast. Jagannath says yes, the generation gap always continues. Kusum then remembers how this is the time for Jagannath to make beard. Jagannath takes out the razer when Kusum says how he is scared from the speed of the trimmer. Kusum and Jagannath discuss about their house and how it keeps them happy. Jagannath asks about Purvi.
Here, Dolly gives Purvi the details of some hotel and how one of her friend is going to help Purvi. Purvi asks if she told them that she is pregnant. Dolly says I had to tell them your husband died and you are pregnant or else they wouldn't have given you a room in the hostel. Dolly hugs Purvi and Purvi says I don't know how I will manage in Mumbai alone. Kashi also gets sad. Purvi cheers Kashi and asks him to take the business to higher levels like promised to Jagannath. Kashi says you are breaking the promise of friendship, you did friendship with Jagannath and now you are going without telling them. Purvi says they will never understand and ask me to stay, I don't want their family to fight again because of her.
Alok talks to Kewal and gets to know their factory is selling in very low rate. Gunjan worries while Alok says Kewal is also taking advantage of us, what if Subodh does something. Just then, Subodh comes and greets Jagannath. Jagannath starts to scold Subodh and asks him to go. Gunjan and Alok worry seeing him. Jagannath says I also have respect and I am a common man, I am not a political leader but I will not be afraid of you, I am truthful, so you use whatever power you want but we won't get down. Subodh smiles and says who is threatening you? I am here. Deepa and Isha also come out. Jagannath says I know who did the firing on my daughter, I will go to police and file complaint. Subodh says I didn't do any such thing but now I will do, this is a warning to you. Jagannath looks on.
Episode ends.
Precap – Subodh tells Jagannath about Alok keeping the house on mortgage.
Click to read