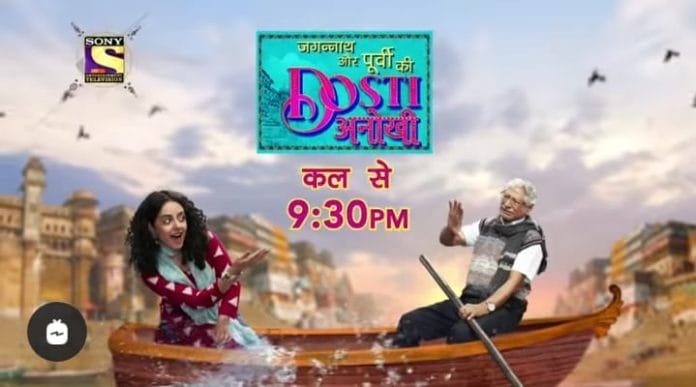 Jagannath Aur Purvi Ki Dosti Anokhi 12th May 2022 Written Update on TellyExpress.com
Episode begins with Subodh saying this is your house. Subodh laughs. Subodh says I think you don't know that this house is not yours anymore, your son didn't tell you I guess, your son kept this house mortgages instead of 1 crore rupees. Subodh says I came to say this politely but you again made me feel low so take the hard truth, I don't leave people who take my money and flee. Jagannath looks at Subodh and then at Alok. Alok is tensed. Subodh says you had respect and all to keep that girl in your house so face it now. Subodh goes laughing, giving him the papers. Jagannath says I didn't sign any papers Kusum then how is it possible?
Jagannath sees the paper and is shocked to see his, Alok and Deepa's sign. Jagannath says Alok did my fake signature and then your son and daughter did the signatures. Kusum is shocked. Jagannath says we don't have a home anymore due to our kids only. Jagannath goes to his room and shuts the door at Kusum's face. Kusum worries. Kusum and Isha knocks on the door but get no response. Jagannath remembers all the past moments where he got skeptical but his kids lied to them. Alok and Deepa try to calm Kusum but she asks them to back off.
Here, Purvi is about to leave when Kashi tells her about the situation at home that Isha told him. Dolly asks Purvi not to be emotional and come as train will get missed while Kashi looks on at Purvi having hope. Purvi gets on a rickshaw. Kashi says you did friendship with Jagannath, but you are leaving him at his misery this is not good. Purvi goes. Purvi remembers moments of Jagannath's friend and her promise to Jagannath for being with him always. Purvi sees an old man with a kid. Purvi asks rickshaw guy to turn the rickshaw. Dolly says you remember what will happen if you go back, think nicely. Purvi says I know what I am doing.
Kusum gives her promise on Jagannath and asks to open the door. Jagannath opens the door and says you want to give me support, but how with your kids like these who have taken the roof on us. Jagannath goes out. Kusum feels dizzy and falls. Gunjan supports her and makes her sit. Kusum cries.
Purvi and Kashi are in the temple finding Jagannath. Kashi sees Jagannath and goes to him. Purvi also comes. Jagannath asks why did you come here, please go. Purvi says I know, it hurts a lot. Kashi says Tripathi is really disgusting. Jagannath says I have no problem with Tripathi, he means nothing to me, I feel hurt when the family cheats, I lost faith on everyone. Purvi says there will be someone you trust, who holds your hand and makes you cross the path, who never lets you lose your way, someone who you trust as much as I trust you, whenever you told me to have courage, you are with me, I trusted you and heard you, I followed your advice, maybe that's why I have calmed my heart after many difficulties, sometimes its good to blindly trust someone, I didn't mean that you trust me, I don't have much experience, did you trust God as Kusum does, she leaves all the problems to her and gets tension free, trust God and see, maybe you find a way.
Episode ends.
Precap – Jagannath says he got a way out and I will do it. Jagannath asks Purvi to go to Kusum. Police comes looking for Alok.
Click to read