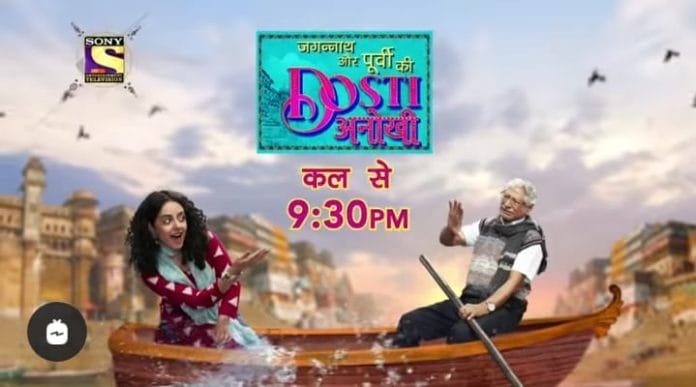 Jagannath Aur Purvi Ki Dosti Anokhi 13th May 2022 Written Update on TellyExpress.com
The episode begins with Jagannath praying and giving money in donation box. Purvi comes to Jagannath and says let's go. Jagannath says you were right, I trusted god and I got my answers, Purvi you go home as Kusum will need you, Kashi you come with me. Purvi looks on. Here, Isha and Purvi are with Kusum doing path to calm her. Gunjan and Deepa look on. Gunjan give food playe to Deepa to give to Kusum. Deepa asks Kusum to eat something as she has not eaten since morning, you all are taking me wrong, I told Alok not to take this step but he assured me he won't let anything happen to this house, I trusted him because of this. Deepa cries and apologies.
Kusum says no, what will I tell Jagannath's mother when I die? That her grand children sold her house? Alok comes and Kusum says I should have trusted Virender only, kids always think selfishly. Alok tries to tell how breaking his and Gunjan's FD they will be able to arrange money and they won't let anything happen to the house. Kusum says I don't want to listen to it, kids should be a support of parents, I fought with everyone for you both but look what you did. Deepa and Alok cry and sit down. Alok says it's all my fault, Deepa trusted me, give us punishment but don't disown us. Kusum is about to keep hands on them but then stop herself and says how will I forgive you, I can't do it, what did I do wrong to get such kids?
Jagannath and Kashi come home and Jagannath is in deep thoughts. Kashi sees Police and looks at Jagannath. Jagannath asks Kashi to handle it all. Kashi nods. Jagannath comes home and sits. Jagannath says Isha your statement will also be taken with Purvi's, are you ready? As it's a long thing. Isha says I am not afraid. Jagannath says after today, Subodh might be very angry and might try different things, so Deepa can go back to Delhi but will have to come for Isha's statement. Deepa says this is my house too, I won't let you guys face anything, I am here with you. Alok says even I am. Jagannath stops him and says Kusum I have filed another complaint too, it's against Alok for cheating us. Everyone is shocking.
Kusum says you did this to your son? Jagannath says Alok did wrong, he will receive the consequences of it. Deepa says but Alok is your son. Kusum says Alok is sad and he cried a lot, he also brought out a solution for this problem, parents forgive all problems of children. Jagannath says parents might do but we won't. Kusum says your ethics are more important than your blood relations? What he will do? His life will be ruined. Jagannath says he should have thought about this before doing this mistake. Kusum says but. Alok says let it be, I will face it, he always forgives others but not his own children, no need to ask for help from him, you filed an FIR against me noe tell me what will happen ahead? Jagannath says arrest. Gunjan is shocked.
Jagannath asks Kashi to call inspector. Kashi is silent. Jagannath asks Kashi again. Kashi goes. Police comes and asks for Alok. Alok says I am the one, take me with you, do the hardest punishment for me, as my dad has his own ethics so if you show softness towards me then he will complain against you. Gunjan says no Alok. Police takes Alok. Everyone is shocked. Gunjan folds her hands infront of Jagannath.
Jagannath says Gunjan you must be thinking, I am so tough and heartless, Kusum you also know I didn't do anything wrong. Jagannath goes. Kusum sits and gets silent. Isha tries to console Kusum. Later, Jagannath is in his room working. Purvi and Kashi bring chaash for Jagannath. Purvi and Kashi ask Jagannath how can he be so tough, how will Kusum take this? Jagannath asks about Kusum. Here, Kusum cries when Deepa and Gunjan calm Kusum. Gunjan says my dad knows a big lawyer, he will prepare for Alok's bail. Jagannath says no one will bail out Alok. Deepa and Gunjan get silent. Jagannath sits with Kusum when she says don't touch me, please bring my Alok back.
Episode ends.
Precap – Kusum brings Alok home and says Alok will stay here in this house. Jagannath gets shocked.
Click to read0.