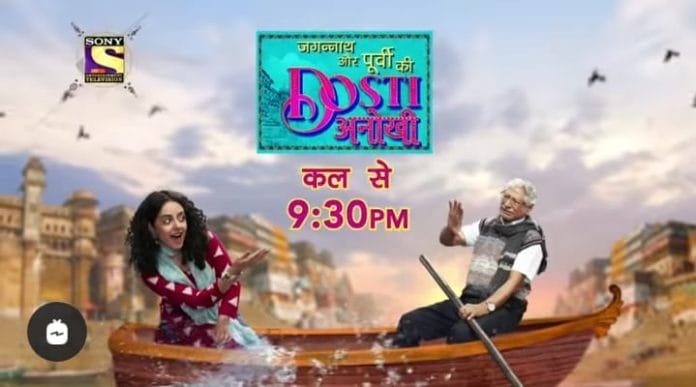 Jagannath Aur Purvi Ki Dosti Anokhi 24th May 2022 Written Update on TellyExpress.com
Episode begins with Jagannath being asked how will he do the task. Jagannath shares his experience. The interviewer says standing in the factory and supervising it might get difficult for you, my sir is a great friend of yours so he asked me to meet you but sorry I can't offer the job. Jagannath goes to various other interviews but faces rejection everywhere. In the last interview, Jagannath says just because of age I can't do these tasks, I have always done this without any mistake then why can't I do now? The interviewer says we want youngsters who are energetic. Jagannath says what about people like me? The interviewer says you are a batchmate of my in laws so if you need any help I can give you money. Jagannath says I came for interview not help like this.
Jagannath leaves. Here, Purvi gets nervous hearing all the other candidates speak. Jagannath comes and asks Purvi if they can leave? Purvi says my chance has not come yet. Jagannath says it's good thing, let's go. Just then Purvi is called. Purvi says please let me try once. Jagannath says okay, I am here, all the best. Purvi goes on stage and gets the topic as why do people get cheated in love? Purvi freezes and remembers her incident. She is silent and starts crying. The judges says why are you crying? Why are you not starting? Purvi starts to say but stumbles and remembers her moments with Babu. Everyone starts laughing at Purvi and taunts her. Purvi again starts but stumbles. The interviewer asks her to get down as she can't do it. Jagannath remembers his rejections of the day. Purvi steps down and comes to Jagannath. Purvi says you were right, this job is not for me.
Jagannath says why not? This is not a difficult job, normally you talk all day and now you froze? Purvi says you heard the topic. Jagannath says many people get cheated but don't keep it close to your heart, you can't give up, these are small hurdle. Jagannath says listen everyone, give her one chance and she will speak. The interviewer says we gave her a chance but she got scared. Jagannath says she just got nervous, she will do it, just give her another chance. Jagannath says you can do it Purvi, go for it. Jagannath says best of luck. Purvi goes and smiles.
Purvi starts saying on the previous topic when the interviewer says you can't say on the same topic after thinking on it, so your new topic is who is a good friend. Purvi gets happy and starts her speech on the same. Everyone enjoys and relates to what Purvi says. Interviewers also like it. Jagannath smiles on Purvi's thoughts. Jagannath gets to know how Purvi is describing their friendship as an ideal one. He gets happy.
Everyone claps for Purvi's performance. Purvi says to Jagannath she was really nervous, what do you think? Will I get the job? Jagannath says that I don't know but you gave your best. Later, Isha makes Kusum hear radio and says this is radio jockey. Kusum says okay, Purvi can do this job the best. Isha says yes. Kashi starts getting emotional hearing an emotional story on radio. Isha says you are crying, Kashi denies. Kusum asks Isha not to taunt him. Isha says but you should be little tough and selfish, think about yourself. Kusum gives Kashi and Isha pakoda. They get happy and praise Kusum. Isha says you can start a pickle business. Kashi says yes, you should do it, it will sell like anything. Kusum asks them to go outside and eat.
Jagannath comes and calls for Kusum. Kusum gives some for him and sends Kashi and Isha. Kashi helps Jagannath wash his hand. Jagannath praises Purvi's audition performance. Purvi says I was very nervous and would have ruined my auditions if Jagannath was not there. Isha says you are very smart, you shouldn't be nervous. Purvi says the crowd there were very smart as they were from Mumbai. Kashi says it's nothing like that, Delhi and Mumbai people just have high demands. Jagannath says see Isha what Kashi is saying. Purvi says our Isha is the best. Kashi says it is not for you. Isha says leave it, I have an idea come with me Purvi. Purvi takes a plate of pakoda and leaves. Kashi goes to bring more for Jagannath. Kusum comes with pakoda and asks about kids. Jagannath says they went upstairs. Jagannath says let's have tea also. Kusum asks about job. Jagannath gets sad and stops. He keeps the pakoda on plate.
Episode ends.
Precap – Kusum decides to start her pickle business. Jagannath gets against Kusum's idea of pickle business.
Click to read