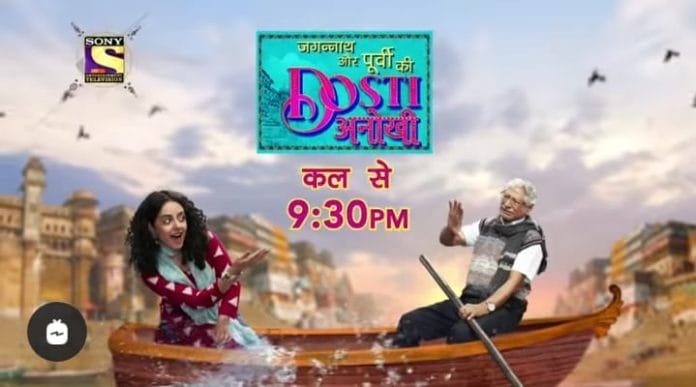 Jagannath Aur Purvi Ki Dosti Anokhi 25th May 2022 Written Update on TellyExpress.com
The episode starts with Purvi and Gunjan getting ready for the big day. Gunjan chooses dress for Purvi when Purvi gets better offer. Gunjan is happy for her and Purvi clarifies that she wants to earn money for Jagannath to return the money to Kashi. She wants to help him for the same and Gunjan supports her. Jagannath says to Kusum about how they become useless with age and feels like he can't do it any more. Kusum encourages him and suggests him that she would do work instead of him to earn the money. Jagannath says it impossible for which Kusum asks where its written that house lady can't fill the place of a husband. Jagannath asks her to live comfort while he would take care of the earning.
Jagannath and Purvi are chatting when Purvi asks tips from Jagannath. Jagannath asks her to take tips from better person as neither did he make it nor did he manage to save what he had. Purvi makes it clear that she only wants lessons from him as she considers him her inspiration. Next day, Jagannath gives three advices which he learnt from his experience and wants to pass it to Purvi. His first advise is to trust in herself and do things according. He asks her to take lesson from her experience to make it big. His second advise is that she needs to trust in action . He says that every action will have a value of its choice and asks her to choose her action wisely. His final advise is self respect. He says that one must have self respect as only those who respects themselves will respect others.
Jagannath says he only has these three advises to give to her along with his blessings. Purvi leaves taking his advise and blessings. Jagannath says Kusum that he has only three things left with him now and that's a small amount of trust. The second one is very little action to perform and finally some self respect. Kusum encourages him.
Precap : Kusum will say Jagannath about Isha's pickle business and Jagannath will ask her how her pickle is unique from others. Kashi will motivate Purvi to make everyone listen to her words.
Click to read