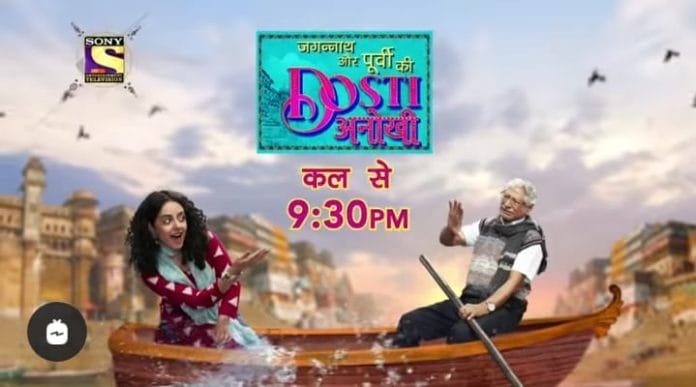 Jagannath Aur Purvi Ki Dosti Anokhi 26th May 2022 Written Update on TellyExpress.com
The episode begins with Badri sitting and crying. Kashi comes and asks him to find job. Badri says I won't leave you. Kashi says I am jobless, what work will I give you? Please move on and find a job. Kashi says you always want to stay with me but what will happen when you marry. Badri says I have not got anyone but you have, you should tell her about your feelings. Kashi says you are not taking care of tulsi ji. Badri says marry Purvi, all things will fall into place. Kashi says I would have said but the situation is not right as she might think I am saying this because of situation, I am waiting for right moment. Badri says what if you always seek for the right time.
Purvi says what right time? Are you going somewhere? Kashi says no where, why didn't you go to radio station today is your first day. Purvi says I was about to go but, can you come with me as I am very nervous and this is my first job. Badri smiles. Kashi looks on and says what if they don't allow me go inside? Purvi said today is just induction and I talked to my cordinator about you coming. Badri says go with her. Purvi says I feel good and safe when you are with me. Purvi holds Kashi's hand and says please come with me. Badri smiles. Kashi says yes. Purvi gets happy. Kashi goes inside to get ready. Purvi asks Badri to go to Isha as she has planned a surprise for Kashi.
Here, Isha and Kusum put pickles in small boxes. Isha says I will learn from you and our business will boom. Jagannath comes and and asks Kusum about what she is doing? Kusum says Isha suggested to sell pickles as everyone likes it. Isha says everyone loves homemade pickles, it will be so good. Jagannath says it might work in Delhi but here in every home pickles are made.
Kusum says ask the kids, everyone loves my pickles so it's different. Jagannath says every kid likes food from their mother. Kusum gets sad. Isha says why are you hurting Kusum? Jagannath says I am just protecting her from getting hurt. Isha says don't think so negative, I have the perfect idea, Banaras has so many hostels, we will give them free samples and then they can order more, simple. Jagannath says it's not easy, you guys are in dream world, already we have so many tension. Jagannath goes. Isha asks Kusum not to feel bad. Kusum says let it be, I don't do things making Jagannath upset.
Here, Purvi is given brief about how to use the equipments. Purvi understands everything. Purvi asks the person to allow her to keep her friend with them. The person agrees and goes. Kashi expresses his fascination seeing the radio office and asks Purvi not to be nervous and prove to everyone how she is strong, to that Subodh and to your parents. Purvi says you are right, I want Jagannath and Kusum to listen to me, I want them to be proud of me. Purvi does the mic test. Kashi adores Purvi.
Here, Kusum comes to room and coughs to get Jagannath's attention. Kusum says you never listen to me, not even now. Jagannath says okay tell. Kusum says you are looking so angry, I can't say. Jagannath says okay now say what I don't listen. Kusum says I panic and fear when you get upset, okay listen, lifelong I have always considered you so much and value you, I always feel proud when someone praises you but you have never felt proud of me. Jagannath says what are you saying? Kusum says you don't even know about my good things you can be proud of.
Jagannath says you are taking it wrong, I have always praised you. Kusum says yed you have but when I have always listened to you, when I walked behind you only at those times. Jagannath says I have always considered you equal. Kusum says if you would have considered me equal then you wouldn't have taken the stress alone. Jagannath says it's not like that, think bigger, I always support you. Kusum says you are just trying to confuse me in talks, I just know household things so I wanted to offer that to society.
Episode ends.
Precap – Jagannath and Kusum enjoy Purvi's radio show.
Click to read