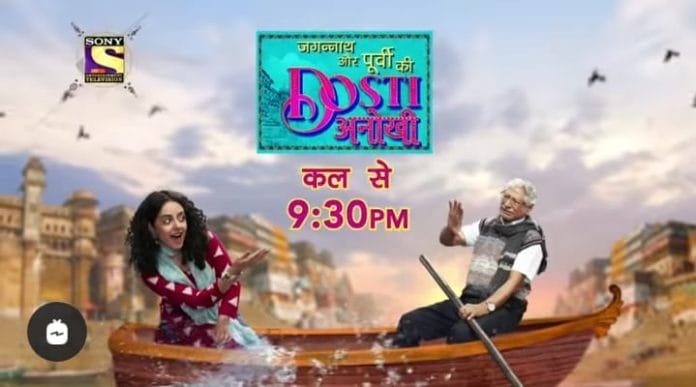 Jagannath Aur Purvi Ki Dosti Anokhi 27th May 2022 Written Update on TellyExpress.com
Episode begins with Jagannath asking Kusum time and then rushing out with sweet box. Kusum says what are you doing? Here, Baby fights with Rukmani about she not paying much for the job she is making her dom Rukmani says we are paying you. Baby says it's not enough, I was happy with Kusum's house only, I shouldn't have left it. Rukmani says you always see your benefit and can't pick a side. They fight when Ram says Jagannath is coming, be quite. So they stop fighting. Jagannath distributes sweets to everyone. He gives Baby extra sweet and Rukmani a whole box. Jagannath says enjoy it. Rukmani asks the occasion. Jagannath says the girl you all taunted and raised questions on her character, today she is going to speak louder and reach everyone through radio, do listen to her at 4pm and do eat sweets. Jagannath and Kusum leave.
Baby asks Rukmani, if Purvi has won any award. Ram says let's listen to it. Rukmani says why? Baby says let's listen and see. Ram turns on the radio, the music is heard. Jagannath, Kusum and Isha wait for Purvi's show. Finally it's time, Purvi holds Kashi's hand. Kashi signs her to start. Purvi wishes her audiences. Baby says how did Purvi get inside here. Rukmani feels upset. Jagannath and Kusum feel proud. Purvi introduces her show for those who want to dedicate and spend time with their elderly as building the generation gap is very important. Jagannath and Kusum get happy. Isha also praises Purvi. Purvi says you all can call us and do requests of songs, first one is fron my side for my friend. Jagannath, Kusum and Purvi remember all their moment together.
After the song, Purvi asks her audience to call and request for song. Isha calls on the number and asks Jagannath to talk. Jagannath freezes and gets nervous. Kusum takes the phone and says Purvi, I am so proud of you, I really enjoy listening to you. Baby and Ram exclaims saying it's Kusum and Jagannath. Here, Jagannath asks Kusum to control as she is live on radio. Kusum gets silent. Jagannath takes the phone and introduces himself as Jagannath Mishra, retired senior engineer working in water department of Banaras. Purvi feels emotional and greets him. Purvi asks about his song request. Jagannath doesn't know any so he says I just called to wish you all the best. Purvi smiles and says thank you, it really means a lot to me. The call ends. Purvi says next song is for Jagannath Mishra. Purvi plays the same song that Viren liked to sing. Kusum and Jagannath remember Viren. Jagannath gets emotional. Jagannath gets up and moves towards his and Viren's picture, he cleans the picture with his handkerchief.
Later, Jagannath goes out and is in Viren's thoughts and his last rites. Kusum sees him and goes to him. Kusum tries to be there and calm Jagannath. Kusum asks you are remembering Viren a lot right? Jagannath says my friend is lost now. Kusum says you guys knew each other for a lot of time, he used to tell me that our friendship is older than your marriage. Jagannath holds Kusum's hand and says after 4 days it's our anniversary and we will complete 50 years of togetherness. Jagannath says you have always been there with me no mater what, in all my hardships and downfall, you never showed your sadness.
Episode ends.
Precap – Jagannath gives Purvi a surprise gift which his father gifted him. Kusum brings lot of groceries for her pickle business.
Click to read