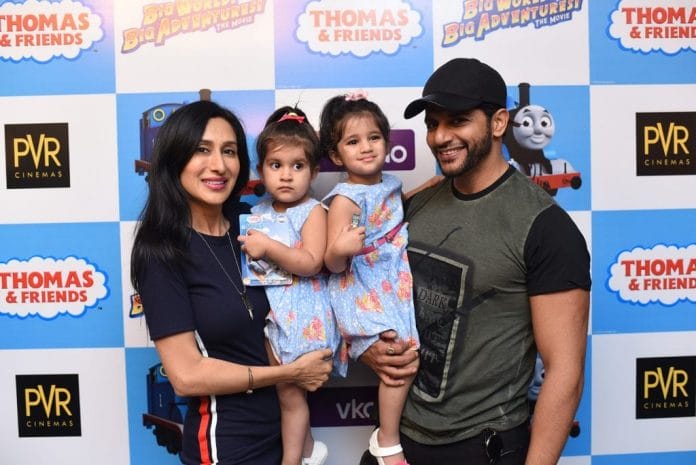 Join Thomas on this big adventure as he travels the world in his new movie
MuMumbai, 20th February, 2019: Thomas & Friends™ witnessed it's very first movie premiere in India: 'Big World Big Adventures!'. An initiative by Mattel Inc. based on the popular children's TV show, the screening took place at PVR Cinema, Oberoi Mall.
Gracing the premiere were the very charismatic T.V. actors Karanvir Bohra, most recently seen in the latest season of Big Boss, his wife Teejay Sidhu along with their kids Vienna Bohra and Raya Bella Bohra. Before the movie premiered, the kids joined many other little ones in a fun and engaging activity session that resulted in peals of laughter and excitement.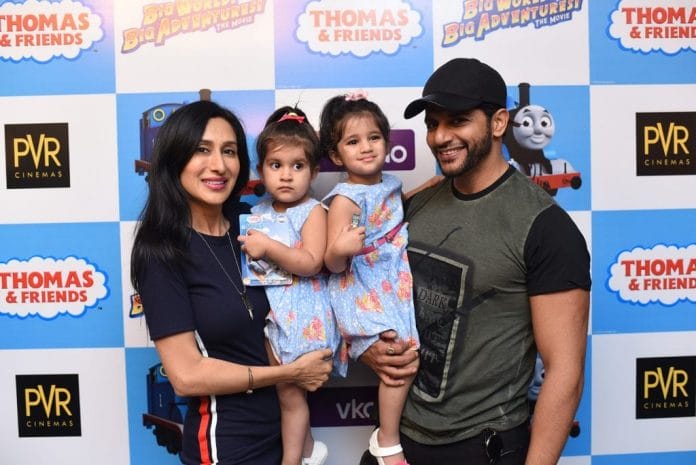 Thomas & Friends, originally based off a children's book of the same name, features the young engine Thomas going on exciting adventures and leaving the Sodor island for the first time in his new movie. From making new friends to learning about different cultures around the world, his journey is set to leave a mark on the audience.
The new series, which is open to kids of all ages, hosts a new world of engines that are ready to explore new places, diverse cultures, and learning new things. Also, for the first time Thomas the engine breaks the fourth wall by directly conversing with the audience, making the series more interesting and interactive.
New fantasies, musical sequences, and animals come together to make a fast paced moral story meant to engage and enthrall young children. With the introduction of new characters like Nia from Kenya, Thomas & Friends aims to be more gender and diversity inclusive and relevant to the audiences of this day and age.
Lokesh Kataria, Head of Marketing, Mattel Toys India Pvt. Ltd was very optimistic about the new movie stating, "Kids nowadays don't just need entertainment, they need meaning. Growing up in a positive, all-inclusive environment shapes the future of the child. Combine that with adventures, fantasies and interactions that lead the child to nurture a creative world of their own, and you get the movie, 'Thomas & Friends™: Big World Big Adventures!'.
Karanvir Bohra's kids, Vienna and Raya Bohra, could barely contain their excitement long enough for their parents to speak. "They've (Vienna and Bella) been on and on about the movie from the time they heard about it. Vienna's favourite is Thomas himself – she's just as helpful, but Bella loves Gordon," TJ said when asked about the movie. Karanvir laughed and agreed with her, saying, "It's a brilliant initiative of educating the children in a fun way. Now, since Thomas is directly interacting with the audience, Vienna and Bella will be able to relate more to the series while learning new cultures and morals."