The episode starts with Hae Yi announcing in front of everyone that she's moving to Japan with her mother. Everyone was too shocked to react. Haeng Ja confronts Hae Yi about her sudden decision without discussing with her. Hae Yi lashes out at her for still being so shameless and asks her to take care of her in return for Haeng San's sacrifice to her. Haeng San and Jae Woo were upset with Hae Yi's decision while Jae Woo is super angry at Hae Yi. Haeng San confronts Hae Yi who simply says that she wants live with her mother. People pass mixed glances at Su Hee as she's out shopping. She feels awkward and comes back home to find her husband present at home. She lashes out at him for having the audacity to come home despite having affair. He blames her back for not spending time with him because of which he started the affair.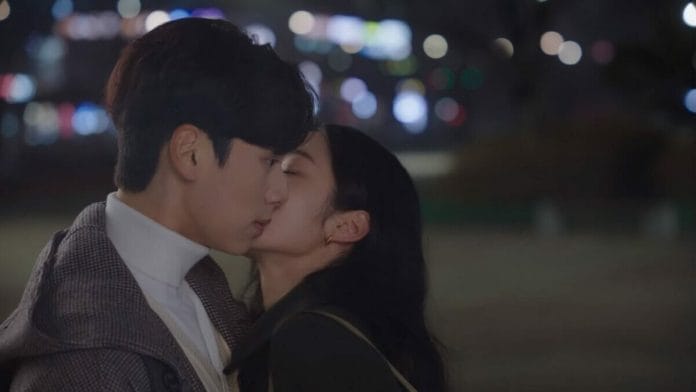 Su Hee says that she would've divorced him already if it isn't for Su Ah's exams and asks him to keep his affair low till she clears CSAT. Su Ah hears it all from outside but doesn't show that she knows and acts normal. She looks at her parent's affair scandal video.
Haeng San is furiously collecting trash when Chi Yeon takes her away for a walk to lift her mood. Haeng San is hurt with Hae Yi's behavior but Chi Yeol is sure that Hae Yi is a smart girl who's aware of what she is doing. He suggests her to concentrate on her future plan. Haeng San says about her plan to become a sport instructor but is not sure whether she could study well. Chi Yeol encourages her to go ahead with it. Jae Woo ignores Hae Yi completely. Su Ah's mother drops her when Su Ah suggests her to get a divorce and asks her to hold herself for her. She finds Gun Hu in lift who also came there to get enrolled in Pride Academy. She guides him. Young Joo suggests Haeng San to vent out her anger by going for walk. Jae Woo come back while Haeng San gets worried.
Haeng San calls Haeng Ja for going to shopping with her. She buys all the necessities for her skin care routine. She says Haeng Ja about all the necessary things about Hae Yi and asks her to remember it. Chi Yeol is teaching his students who were very much tired as the CSAT exam is nearing. A student faints and Chi Yeol learns it's due to the side effects of medication which they use for concentration. He's worried about their health. He meets Jong Ryeol who says the same. They both discuss about how to handle the classes when Chi Yeol falls asleep while drinking. Haeng San is packing Hae Yi's medications and Hae Yi come there. She gets angry at her and behaves rudely with her. Haeng san lashes out at her for hurting her so much despite her acting understanding in her case. Haeng Ja finds both Hae Yi and Haeng San crying in pain. Next Day, Hae Yi starts for her school but both Haeng San and Jae Woo didn't speak with her. Haeng san calls Haeng Ja to give fruits to Hae Yi as she's leaving without having breakfast. Haeng Ja h=gives her the fruit and clicks her picture.
Seo Jin gets released with a fine ass his herself accepted the truth and that none benefitted from the question paper leaking. Seo Jin have a meal with her family and reconciles with her husband. She asks Hee Jae to go for a trip with her as she has been suspended. Everyone is surprised. Hae Yi comes to school and her friends are elated. Bang Su Ah acts kind with her and gives her notes she made for Hae Yi in her absence. Hae Yi's mother leaves emotional notes for Hae Yi and Haeng San and left to Japan. Chi Yeol and Jong Ryeol meet up for a work when he meets with his ex-dating partner The pianist. They both sit down for a coffee and she expressed how disappointed she was when she learnt about his love life. She says that she's going to abroad for learning more about music and Chi Yeol and shakes with her and wishes her good luck. Someone clicks their picture.
Haeng San catches Young Joo and Jae Woo romancing and questions them about the same. Mi Ok comes there and says her about Chi Yeol cheating on her. They read the post and the comments below it which says that hey are happy for Chi Yeol who found someone better. Everyone tries to console Haeng San but she leaves somewhere. Hyo Wo n is also reading it all to Chi Yeol and Chi Yeol gets worried as he couldn't contact Haeng San through phone. Hyo Won suggests him to propose her in order to assure her that he only loves her. They both do ring shopping with Hyo won's guidance. At Haeng San's shop, everyone blames Chi Yeol for not being careful and Haeng San comes there. The others leave but watches them hiding. Chi Yeol tries to explain himself when Haeng San proposes him all of a sudden. Chi Yeol shows his rings to her too. They were surprised and wears both the rings brought by them. They decide to get married after she becomes sport instructor. Everyone celebrated it.
Days passes by and Hae Yi gives her CSAT exam. Haeng san picks up after it. Seon Jae is preparing for his GED exam. Chi Yeol reaches height in his teaching career. Young Joo and Jae Woo are married. Haeng San and Geon Hu keep failing in their exams. Su ah greets them and Seon Jae teases her for her mother's act. Su Ah's mother is promoting the academy with her name. Seo Jin no more pressurizes her kids while Hee Jae returns from military. He still parties and they all have fun. Su Ah meets with Geon Hu who offers her lift. Sparks fly between them. Seon Jae asks Hae Yi for her answer as it's been ages since she passed CSAT.
Hae Yi kisses his cheek shocking him and giving him the answer. Seon Jae is taken aback and they get romantic. Chi Yeol complaints about his wedding getting postponed every time as Haeng San fails in her exam. Haeng san assures to pass this time. Chi Yeol is more nervous about her results that he couldn't even teach. He gets the news that Haeng San passed and he announces it happily to everyone. They both kiss in public for scandal and starts planning their wedding.