The episode starts with Shin squirming in his bed due to hangover when Jang calls him. Jang scolds him over the no one and cuts the call. Shin checks the social media to find his piano playing video uploaded which he did when he was drunk. He got terrified about the same. Seo Jin offers to drop her son to school and he agrees. On the way, her earlier program which was hosted by air got aired and she changed the channel. She asks if he would resume his piano classes for which he said no. The cleaning lady Ae Ran's mother in law is admitted in hospital while her son tries to calm his fuming mother. She scolds him for getting married to Ae Ran instead of the vice Principal's daughter and is not ready to let go off what Ae Ran did. Shin comes to office to fins his employee watching a video. He first thinks it's his video but later gets relieved as it's idol group music video. He texts the video uploader to take down the video.
Ae ran comes to Shin pleading to file a divorce case. Shin offers her water who's really nervous. She asks for more and when he goes to get it Jang comes there. They both are very much suffering with hangover. Ae Ran reveals that their relationship has turned to a point that either of them will file for divorce. He asks what happened and she says that she hit her mother in law in the heat of moment. Shin is taken aback with her confession and asks the reason for it. She reveals that she was treated a door amt for the past 20 years and still put up with it. However she couldn't tolerate when her kids were treated the same way. She also demands her share in division of propertied. Shin says that she can't demand it if the property is on her mother in law's name. Ae ran says that it was originally bought by her husband who then named on his mother without her consent. Shin agrees to help her with her issue. Seo Jin meets with two famous social media influencers who demands to collaborate with her for R-rated content. She turns them down offended while they talk behind her back.
Shin and Jang comes to their favorite grandma shop only to find her daughter took over it. She immediately identified them as her mother mentioned. They are embarrassed in front of her when she mentioned them as idiots as said by her mother. They simply gulp the food when she asks about the third person. Jong Sik comes there and demands money from them as they drunk a lot last night and left without paying the bills. He says that it was him who paid as they passed out due to hang over. They get even more embarrassed and ignores him. Ae Ran is having food with her daughters and apologizes them. They understand her and support her. Their father comes and Ae Ran confronts him for being no different from his mother. He still demanded her to apologize his mother. Ae Ran agrees to do it only after getting divorce and her division of property. He gets angry and they fight. Seo Jin is upset about how people treat her. Jang asks Shin to drop the case as the winning percentage too low but Shin thinks to decide only after investigating well.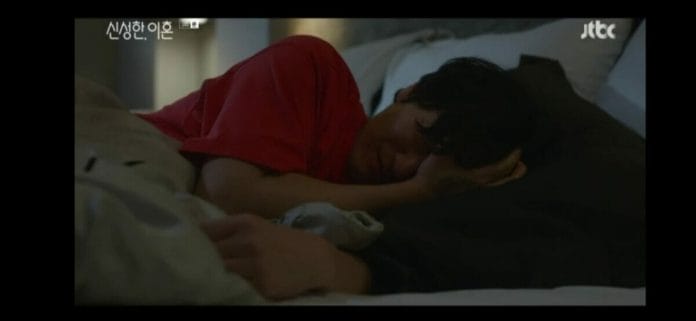 Jong Sik visits a real estate office in disguise to enquire about Ae Ran and mother in law. Everyone says ill about her mother in law pitying Ae Ran. He passes it to Shin who finds that Ae Ran was ill-treated in her own house. Jang leave early to meet his wife Ji Eun. They meet in a café where Jang desperately makes efforts to mend his relationship with her and start a fresh. However Ji Eun is least interested as she now lives with another man whom she loves. Jang is upset over the same. Shin helps Ae Ran with her work and asks whether anyone from her tenants or neighbors could give statement in favor of her in court but she is not sure about it. He then asks if her daughters would do it for her but she doesn't want to involve her daughters in the ugly fight. He asks for any notorious papers or recording that could prove that the building belongs to her husband. She recalls her husband naming the property on his mother in the fear of creditors and also her mother in law possessing the proofs for the same. She assures to get it from her at any cost. Shin speaks with his nephew through video call who's with his step mother. She doesn't even let him paly with her daughter and ill treats him. Shin demands the uploader to take down his video but her refuses.
Seo Jin visits Shin's office with her resume for a job as she needs proof of one to continue her son's custody. Shin says that they themselves are jobless there and asks what could she do there. She sees the damaged door and fixes to with her carpentry skills winning over them. Attorney Park Yu Sok visits Shin to withdraw his intention to attack on them. He sees the colored grapes and understands that once they are colored he's planning to attack on them. It's revealed that Attorney Park was hired by Shin in his sister's divorce case but he got lured by money and back stabbed them. As a result his sister is dead while he only gets to meet his nephew 12 times a year. He became a divorce attorney to counter attack on them. Park leaves challenging him too. Ae Ran searches for the proof in her mother in law's roam nd her husband catches her. Park hires his best attorney from the firm to fight against Shin ins his case. Shin recalls his sister's death in his nightmare.