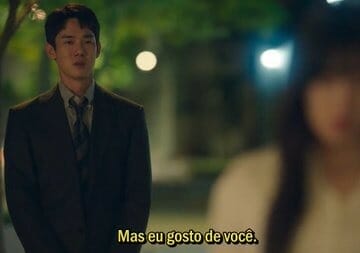 The episode starts with past showing how Su Young was always treated as an outcast in her office. At present Bae and Ma were investigated regarding the complaint raised by Su Young. Bae Eon says that she's sensitive but Yuk showed special concern towards her. Ma also says that Yuk treats her with extra care. Colleagues criticize Su Young's precarious act. Yuk angrily march towards Su Young for complaining against him for coercion.
Sang Su comes between them and advises Yuk to speak once he calms down. He asks her to come to his office. He confronts her about her rash act of complaint and states his advances as his way of showing concern for her. Su Young asks him to apologize for never treating her with respect. She returns the money he gave as taxi fare and demands apology in return. She confronts him the reason for always ranking her low in her performance despite her giving the best compared to others. Sang Su meets Su Young who asks him to stop helping her as she could take care of herself.
Sang Su leaves for site inspection. Jing Hyun texts Su Young if she's fine and she says yes. Su Young helps an aged client by giving hem details about internet banking facility. Her colleagues call her too calm for her act. They pass judgements when Su Young was about to enter. Mi Kyung saves Su Young from the awkwardness by taking her with her for art relaxation. They both relieve their stress when Mi Kyung spots her texting someone. She suspects it to be Sang Su recalling him taking stand for her against Yuk. However Su Young clears that her boyfriend is Jong Hyun.
Mi Kyung is relieved. Mi Kyung's mother Mi Seon have an ugly fight with her friend Song Hee in shopping place. Song Hee calls out Mi Seon for sharing her personal problems to others just because of her jealousy towards her. Sang Su's mother comes there and controls the situation. Song Hee asks her relationship with Mi Seon and she calls her friend. Mi Seon thanks Sang Su's mother and accepts that she did it out of jealousy as she bragged too much about her husband. They both warm up with each other's company and Mi Seon offers friendship to her. Sang Su's mother agrees reluctant. Mi Seon buys an expensive gift for her son.
Kyung Pil teases Sang Su or his feelings towards Su Young. Sang Su goes to get some files to find Su Young organizing stuffs. He says about why he came and starts searching for the file. Unaware of their presence, Ma locks the office and leaves. They both feels awkward and couldn't contact anyone as they left their phone outside. They wait for security to check movements to find about them. Making use of the situation Sang Su apologizes for speaking about considering her issue with Yuk a trivial one.
Su Young says it's fine as she knew that he didn't mean it. She too apologizes for hurting him with her words. He again apologizes for his hesitation during their date. Su Young gives her answer to his previous day question with a negative. She says that no matter what their relationship would not have worked out at all. She suggests him to find another woman who could fulfil his desires. Sang Su asks if she found another person too nd she nods positively. They both sit quite when Ma unlocks the door and apologizes them for locking them. Su Young is in bus top when Sang Su also comes there. They both gives a silent end to their supposed crush.
Young meet with Jong Hyun who takes her to his favorite place for dinner date. They both plan to have a date at Namsan Tower. Jong Hyun apologizes her for not taking a proper stand for her when Yuk abused her. She says it's fine and he asks what issue she would face after all this. She says that she would most probably gets transferred to another branch but says she didn't mind it. They plan a date and he ask about her injury. He gifts her shoes to help her walk properly and she thanks him.
Next day at meeting after discussing about official work Yuk apologized Su Young in front of everyone shocking them all. Ma and Bae credits themselves for it as they supported Su Young during investigation. Kyung Pil identifies Sang Su is the one who complained against Yuk for embezzlement in stock money and he got punished. Sang Su didn't want Su Young to know about his help. Kyung Pil suggests him to take inspiration from their friend and live a happy and peaceful life. He sees Su Young and Jong Hyun's romance and feels disheartened. Mi Kyung who came there at the time appreciates their pairing.
Sang Su is having drink at Su Young's father's shop a nd they discuss about tongeong people. Mi mother happily brags about her new friend to Mi Kyung. Sang Su met with Parka nd explained their policies to him. He asks about his family and girlfriend and invites him to play golf with them. Mi Kyong comes there and takes Sang Su with her. Jong Hyun and Su Young have a romantic moment and they both kisses. Mi and Sang Su were in a book café when Mi say about the author having three wives. They discuss about love. Mi Kyong asks if he would apply for head quarters but Sang Su doesn't answer it.
Their car doesn't start nd they get towed away. Mi Kyung enjoys the moment and says Sang Su that he will think about her whenever he sees a tow truck. Su Young offers to make breakfast for Jong Hyun on his exam day. He visits her morning with flowers and likes her attics. They both have breakfast. Jong Hyun gives his exam successfully. Su Young texts him about his performance when he gets a call. He gets saddened and upset. Mi soon brings food for Sang Su's mother and entertains her clients while she has food. Sang's mother gives him the expensive gift by Mi Seon. Young waits for Jong Hyun's reply but he didn't respond.
She also finds another security guard in office. She couldn't even voice message him. Yuk's wife and girlfriend both visits him simultaneously and everyone gossip about it. Jong Hyun himself calls Su Young o meet. Sang Su and Mi Kyung meet for workout and they run very fast. Mi Kyung falls down but finds old 500 won coin. She is excited and asks him to date her if he wants the coin. Sang Su asks her to give the coin and accepts her proposal but not 100%. Jing Hyun also meets up with Su Young and suggests her to break up shocking Su Young.