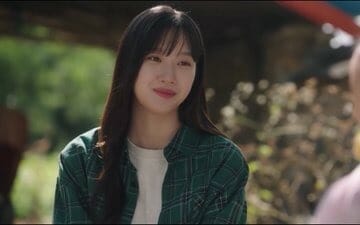 The episode starts with Sang Su and Mi Kyung happily getting into a relationship while Jong Hyun suggests to break up with Su Young. When Su Young asks for reason he says that he didn't do well in his exams and may not make it. Mi Kyung is on cloud nine that Sang Su accepted her proposal. Su young recalls Jong Hyun's words of a happy future while walking with him and is heartbroken. Next day, Sang Su sees Su Young as she enters office with a dull face. Ma says that something good happened with Mr. Noh. Noh is enjoying the luxury of a manager as he's the acting manager till the manager returns from his holiday. Ma sucks up to Noh and acts too sweet with him to get in his good books as there is high chances for him to become permanent manager. Kyung Pil looks weird at their interaction. Noh suggests to go hiking in the weekend and Ma readily agrees.
Ma announces about the hiking to the team who come sup with different reasons to avoid it. Only Sang Su, Su Young and Mi Kyung gets confirmed to join the hiking. Sang Su helps Su Young with coffee and calls her to sight visit. She joins him in his car. They have it awkward between them. Kyung Pil waits for Sang Su to return to have lunch with him but Mi Kyung plans a group lunch with Sang Su, Kyung Pila and also asks him to invite Su Young. He asks her not to come if she's uncomfortable but she agrees to come. They all are dining at Su young's mother's oyster restaurant and Sang Su serves Mi Kyung. Kyung Pil has a clear dislike to Sang Su and Mi Kyung's relationship while Su Young just watches them awkward. Kyung Pil confirms with Sang Su that they are dating and takes his leave. While leaving Su Young's mother gives them complimentary which they are thankful for. Both didn't acknowledge that they no the other person. Su Young takes her leave while Sang Su leaves with Mi Kyung.
Sang Su sees Su Young who's in bus and they both go separate ways. Sang Su and Mi Kyung are enjoying camp fire and Sang Su is roasting sweet potatoes for her. Mi Kyung doesn't seem to leave a single chance to express her liking towards Sang Su and they share some sweet moments. Su Young comes to Jong Hyun's house and finds him packing his stuffs for vacating. She confronts him for the real reason for his behavior and is sure that it's not his exams. He reveals that his father collapsed but he's more worried about his medical bills instead of being happy that he survived. He says that he's moving back to his home quitting the job. He also adds that he doesn't want to date her who has witnessed his worst situation. Su Young advice him to not quit the job yet and wait till his leave is over. Mi Kyung's mother visits her work place and Sang Su guides her. She asks for Su Young and says that Mi Kyung is enjoying the liberty of her hard work which offends Mi Kyung. She gives her few vitamins from swiss and she passes it on to Sang Su. Sang Su feels awkward with her open declaration of love towards him.
Mi Kyung's mother is dining with Sang Su's mother and they both discuss about their kid's dating life. She says that only after marriage she realized that she was better herself and Sang Su's mother laughs at her statement. She adds that she wishes that she doesn't get a daughter in law like her daughter who's very bossy. Su Young finds Jong Hyun outside office and asks if he's there to quit his job. Jong Hyun agrees when Su Young asks him to consider again. Jong Hyun says he failed the exams too and says that it was a very big thing for him to date someone like her. However, he can't continue his relationship with her. Sang Su sees them from far. Mi Kyung and Su Young again leaves to paint and relax where Mi Kyung says to her about her dating Sang Su. Su Young congratulates her when Mi Kyung says that she finally feels like she found the lost puzzle piece of her life. Jong Hyun leaves to his hometown.
Sang Su picks up Mi Kyung to go to hiking but Mi Kyung suggests to take her care. On the way she plans to pick up Su Young with them. She tells Sang Su about saying Mi Kyung about their relationship. Sang Su is curious about Su Young's reaction and gets disappointed learning that she's happy for them. On the way, Su Young recalls Mi Kyung's words and misses Jong Hyun. She gets down in the middle and runs away without saying anything. Everyone is present for the hiking who made different reasons to avoid except Su Young. They all starts climbing the mountain. Mi Kyung visits Jong Hyun's house and meets with her mother. Her mother thinks that Jing Hyun is in a big position in bank and has got a loan sanctioned . Su Young doesn't reveal anything and visits Jong Hyun who's working in garage.
While climbing back down, Mi Kyung clicks a selfie with Sang Su and is about to slip but he holds her. She kisses him which is witnessed by Mr. Ma and Ms. Bae. Mi Kyung officially announces their relationship. Everyone congratulates and cheer for them while Sang Su feels awkward. Jong Hyun says his plan of staying in a small place in the garage and work over night until he gets a place to stay. Su Young suggests to move in with her and continue to pursue his dream. She says his words back to him that she can see a bright future for him. Jong Hyun still refuses when she gives him a bus ticket. She asks him to come if she really wishes or else they could consider their separation as their break up. On their way to car, Mi Kyung asks Sang Su if he's upset that she announced their relationship. Sang Su says he's not upset but is worried about gossips. She suggests to never break up with her in order to stop rumors. Su Young is waiting for Jong Hyun when he finally arrives only to find the bus left already. However, to his surprise he finds Su young still waiting for him a nd runs and hugs her. Mi Kyung invitees Sang Su to her place when he dropped her off.