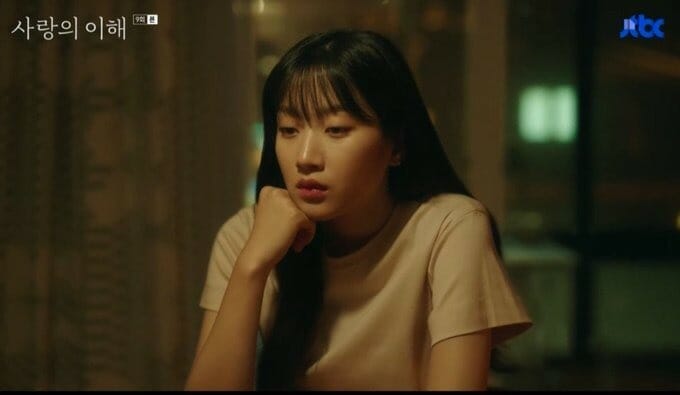 The episode starts with Sang su coming home and Mi Kyung is preparing food. They are shown to be a married couple. The scene cuts to Seok Hyun's wedding. Su Yeong says Sang Su that Seok Hyun is missing and they search everywhere for him. Sang Su finds him in terrace crying over his ex-girlfriend. Soon the wedding takes place and everyone pose for a group photo. The photographer makes Sang Su stand with Su Yeong. Su Yeong and Sang Su steal glances at each other while Jong Hyun feels out of place. Su Yeong leaves with him to have food outside. Sang Su and Mi Kyung also leaves to have ramyeon at Sang Su's place. Su Yeong's mother says Sang Su's mother about her daughter's boyfriend Sang su unaware that she's his mother. While Su Yeong have food with Jong Hyun in a street food stall, Mi Kyung feels embarrassed over Sang Su's car. At Sang Su's house he prepares food when Mi Kung all of a sudden takes her leave saying that she's no angrier. Once she leaves Sang Su's mother visits him confronting about his relationship with Mi Kyung and also gives her nod for the same. Su Young and Jong Hyun enjoy their wine. Mi Kyung found Su Young's note at Sang Su's place which is why she left making excuse. She gets doubtful about their relationship.
Next day, Su Young moves her things to make space for Jong Hyun. Mi Kyung calls her for dinner. Jong Hyun notices the changes and feels bad about the same. H feels like disrupting her life with his presence. Su Young reasons that he would have done the same in her place. Su Young meets with Mi Kyung who asks bout Sang Su ex flame but Su Young answers that she has no idea. After coming back home, Su Young and Jong Hyun progress in their relationship and gets physically intimate after kiss. However she's not happy after their romantic night. Next Sang Su comes to office first and finds Su Young coming from the window. He makes her ac coffee but she politely declines only to accept it later. Sang Su catches her planning for applying for position change but she says she's just considering it. She asks about his headquarter transfer application nd he gives the same answer. He helps her with study materials. Mi Kyung acts normal and close with Sang Su in front of Su Young. Su Young's colleague reveals that she caught her dating Jong Hyun but promises to keep it a secret. She misses her old dating days and calls it swet memories when they were really happy even if breakup happens.
Sang Su is assisting the clients when his old school buddy identifies him a nd greets him. They both go out to have food and reminisces good old days. Sang Su says about two other alumina's of their school working there mentioning Gil Pyeong and Mi Kyung. He's surprised that they work together and reveals that they were ex flames. He recollects that Sang Su was in military service at that time when they had an ugly breakup as Gil Pyeong cheated on her with many girls. IT comes as a shock for Sang Su and is confused. Mi Kyung bumps with Sang Su and invites him to meet with her friends. She says that she has a surprise in his locker. He checks it to find expensive suite and Ma mocks him for having a rich girlfriend to buy him stuffs. Su Yeong checked into a hotel as she found Jong Hyun hesitating to enter the house. She calls him a nd lies that she's at a friend's place. Sang Su meets Mi Kyung's friends at her place and they chit chat and tease each other. While leaving, she gifts him a n expensive car which offends Sang Su. He turns down her gift. He bumps with Su Young outside hotel who lies that she's there with Jong Hyun. They both part ways.
Days passes by and both Su Young and Sang Su applied for their respective posts. Their dating life goes on without much changes. Su Young come home to find Jong Hyun missing for the past two days. Jong Hyun is at an internet café. He is injured when he comes back and lies that he was at a friend's place. Mi Kyung indirectly hints Sang Su that she wants to meet his mother and move forward in their relationship but Sang Su avoids her request. Su Young catches his lie and confronts him about it who reveals that he again failed his test. She tries to assure him that he would do well next time but he vents out his insecurity on her. He reveals that he actually went to his friend's place first but eh mocked him for leeching on her which is why they got into fight. He leaves upset. Both Su Young and Sang Su couldn't pass their application. Gil Pyeong scolds him for losing his game due to Mr. Yuk for helping Su Young. Colleagues were having food along with Mi Kyung when Jong Hyun comes there. They invite him a nd he joins them. They say about how Sang Su got unfairly deselected by Yuk for helping Su Young.
Mi Kyung pretends like she already knew it but also feels restless over the same. Su Young comes there and Jong Hyun takes his leave. Their manger suggests Sang Su and Su Young to pay respects to their VIP client Kim Song Hyun who passed away the night before. Since they already travelled Jeju due to the envelope mishap he asks them to goa gain which they agree. Gil Pyeong and Mi Kyung have a verbal spat over Mi Kyung's trust on Sang Su. Mi Kyung says that she trusts him. Sang Su and Su Young attend the funeral and pay their respect. Sang Su recalls his father's death, while Su Yeon reveals about his brother's death. On their way they see the ocean and gets down to spend some time there. They spend a quality time there and Sang Su reveals that he wanted to visit there the last time itself. Su Young says it's too late now. While they were waiting for train, Sang Su asks if she's happy nd Su Young doesn't answer. When they are about to board the train Su Young asks if she should break up with Jong Hyun.