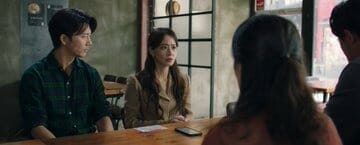 The episode starts with Nam Jung Do putting Hye Joo to sleep along with him. The next day, Hye Joo wakes up to find Nam Jung not in his bed. While getting down she gets pricked by his assembly badge and keeps it aside. She sends him off like every day and notices him wearing another badge. Hye Joo assures him that she's fine and Nam Jung takes his leave. He comes directly to the oil mill to find Woo Jae already waiting for him there. He's spell bound with his sincerity and the mill lady welcomes them in surprising Nam. She feeds them breakfast and it's revealed that Woo Jae showed her the video of Nam getting beaten up and told about his efforts to pass the bill in the favor of victims for her daughter in law. She gives permission to him to use her as much as he wants. In the meeting, the staffs were discussing about how the Nam beaten up video managed to silence the enrage that developed upon knowing that Sol is a call girl. However they also find that they can no more use the case to pass the bill. Woo Jae says there's one similar case referring to Hye Joo's and Assemblyman Kang comes there.
Hye Joo is with Yeo Jin at Yeo Jin's daughter Chas Eun's memorial to remind her on her death anniversary. Yeo Jin sends Hye Joo out for privacy when Hye Joo bumps into a man with familiar face. She identifies him as Yeo Jin's husband. She stops him from entering which offended him. He asks about her when Yeo Jin angrily charges at him. She asks how's dare he to come there after killing their child and escaping with a mere seven-year life sentence.
Hye Joo tries to control when Yeo Jin went on to accuse him for trying to kill her too. Hye Joo had a hard time holding her while he learns that she's Lawyer Nam's wife. Assemblyman Kang blackmails Nam using Hye Joo's past and asks him to overlook the land issue. Hye Joo and Yeo Jin are on their way back home and Yeo Jin cries upon recalling Hye Joo saying that she's a family to her. Soo Bin comes to Yeo Jin's restaurant as her friend demanded million won to return her phone only to find Yeo Jin not there. She serves her food and Soo Bin learns that it's Chae Eun's death anniversary. She notices the employee taking away the money to herself in the pretext of card reader not working and Soo Bin notices it.
Yeo Jin directly leaves to the restaurant to find Soo Bin eating. Yoon Seo shares with her friend about Soo Bin leaving the house and she's glad about the same. Few of her classmates criticizes Nam for supporting a prostitute and encouraging it but Yoon Seo argues in his affair and calls affair is the worst of all. Soo Bi gets two million won from Yeo Jin and Yeo Jin asks her to not come anymore and just text.
Soo Bin indirectly calls Yeo Jin back stabber of her well wisher and leaves exposing her employee. Hye Joo visits the mill lady who says that she agreed for Nam to use her case to pass the bill. Hye Joo warns her of the upcoming criticism over it but she's fine with it as long as the bill is passed. Ki Young and Seung Hee visits Seung Kyu's parents who lashes out at her badly for posting about the victim being prostitute. Seung Hee admits that she wanted to post about it but promises that it wasn't her. Once coming out, Seung Hee wants to visit Hye Joo but Ki Young tries stopping her but she doesn't listen.
Hye Joo is working when she gets call from Soo Bin's mobile only to learn that he is old friend of Ji Hoon. He wished to meet her an she agreed. Upon their meeting after all the casual talks the guy who is Soo Bin and Ji Hoon's friend spoke bad about Soo Bin. He also indirectly confirms that Soo Bin is pregnant with Ji Hoon's child and takes his leave. He also accused Soo bin to be a thief. After coming back home, Hye Joo checked her valuables doubting Soo Bin but finds it all safe. Woo Jae suspects Soo bin to come back to blackmail Nam with money but Nam has his own ways of dealing things with her.
Woo Jin Seok's secretary asks about her trust on Nam . she indirectly answers that she doesn't trust his honesty but his efficiency. It was revealed that he created a massive riot using Yeo Jin's case despite not managing t do any amendments. Soo Bin calls the friend to get the phone. Ki Young calls Nam to give him the proofs for the land mafia surprising Nam. Hye Joo shares with Nam about meeting Ji Hoon's friend. Nam forbids her from doing it in the future as they can be involved in drugs too. Hye Joo requests him to not hate Soo Bin too much as ironically, it's not her fault that Ji Hoon took the step. She says she knows the pain of getting accused for someone's death and don't want Soo Bin to go through the same.
Nam says Hye Joo about Ki Young acting in their favor but also says that the other side could any day expose her past. He says that it's better for them to do it and asks her permission for the same. Hye Joo decides to think about it and leaves to Yeo Jin's sop to find her drinking alone. Woo Jae also comes there saying that he came to extend condolence for Chae Eun's death anniversary. Hye Joo leaves with Nam's phone call when Yeo Jin asks him the real reason for his visit. Yoon Seo comes home and shares her worry about Nam. Nam asks her to only worry about her studies and let the elders sort their issue. She looks at her family picture with Ji Hoon. Later, Hye Joo agreed to give permission to publicize the news. She says the same to Nam who's extremely overwhelmed. She asks him to not make her go public for the same and he agrees. The next morning, reporters swarm outside her house calling her a murderer.