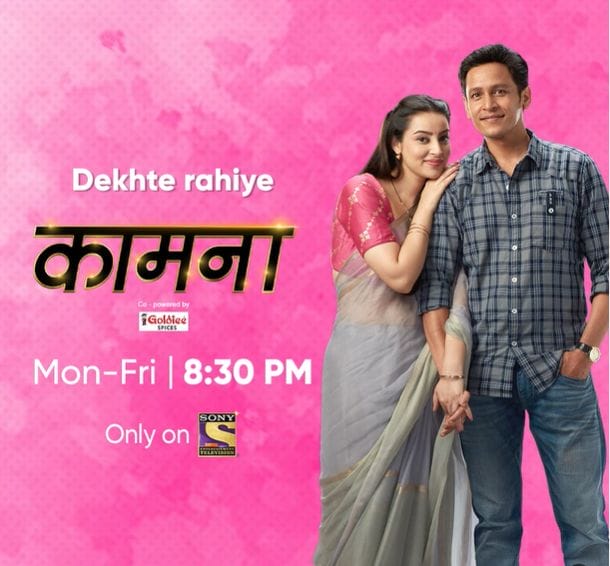 Kaamna Spoilers, Upcoming Story, Latest Gossip , Future Story, Latest News and Upcoming Twist on tellyexpress.com
Sony TV's popular show Kaamna currently focuses on Akanksha's plan to separate Sakshi and Manav.
In the previous week we have witnessed, Manav, Sakshi and Yadhu rejoiced their happy times when Akanksha came there. She pleaded Manav for another chance saying that she had changed but Manav paid no heed. He made it clear that he found his true love in Sakshi and pleaded her to stay out of his life.
Akanksha left with a goodbye. Holkar tried convincing Manav to postpone his wedding with Sakshi but Niharika wanted the opposite. She assured Manav that she would handle Holkar. Holkar lashed out at her for losing her someone like Manav and holding on to Vaibhav. He told about Vaibhav's disappearance from the time he gave divorce papers to him to sign.
Niharika got shocked hearing. Manav , Yadhu and Sakshi are driving out for some food restaurant when Akanksha called Yadhu. She apologized for her mistake and told her final goodbye to Yadhu. She fell in front of Manav's car and got hurt badly.
Manav and Yadhu were stunned but Sakshi urged them to pick Akanksha to take her to hospital. Vaibhav witnessed it all and called cops. He reported Manav for attempt to murder of his ex wife and gave his details. He enjoyed their misery.
Manav admitted Akanksha in hospital and got arrested by Police. They checked whether he was drunk but he didn't. Sakshi prayed for Ana to recover soon but Doctor told that her condition was critical. Vaibhav called Inspector and told that Manav tried to kill his ex wife and it was not an accident.
Inspector failed attempt to murder case on Manav. On the other hand, Yadhu goes speechless from the time of Akanksha's accident. Holkar gave courage to Manav and told him about the case filed as attempt to murder. Manav got furious hearing it.
Niharika supported Sakshi and was sure that it's Akanksha's plan to separate her and Manav. Inspector mocked Manav for Akanksha leaving him for another man and badmouthed Akanksha. Manav fought with Inspector for the same.
Inspector told Manav that his fate would be decided by Akanksha as only her statement can prove him innocent. Manav was sure that there's no way Akanksha could give statement on his favour and dreamt of Akanksha mocking him. He got frustrated.
Doctor told Swati that Akanksha was suffering from last stage of terminal stomach cancer and Yadhu heard it. Swati hid about it from others while Yadhu was confused. Sakshi explained that Manav's situation to Swati who assured that she would get Akanksha's statement in favour of Manav.
Akanksha was revealed to be fit and fine and that she planned it all with Vaibhav to trap Manav. Doctor who is a also a part of the plan.
Vaibhav after getting his revenge done with Manav he made his next plan against Niharika for all theinsult he faced. Niharika told Holkar about planning to complaint against Vaibhav who went missing. Vaibhav heard it all. Sakshi met Manav in jail and Manav decoded Akanksha's plan to stop their marriage and also get Yadhu's custody by filing murder charges against him. They both got worried.
Vaibhav attempted to kill Niharika by strangulating her with wire. Niharika opened her eyes but didn't protest and asked him to go ahead to do what he wanted to do. She told that it was her mistake for trusting him blindly and so she deserved it.
She expressed her unconditional love for him and told about all the times she trusted him. She told that his biggest punishment by her is her forgiveness. She gave his 100 crore stock papers and asked him to disappear from her life forever. Holkar came there and calked out Niharika for her stupidity.
Niharika asked him to let it go. Vaibhav having realized his mistake tore the papers and expressed that he really loved her but his greed for money changed him. He left her promising to repent for his actions. Niharika cried a lot. Yadhu watched as constable took statement from Akanksha.
Akanksha agreed to give statement only if Manav was present there. Holkar came with Lawyer and Inspector took everyone with Manav to meet Akanksha. Sakshi pleaded Akanksha to give true statement. Akanksha asked Manav if he had something to say and Manav says no.
Akanksha gave statement in favour of Manav and Manav got released. Everyone thought that it's another new game play of Akanksha but Yadhu supported her saying that she changed for good. Everyone got surprised seeing it.
Manav noticed something weird with the way Akanksha got treated and asked Swati about it but Swati doesn't answer. She took promise from Yadhu to not reveal about Akanksha's conditions to anyone.
In the future episodes we will witness, Manav will see the old photos of his with Akanksha and Yadhu. He will kneel getting emotional and Sakshi will console him. Yadhu will call Swati to enquire about Akanksha who will say that she's asleep. Just then Akanksha will rush to washroom and Yadhu will get worried for her.
Will Yadhu realize Akanksha's true face? Will Akanksha gets exposed by Vaibhav? Did Vaibhav really left Niharika's life forever?
All these questions will be answered in the upcoming episodes.
To know what will happen next in your favourite show Kaamna, keep watching Sony TV from Monday to Friday at 8:30 pm and any time on Sony Liv app.