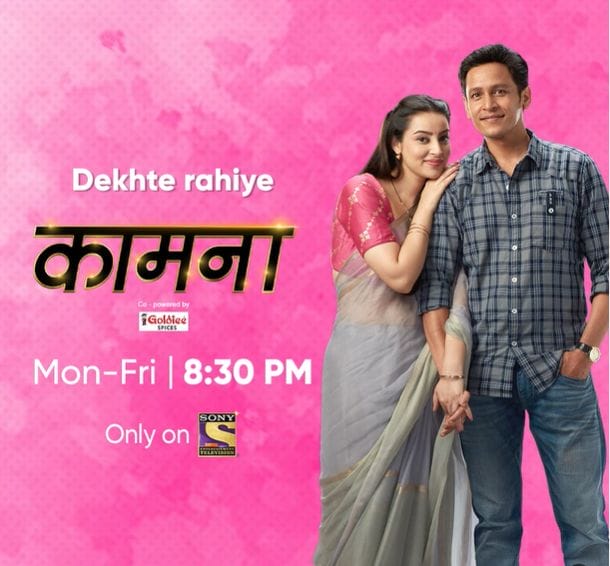 Kaamnaa 12th May 2022 Written Update on TellyExpress.com
The episode starts with Manav reasoning Yadhu that Sakshi left the house after getting a job. Yadhu doesn't believe it and accuses his stressful job for his rude behavior towards Sakshi. Manav tries making him understand but Yadhu expresses his hate towards his new job. Manav tries convincing Yadhu to meet Meera but he refuses to do so. Meera, who's already on her way home called Manav and says that she could understand Yadhu's condition. Manav tries apologizing but Meera doesn't take it to heart. Servant brings the files Meera left for him and he reads Meera's text to study the file carefully. Manav looks at sleeping Yadhu and is upset with his completely changed behaviour after Sakshi's exit.
Manav is hesitant but texts Sakshi asking her permission to speak with her. Sakshi is sleeping and Malti reads the message. She requests him to not call Sakshi as she wants her to see her moving on in her life. She says that she already have gone through so much. She requests him a favour to convince Sakshi for second marriage and says that she can't die peacefully until she settles her life. Manav requests her to not speak so and assures to make Sakshi understand. Manav worries for Yadhu.
Next morning, Yadhu wakes up and Manav tries getting him ready but Yadhu leaves saying that he has grown up to take care of his works himself. Yadhu sits for breakfast and Manav serves his favourite scrambled eggs. Yadhu asks him to pack the food as he doesn't want to eat it now. Manav agrees and offers to take him to school but Yadhu says that he would go by school and taunts him for being busy at his work. Manav gets upset. Sakshi is doing her work when she finds someone angrily hitting the ball and looks out to find Yadhu. She gets pained seeing his condition but turns away helpless. Manav calls Ayesha and asks how is Yadhu. She says that he's not at all fine as he seems lost and is angry at her too. Manav comforts her and asks her to take care of Yadhu. Yadhu hits the ball and breaks Sakshi's cabin window. Ayesha too sees it.
Manav is in office when Holkar says about an important meeting that day. Neha wakes up a sleeping Manav and he apologizes. He gets Ayesha's call who urges him to come to office soon as Yadhu is in problem. He rushes out while Holkar gets disappointed with his act. Principal is confronting Yadhu for his behavior while Sakshi pleads her to consider Yadhu's condition and forgive him. Principal doesn't want to as Yadhu himself agreed that he was the one who did it intentionally but Sakshi explains his mentally disturbed state. Principal agrees with her and forgives Yadhu instead of suspending Yadhu.
Manav keeps calling Sakshi but Sakshi doesn't pick up. Manav comes there and confronts Sakshi for which she says about Yadhu venting out his frustration by breaking the glass. She also says about Principal planning to suspend him but she stopped it. Manav gets shocked hearing it. Sakshi says that as Yadhu's counsellor she advises him to find someone personal for his house so that Yadhu could share his heart out to them. She suggests him to keep his grandmother home and hire a care taker to take care of Yadhu. Manav rudely answers that he would take care of his son and advises her back to find a boy and get married again and leaves. Sakshi gets upset.
Precap : Akanksha will be at Manav's home to meet with Yadhu. Manav will request Yadhu to meet with Akanksha alone as he will be stuck in a meeting. Yadhu will get frustrated.
Click to read