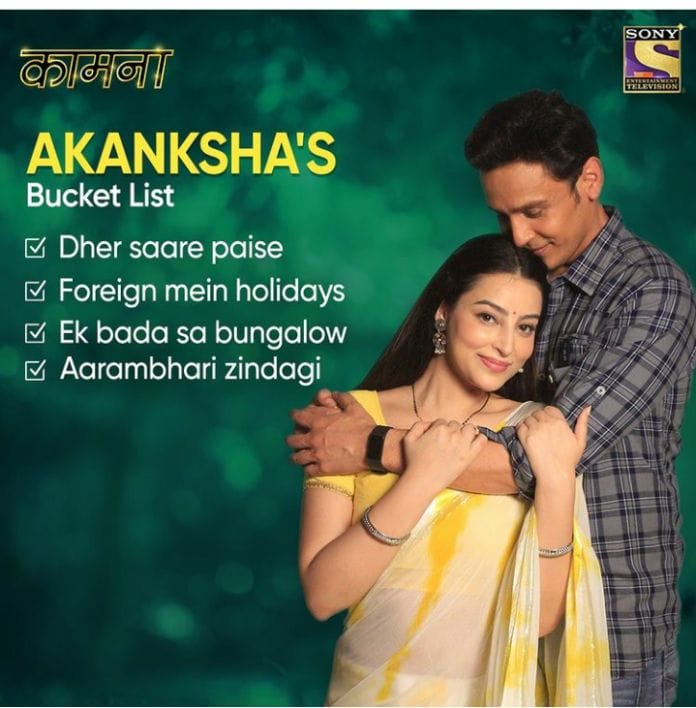 Kaamnaa 5th July 2022 Written Update on TellyExpress.com
The episode starts with Sakshi speaking to Manav about marriage and Manav thinks Yadhu told Sakshi about his decision. They both discuss about marriage. Swati calls Akanksha and tells that she just spoke with Yadhu and thinks he still misses his mother. Akanksha gets happy hearing it while Swati asks her to concentrate on winning Manav's heart.
Next day Manav is getting ready specially for office. Sakshi hears them from outside. Yadhu advises him to not get tensed. Manav gets a message and Yadhu says he is the one who sent the messages about how to propose a girl. He gives him chocolates and rose for proposal too. Manav takes it and gets ready to leave. He calls Sakshi asking if she's ready for office. Sakshi comes inside saying that she's ready from long. Manav stammers seeing her but Yadhu sends them together to office.
Swati comes to Malti and talks to her about Sakshi's marriage. Malti understands her intention and says to her that Manav forced them to stay there in the house despite her completely refusing for it. Yadhu says that Manav is there for deciding about Sakshi's marriage. Swati again tries saying Malti about Sakshi busy with work which is why bo one was there to take care of Yadhu. She says it's the reason Yadhu came to her house angry on everyone. Yadhu answers before Malti that Malti is there to take care of him and asks her not to worry. Malti feels proud.
Sakshi and Manav comes to office and Sakshi asks Manav to propose the girl he likes. Manav says she's here only and Sakshi searches where. Manav asks her to see from his sight. She looks at his glasses and sees Niharika coming there calling Manav and gets shocked. Niharika says Manav that she forgot to gift him for his birthday and gives him a gift. Manav is about to open it but Niharika calls him to her cabin to open the gift. She stops Vaibhav from following them while Sakshi watches them sad. Holkar gets happy thinking that their relationship is going forward.
Manav opens the gift and finds two rings and a churi. Niharika asks him to use it to propose Sakshi. Manav feels thankful towards her and Niharika encourage him to propose bravely. She in return asks for Manav's chocolate and rose which he had. Manav thought its for proposing Sakshi but didn't want to refuse Niharika and so gives her the chocolate and rose. He by mistake hits the blinds button and it opens. Sakshi watches as Manav gives the rose to Niharika and gets upset.
Precap : Yadhu will call Ayesha and will say that her intention is successful and says Manav is going to marry Niharika confusing Ayesha. On the other hand, Sakshi will ask Manav to marry Niharika.
Click to read